Binance Academy Translation Bounty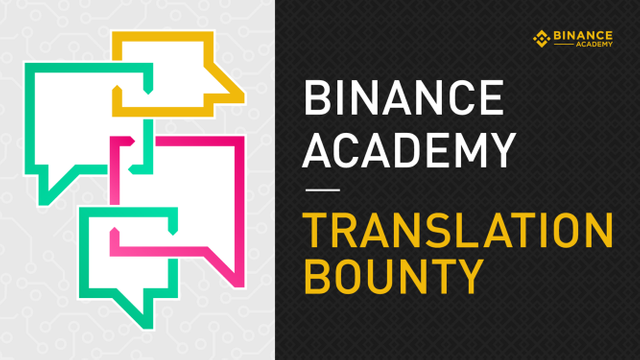 Binance Academy aims to be an open-access, community-driven education platform for the global community.
In order to achieve our goal of providing education to the global community, it is vital that Binance Academy is available in multiple languages.
Binance Academy is offering US$50 per 1,000 words translated (Paid in BNB)
We are looking for translations in the following languages.
Arabic
Chinese — Simplified
Chinese — Traditional
Dutch
French
German
Italian
Korean
Polish
Portuguese
Russian
Spanish
Turkish
Vietnamese
Others will be considered on a case-by-case basis
Applications are now open.
If your application is successful, you will be contacted via email.
---
TERMS AND CONDITIONS
Translations must be original. Using tools such as google translate will result in being disqualified from the Translation Bounty Program.
Translations must retain the accuracy of the pre-translated content while translating to their native language.
Translators will be required to be approved prior to being assigned any translation work.
Low quality translations will not be rewarded and these translators will no longer qualify for the Translation Bounty Program.
Once a translator has been approved for translation, they will be assigned an article in their language and this will be reserved for them to return the completed translation within 72 hours, after which the article will be re-opened for other translators to bid for, and the failed/lapsed translator will be recorded as failed/lapsed.
Should a translator accumulate 2 'failed/lapsed' translations, the translator will be disqualified from the Translation Bounty Program.
Completed translations are to be submitted in Google Doc format, with a link to the READ ONLY Google doc submitted in the Telegram group chatand acknowledged by the project administration team.
Translators will be remunerated in line with the monthly payment schedule, via BNB deposits in their associated Binance accounts, paid in arrears to the value of all translations successfully completed in the previous billing cycle.
From time to time, and at the sole discretion of the project management, additional bonuses of an unspecified amount may be paid to translators in respect of outstanding work, speed, or quality in translation services.
---
Community Links