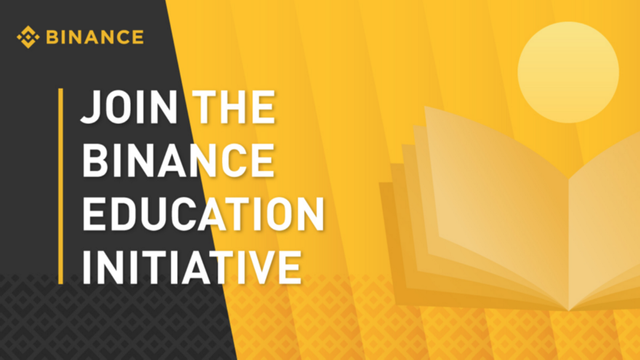 Are you just as passionate about helping the progress of cryptocurrency and blockchain as we are? If so, join the Binance Education Initiative.
Binance strongly believes in the importance of free access to education.
With our upcoming educational platform, Binance plans to bring accurate, neutral, and entirely free information to the world.
To start things off, we're putting out an open call to our users to participate. Create and submit your own educational video from the topics listed below and your video may be displayed on www.binance.com!
Rules
One topic per team.
Each team may only participate in one topic. Once your application for a topic is approved, you can't change topics.
Team Size.
Maximum of 4 people per team.
Maximum 4 teams per topic.
Each topic will be restricted to 4 pre-approved teams. Binance may contact each team at any time to check on progress.
Entries will be reviewed by Binance with set criteria.
All valid submissions will be reviewed based on the criteria outlined in the following section. Please ensure that your submission follows these criteria.
Video rights.
All submissions will be required to sign all usage rights of the video over to Binance.
Time limit.
Videos must be no more than 5 minutes in length. If a video submitted is longer than this, you may be disqualified at Binance's discretion.
Educational Themes
The Binance Education Initiative has been designed in themes to allow participants to choose a topic that suits them.
A one week registration period will open before the start of the Initiative: if your application to participate is accepted, you will receive an email from a member of the Binance Team informing you before you may begin.
Theme 1: Blockchain Fundamentals
What is Blockchain?
How does Blockchain work?
What is mining, how does it work?
What are the pros and cons of blockchain?
What was Blockchain created for?
Theme 2: Coins, Tokens, and Utility
What is Binance Coin and how can it be used?
What is the Binance Ecosystem?
What is Bitcoin?
What is Ethereum?
The difference between Tokens and Coins
Theme 3: Security
Account security
Wallets — online vs. offline
Keeping your private keys secure
Phishing
Identifying a scammer
Review Criteria
Accuracy
Is the content provided accurate? Are there sources to verify the information used in the video?
Information Structure
Is the content presented in a way that can easily be followed and understood?
Fluency
Is the presenter easy to understand?
Presentation
Is the video produced in a professional manner?
Engagement
Does the presenter engage the viewer throughout the video?
Rewards
Your Video on Binance
Participating team's videos may be displayed on Binance.
BNB Reward
Each participating team will receive an allocation of BNB (Maximum of 200BNB per topic will be distributed).
---
To apply to join the Binance Education initiative, please fill out the following form:
Application Deadline: May 30th
Video Submission Deadline: June 30th