Is "NEM" Beating "Ripple"
This is my first article on CryptoCurrencies . Let me put in short what i want to discuss. There were some articles earlier on Steem for "NEM" as sleeping gaint . I was inspired for that articles and started digging more about NEM . Ok lets look at the price chart of NEM , if you see price already crossed Ripple and market cap reached to 1.8.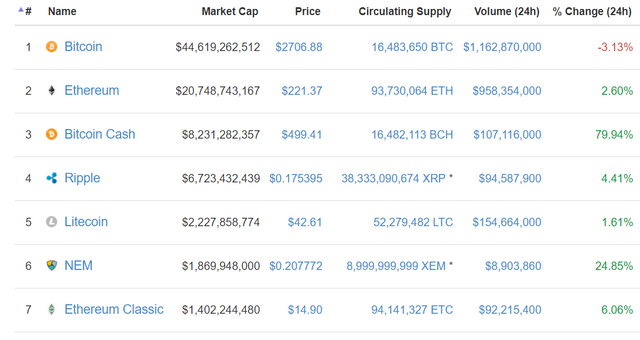 Why NEM Price increasing dominating Ripple . Possible causes i believe were
NEM with block chain global company going to setup Exchange for NEM
goo.gl/jJB9Dq
2)NEM giving trails in energy sector .Following article can be found from NEM official .
http://mijin.io/ja/923.html
3)NEM puts highest ranking in Security wise implementing for any applications by chinese Cert report
https://medium.com/nem-distributed-ledger-technology-blockchain/chinese-cert-report-puts-nem-ahead-of-many-projects-in-the-blockchain-space-986e6c3a10c
NEM has lot of new projects ready like LUXTAG,LANDSTEAD etc.
http://luxtag.io/
http://landstead.atraurablockchain.com/#!/
There were lot of other projects in development phase and NEM is fast and seccure block chain.Ripple mainly focused on banking sector where as NEM can be used in any sector .