Beldex: Review of the Third Quarter of 2019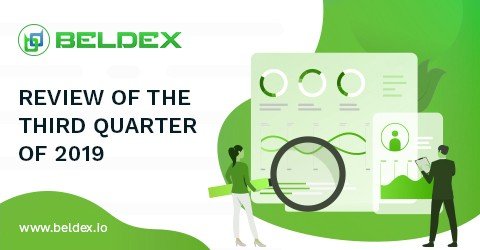 Beldex has progressed considerably in Q3, 2019 compared to the previous quarter. With the support of our community, we have made some notable breakthroughs such as listing with IDCM, integrating with InstaSwap and transitioning the Beldex wallet to Magnum. We have even more developments in the fourth quarter, but that is for later. Let us see each of our accomplishments in Q3, 2019.
Listing on IDCM
Listing on many exchanges will boost the coin's adaptability and usability. On the 2nd of August, the Beldex coin was listed on IDCM. With this listing, our community expanded further and new members from South-East Asia joined the community. BDX Deposits and withdrawals on IDCM were open to our users. This gave our users a new platform to trade BDX. Stay tuned as more such listings are coming soon!
InstaSwap Integration
BDX was integrated into InstaSwap, the application that lets you instantly swap coins for BDX. There is no need to create an account with InstaSwap. You can swap BTC, ETH or any other supported coin for BDX by providing your deposit wallet address, refund wallet address and then hitting the swap option.
Transition to Magnum
The Beldex wallet was moved to the decentralized wallet service, Magnum. Our users now have the ability to fully control their wallets. The transition to this decentralized wallet service will improve the security and privacy of our users as Magnum does not store personal information. By adding a Beldex wallet in Magnum, you can send or receive BDX or exchange BTC or any other supported coin for BDX.
Roadmap to Shariah Compliance
Beldex is looking to become the world's first Shariah-compliant exchange that abides by the Sharia law. It is in the process of consulting with learned scholars of Islamic law to provide services that are in line with Islamic Finance and Banking.
Goals for the Fourth Quarter
Obtaining Shariah compliance
In order to obtain Shariah compliance, Beldex has conformed with the Shariah law and has prohibited 'Maysir' or gambling, 'Riba' or usury, and will not list projects dealing 'forbidden goods' like alcohol and tobacco. It will not associate with pyramid schemes.
Moreover, it will not provide any immoral services or deal with projects that provide such services.
Launch of the Beldex hybrid exchange
The Beldex Hybrid Cryptocurrency Exchange will be launching soon, with integrated features for both beginners and experienced traders alike. The exchange will initially support Bitcoin (BTC), Ethereum (ETH), Litecoin (LTE), Dash (DASH), Monero (XMR), USDT (USD Tether) and the Beldex Coin (BDX). Beldex plans to provide a comprehensive trading experience to our users. We will be introducing additional trading features like algorithmic trading, margin trading, etc.
Developing iOS App for the exchange
Our users can soon expect an iOS application for the exchange on the iOS App Store. It is designed to cater to your trading needs. You can trade where ever you are and keep track of the markets on the go. Monitor your favorite trading pair, buy and sell coins, and do much more with just your mobile. The iOS app is set to hit the markets by Q1, 2020. The android app of the exchange will soon follow.
Join our community to know more about the development of Beldex
Website: https://www.beldex.io/
Telegram Channel: https://t.me/beldexcoin
Telegram: https://t.me/official_beldex
Twitter: https://twitter.com/BeldexCoin
Facebook: https://www.facebook.com/beldexofficial
Instagram: https://www.instagram.com/beldexcoin/?hl=en
Medium: https://medium.com/@beldexcoin
Steemit: https://steemit.com/@beldexadmin/
GitHub: https://github.com/beldex-coin/beldex