Alts Soar High as Bitcoin Staggers to Break Resistance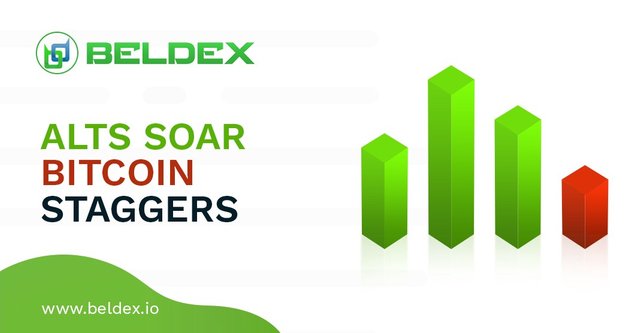 Bitcoin fails to break resistance and is staggering at the $7700 — $8000 mark. Bitcoin's dominance went down by almost 2.96% in the last 30 days from 69.10% to 66.14% on the 17th of October, 2019. What this reduction in BTC dominance means is that Alts are gobbling it up. A few of the altcoins, and especially privacy coins are indicating a bullish uptrend.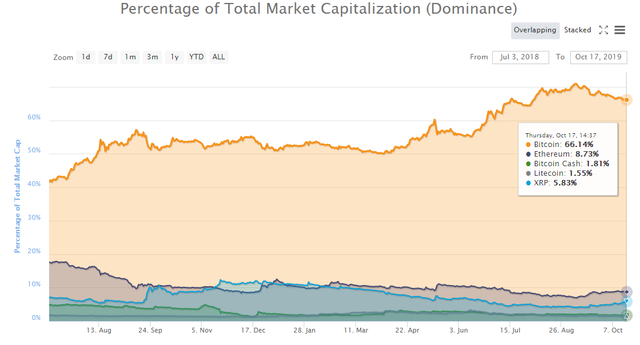 Alt season on the horizon?
A few of the altcoins are seeing a bearish divergence and trend reversals at the bottom while bitcoin sees a bullish divergence and a trend reversal at the top. When Bitcoin's dominance index last fell in Dec 2017, altcoins saw monstrous gains. Traders and investors gained 10x to 100x returns. Market fear fueled by external factors made investors cash out on Bitcoin and buy altcoins. A similar market sentiment prevails now. Bitcoins support is a 100-week Moving Average while resistance is a 200-day MA. It is expected that if Bitcoin's performance weakens further, the downtrend will continue well past support at $7500 and the dominance will fallback to at least 65%. Let's face it, an alt season is long due as several market indicators have signaled it.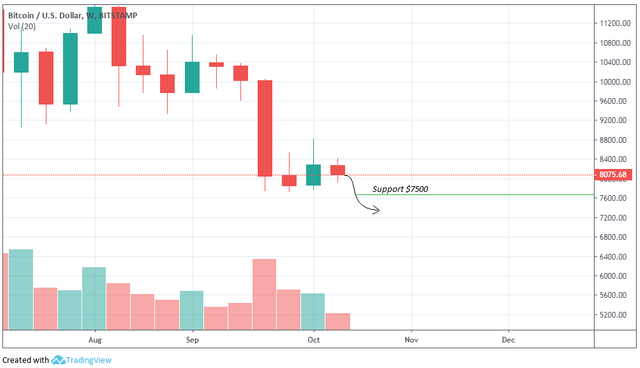 Beldex to the Moon
The BDX privacy coin price action data below by CoinMarketCap shows that the coin's price has been relatively stable in the third quarter of 2019.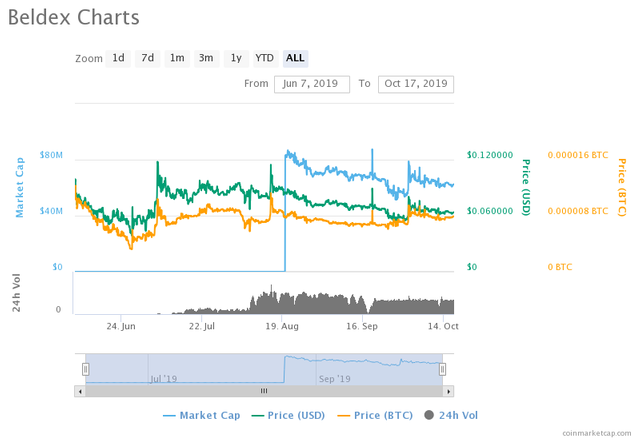 But BDX will soon moon against BTC. BDX has previously shown a higher potential for growth. After its ICO in 2018, BDX shortly peaked in December that year, going as high as $0.45 before returning to its mean year to date values.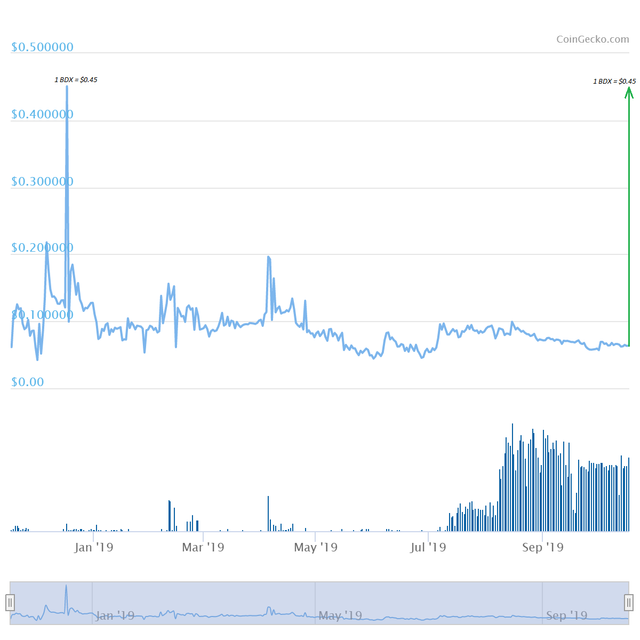 The Beldex cryptocurrency exchange is going to launch in Q4, 2019. This may have a positive impact on BDX's price action.
BDX has performed better than other projects which conducted their ICOs in 2018 and fares well when compared to its competitors. While an erroneous post has been making mountains out of moles about our closest competitor Loki, Grin coin project domain, grin-tech.org has been down for quite a while.
Join our community to know more about the development of Beldex
Website: https://www.beldex.io/
Telegram Channel: https://t.me/beldexcoin
Telegram: https://t.me/official_beldex
Twitter: https://twitter.com/BeldexCoin
Facebook: https://www.facebook.com/beldexofficial
Instagram: https://www.instagram.com/beldexcoin/?hl=en
LinkedIn: https://in.linkedin.com/company/beldex-coin
Medium: https://medium.com/@beldexcoin
Steemit: https://steemit.com/@beldexadmin/
GitHub: https://github.com/beldex-coin/beldex