Soo much virtual BEER is waiting for you to give!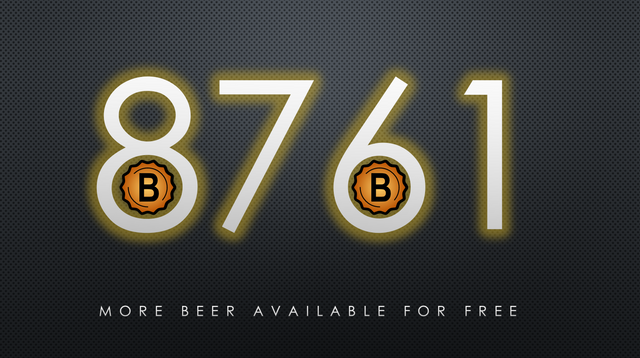 ---
Get your BEER
There are a 8761 BEER left in the AIRDROP and BEER is traded a lot more at the
---
Now Only 408 people own some BEER
But this means as well that during the last 9 days we grow from 319 to 408 steemians who have BEER.
Come on, you can do better. Let the @BeerLover do his job and let him deliver some BEER to your friends
Let's see how we could grow this to a 1000 in how much time??
Source at bloks.xyz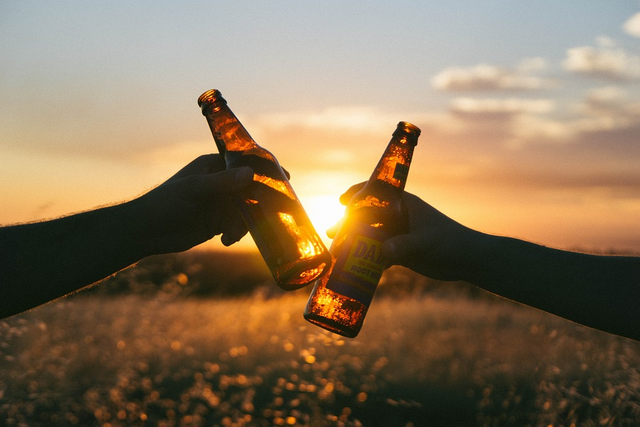 ---
AIR or even better a FAIR-DROP
With a normal AIR-DROP someone have to do something to get some token into his own wallet.
With our BEER token airdrop we think into a different way and called this a FAIR-DROP.
We like to have people to send little presents to other Steemians.
The FAIR-DROP enables you to send your friends a nice BEER present. A cool way to show that you care in some way or to give something extra for their content.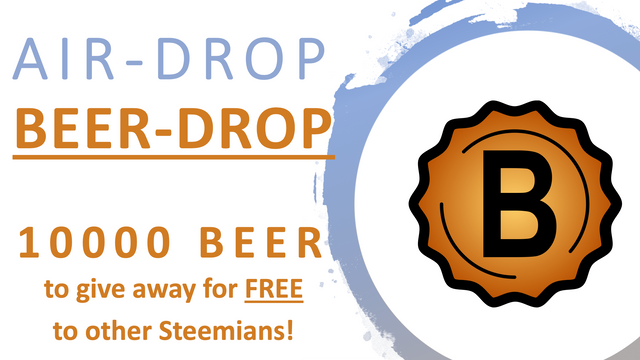 ---
This Steemians can drop you a BEER so you might visit their post and engage with their content
@holger80 @uwelang @jeffjagoe @exyle @jeanpi1908 @whatsup @beers @aggroed @buzzbeergeek @reggaemuffin @beerchaintech @yabapmatt @beer @depot69 @muelli @bitandi @coolsurfer @fon @pundito @chriddi @brittandjosie @powerpaul @cryptictruth @jedigeiss @landshutbrauhaus @double-u @meins0815 @harveyword @karinxxl @borran @gimba @arcange @handofzara @daddygarsha @browery @der-prophet @abitcoinskeptic @moncia90 @louis88 @feuerelfe @forykw @rynow @isarmoewe @mima2606 @slobberchops @erniegreenhill @w74 @udabeu @city-of-dresden @bc-i @geiwoyibeipijiu @schlees @condeas @mermaidvampire @buckydurddle @instagram-models @spite77 @pizzaboy77 @banjo @kadna @ennosan @rivalzzz @yusrii @bluerobo @thomasthewolf @metametheus @pele23 @dumitriu



The thirsty @BeerLover will send a free of charge BEER token to the Steemian you comment on, if you call BeerLover with the command !BEER.
---
Steemians who soon migh be able to use the airdrop as they might soon have 10 BEER in thier virtual fridge
@steemsyndicate @unsuwe @savetheday @dramatoken @quekery @kryptodenno @backinblackdevil @klohsdieserwelt @jkiw @revisesociology @kissi @joanawatts @seckorama @solarwarrior @meesterboom @ibc @skyleap @artpoet @mundharmonika @kryptotaler @sportfrei @ezzy @klaranlage @prinzvalium @nessos @balte @hatoto @nullnull @fredfettmeister @joanstewart @theholystuhl @satren @tomhall @alexvan @quinneaker @zekepickleman @abh12345 @steem-bootcamp @fullcoverbetting @maquemali @busenversteher @benedict08 @lordvdr @geekgirl @moneyuntapped @chruuselbeeri @barbara-orenya @roundbeargames @zockerpeine @kommy @lammbock @steevc @cloudspyder @reiseamateur @halli-hallo @bearded-benjamin @droida @londoncalling @don-thomas @michelangelo3 @cflclosers @syalla @mdosev @isnochys @mkt @nassimal @gaich @zeitspringer @a-x @flamo @driveforkids @diereiseritter @drumoperator @lady-in-red @bitcoin-123 @smooms @coininstant @felander @knochenhd @monsterbuster @thedeadfrog @alexa57 @terrybrock @haegar85 @jaybird @art-universe @luegenbaron @stayoutoftherz @exator @sunlit7 @skramatters @philfreetotravel @sinochip @michaeldietrich @steemitboard @chekohler @sempurna @teamhumble @psionic-tremors @taskmaster4450 @bastisvlogs @redpalestino @misan @beatminister @tonytoast @roguescientist84 @bucipuci @weitblicker @beerbot @future24 @akomoajong @curationvoter @scienceangel @meno @arslan786 @robertgelbmann @ganjafarmer @ashtv @bubke @atego @city-of-berlin @bozz @eitja @tensor @rem-steem @dboontje @yeaho @gabrituk @achimmertens @mrdalle @steem-plus @amico @redrica @nuthman @jacuzzi @psos @velimir @purepinay @artem-sokoloff @broncnutz @scriptioner @abrockman @maxpower0000 @janasilver @acidyo @amigareaction @shaungerow @jorgebgt @jaydih @imealien @hollymollyland @marblely @guruvaj @insaneworks @mariusfebruary @rmach @flipstar @agmoore2 @crimo @jamilavonperger @crypt0lizard @kus-knee @mrmastercryptow @gooddream @dreimaldad @hiddenblade @kristall97 @oaldamster @simsibee @platuro @hauptmann @kochstudio @jan-frech @shortsegments @homeartpictures @klye @jaynie @claudio83 @wav-dr @masterthematrix @rentmoney @for91days @freebornangel @shanghaipreneur @heidi1986 @tixinhacapitinha @genuinehuman @jgullinese @rezoanulvibes @mrspice @truthproductions @crypto-pixie @dreemit @ayogom @tokentown @enginewitty @jeezzle @smasssh @lizanomadsoul @juliakponsford @gasaeightyfive @surfyogi @archiv @hansgans @connecteconomy @siphon @degrimmis @noobsin @sniem5180 @actifit-peter @foxglovestrat @voxmortis @cleverbot @automation @amberyooper @wonderwop @stickchumpion @wissenskrieger @reggaecupcake @steemitblog @hiroyamagishi @happycoollove @steemillu @flemingfarm @gray00 @tbnfl4sun @albertvhons @transcript-junky @beer47 @beer32 @lux-witness @anomadsoul @rea @pennsif @lanc @pab.ink @hilarski @nuoviso @papa-pepper @sandstorm @sunit @travelwithus @direwolf @tattoodjay @cheetah @steem-bounty @steemchiller @quillfire @s3rg3 @samotonakatoshi @denniskoray @fehmarn @virtualinsanity @mariannewest @guchtere @clixmoney @jenina619 @limesoda @costopher @morkrock @runicar @adenijiadeshina @drewley @raziel.com @andyjaypowell @nicolcron @bloggerkrunal @laraventure @alexs1320 @cowboysblog @shaka @miti @germanbot @nextcolony @vlemon @twinner @determine @leroy.linientreu @daio @greece-lover @carlagonz @lurescustombaits @nerdtopiade @mynewlife @oendertuerk @steemmonsters @stryker-one @overkillcoin @mo-nique @tsnaks @stackin @steemwiki @zephalexia @njjasim77 @jochenpaul @answerswithjoe @stav @guiltyparties @steemitworldmap @urukai @justtryme90 @dwiitavita @pialejoana @minhaz007 @bergkinder @amkn6590 @philipkavan @toocurious @monajam @afolwalex @samriya @maclevis @ifeoluwa88 @cadawg @tggr @neoxian @sweetkathy @liliana.duarte @yumyumseth @shortcut @mazzle @jadams2k18 @lichtblick @linakay @jamethiel @efemdi @vieanna @partiko @florino @barmbo @altobee @gernfried2000 @viktorderbear @ennessey @papilloncharity @mrstark2u @kingscrown
---
The magic word...
Add the magic word into a comment and @beerlover will do his job until the BEER-Drop is done.

If you need some BEER have a look at the Steem-Engine to fill up your fridge.
---
What will happen?
When ever you send another Steemian a BEER, there will be such a message as an answer to you comment.
---
---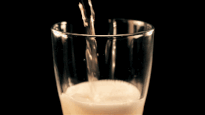 To view or trade BEER go to steem-engine.com.

Hey @sunsea, here is your BEER token!
---
BEER activities
There will be some weekly challenges like the #BeerSaturday where you will get some FREE #BEER as a prize and some magazine already had the BEER token in the news.
BUT there will be many more activities
around the third most drunken liquid on Earth here at the blockchain.
---
Stay tuned for more information
The team behind this - mainly fun and community orientated - token is working on some tools and will be ready soon.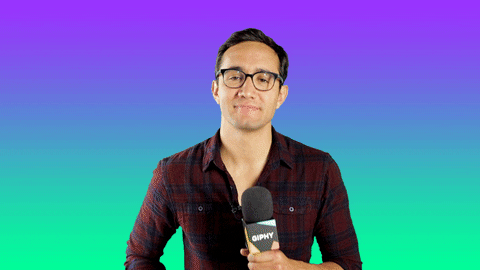 ---

Anyway,
if you like fun and beer and blockchain,
have a look to the BEER token

---
Buy some BEER
sure, this is easy. Have a look to https://steem-engine.com/?p=market&t=BEER
---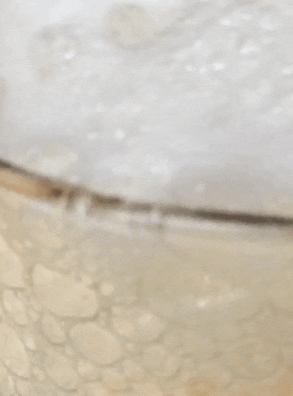 CHEERS
UPVOTE
FOLLOW
ENGAGE
---