Coinchase - New Financial Services Project: Trading, Loans, ICO Guarantees and Referral Payments

Coinchase is a new financial services project, that is focused on crowd sourced solutions. They offer solutions to lending, investing, savings, loans and even public token sales. Some of these have been seen in prior projects, and some of them are quite unique.
Referral Link: https://coinchase.com/c/wAel13I2
One of the very interesting solutions they offer applies to public token sales through Coinchase in their "Break and Return" insurance. If the token price falls below the public sale price within 48 hours of the first exchange listing, then any CCH members who purchased through the public sale have a period of time (currently advertised at 3 days) to request a refund. This can create a floor on the token price during those typically volatile first 48 hours, as there is a strong incentive against selling below the public sale price.
While many aspects of their platform have not gone live yet, they do already have a few features that are drawing some attention. Even though the token has not yet been listed on an Exchange, they are offering a unique liquidity solution in the form of "C2C Trading". Platform users are able to post Buy and Sell orders for CCH, which allows public sale holders to sell their tokens, and also those who missed out on the public sale to buy into CCH before the first exchange listing. This listing is currently slated for Q2 2019.
They also have "Predict to Win" and a "Predict to Win PvP" functionality that is currently live. With these, CCH holders can pick a coin pair (BTC/USDT, ETH/USDT, XRP/USDT, EOS/USDT) and then make a Call bid if you think it will increase or a Put bid if you think it will decrease. You input an amount of CCH that you are bidding, and also the time period you are logging your prediction for (1 Min, 5 Min, 15 Min, 60 Min). You then receive a payout (1.8x) for an accurate bid, or lose your CCH if you bid inaccurately. You can get started with their Free bid approach, where you log your prediction at no risk, and receive 20 CCH if you are correct. The variance with PvP is that Coinchase is not a party at all, nor do they charge any fees, it is purely a peer to peer prediction arrangement where you divide the pool with all correct parties.


Another feature that is currently live is their savings with interest. You can deposit ETH into your platform wallet and then transfer to a Savings account. The account currently pays an APR of 16% (half in ETH, half in CCH), with a gradually increasing amount. This feature immediately sets off alarm bells, as anything that pays interest rates at high rates carries inherent risk. I am currently testing this one out, as they do publicly list their team and advisors, the CCH amount they pay in interest they already have on hand, and they have already been generating ETH and CCH through both their token sale and their Prediction platform.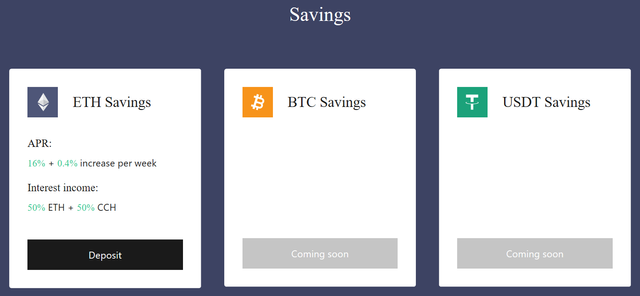 They will also have a new income stream opening up shortly when they go live with their loan functionality. Their loans also seem like a very useful tool, as they provide a loan with 60% collateral, and charge an APR of 12%. This means that if you need to access your funds, but expect crypto is going to increase in the near to moderate term, you can borrow against your crypto, and repay at a later date without ever needing to sell your crypto near a bottom.
If this sounds like a project you are interested in learning more about, here is a referral link you can follow. If you join through this link, you can receive 80 free CCH:
https://coinchase.com/c/wAel13I2
Give this project a look and then let me know your thoughts on it.