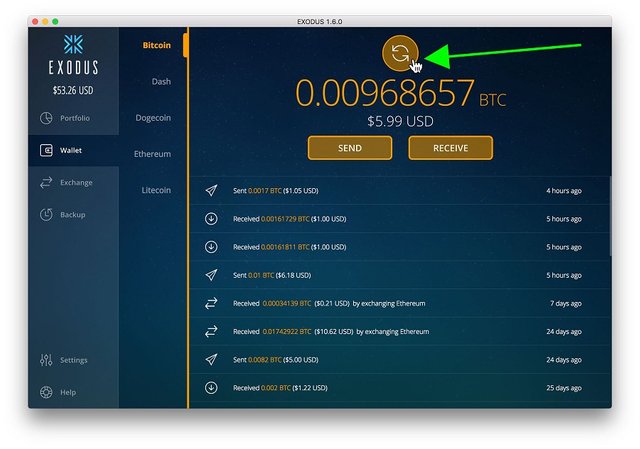 ---
Crypto 101: EXODUS Wallet is a great product that supports many currencies inside it and in there-- you can also exchange those currencies for others right inside the wallet with the ShapeShift exchange service I have discussed before.
It is a great LOOKING visual product, very clean, very easy to understand and use! All links to the services/products mentioned here are at the end of the blog post.
Our friend on here @aunt-deb named the EXODUS wallet her pick for her first ever Crypto wallet after I helped her out in making some decisions that may best suit her as a self described Crypto Noob when she named me as her Crypto Coach LOL
---
But sometimes, you will notice it does not have the correct/updated balance of your Crypto Currencies in there and I searched on how to deal with this and here is the Crypto 101 Blue Collar easy way to deal with that, I almost could not believe how easy EXODUS had made this - since so many things in this crypto space are harder to deal with from an IT perspective LOL.
As of writing this article -- the EXODUS Wallet supports several top/most popular currencies -- Bitcoin, LiteCoin, Ethereum, DASH and DogeCoin. 4 of these have been in the daily top ~10 traded Cryptos or so, for a long time now.
---
Basically this only involves a step or 2! I love how simple they made this, just like how clean and beautiful the product is.

At times, due to network errors or issues, the Exodus wallet quitting on you for some reason, etc. you will need to force a Manual Refresh of the wallet. For many days, I could not figure out what was going on in this regard.

Decide which of your assets in the wallet you think has the wrong balance. The process for all of them is the same and so simple, so even if you want to refresh them all and "scan the blockchain" -- it only takes about 20 seconds or so for a refresh.

Today we are going to update/refresh/rescan the BTC balance.

Open your wallet and click on the Bitcoin name there on the sidebar towards the left of your screen, beside the big EXODUS logo.

Go to the area where the big green arrow is in Graphic 1 here at the top of this page! Hold your cursor over that, and a REFRESH icon auto-pops up where the Crypto Currency logo exists now! Click on it!

A dialogue box pops open asking you if you would like to "rescan the blockchain". That's what we want! - so click "yes".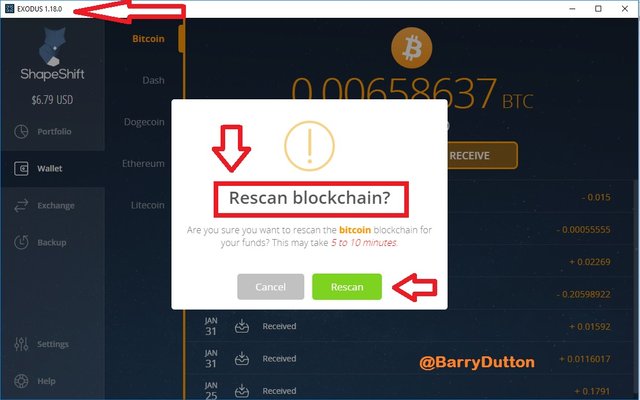 It takes about 20 seconds or so like I mentioned earlier. It re-scans the blockchain, counts each transaction, and rebuilds the data as such. Think of this as re-counting a till or drawer of money at the store or at home.

This feature was improved in version 1.17.0. As I write this, we are in v. 1.18 now so if you have ANY version prior to 1.17.0 -- you really need to do an update to the latest version of Exodus wallet and THEN follow the steps above. Note the red arrow in Graphic 2 I point to -- so you can always see what version you are dealing with.
---
I am honestly loving EXODUS wallet a lot.
Their product is like a nice little piece of Crypto Art from a visual perspective.
They are good to deal with, responsive.
The product is simple, well laid out, intuitive and easy to use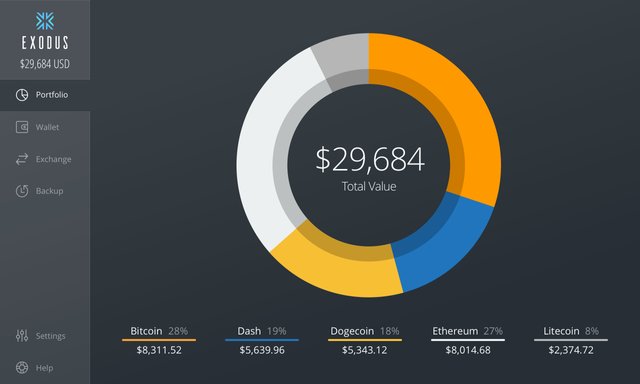 ---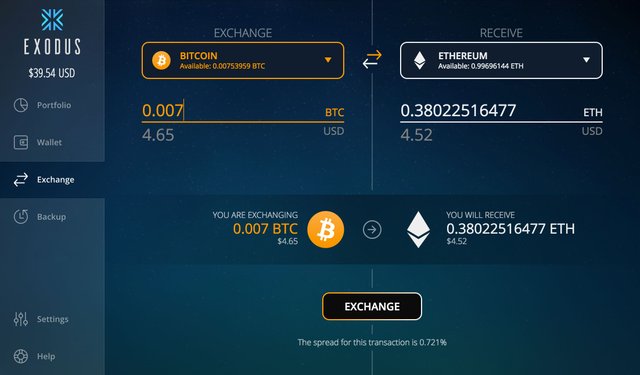 ---
EXODUS Wallet links and contact info etc:
---
---


---
---
If you feel my posts are undervalued or you want to donate to tip me - I would appreciate it very much.
Bitcoin (BTC) - 18J6RRuzX4V7b2CDbx7tWZYNBLkkGWsvWX
DASH - XgZvsvSZgPkNbmGbRhc3S1Pt2JAc7QHwiS
Monero (XMR) - d8ecb02c09f70ec10504b59b96bc1f488af28b05933893dfd1f55b113e23fbff
Ethereum (ETH) - 0x3Ad69Ff057C9533ca667B2d7E3E557F5eeFd4477
Ethereum Classic (ETC) - 0x5ab2b08d4ce8d454eb9d1ecc65c6d8b0c5f9784c
LiteCoin (LTC) - LKdsnvSXk9JW99EiNicFMGKc1FXiBo9tUE
Stratis (STRAT) - SNsJp6v1jXvKWy4XcXSXfNQ9zhSJJppJgv
Synereo (AMP) - 1KnrL6wFHaT4gjJ2YJ5f6WmKTDJNsaBS8s
Expanse (EXP) - 0x819b9cce8630ab638198eabfd7496786c20d629a
ZCash (ZEC) - t1aCPEYELkGaf3GtgGTiCEDo7XfPm4QEwmL
---
Please note -- I will have limited internet access for awhile -- so PLEASE do not be upset that I cannot reply right away, or to everyone. I am dealing with some changes, and will have limited time online and will be happy if I get a few blog posts up a week.
Img. Credits - Exodus.io
---