Moon Bot, Your Cryptocurrency Research Assistant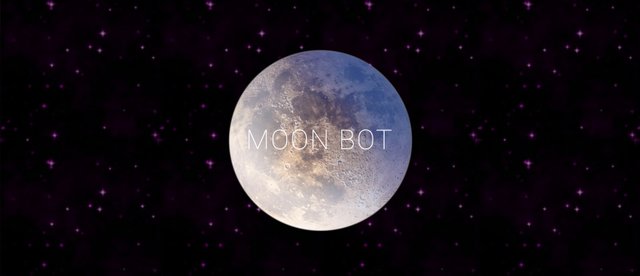 Struggling to find which coins are the most relevant right now? Not sure how to properly perform solid fundamental and technical analysis? MOONBOT is here to call the moon shots. Hop onboard and enjoy the ride.
When I began trading crypto currencies, two problems became immediately apparent.
I had no clue which coins were relevant for trading in an ecosystem of hundreds of coins.
I had no clue how to analyse these coins if I even did find them, in order to make effective trades.
Being a developer by trade, I love automating repetitive tasks so that I can save time and effort.
To help me with these two problems, I began to develop Moon Bot.
My goal was to look into social media trends and also provide me with links to all the resources I need related to that coin to help increase my speed in doing Fundamental and Technical Analysis.
Moon Bot is now in public beta and I would like to invite you to learn and make money trading crypto currencies using this effective tool.
Using Moonbot To Make Effective Trades
Before You Get Started
Before starting, you need Bitcoin (BTC) to trade with. A popular platform for purchasing BTC/ETH/LTC is Coinbase.
Sign up for a Coinbase Account and purchase some trading currency. Only do so if you have true disposable income. Trading is a risky game, but that is why I have created Moon Bot, to help mitigate that risk.
In order to trade with this Bots assistance, it is recommended that you sign up for an account at Bittrex. Bittrex is a popular Cryptocurrency exchange platform.
To do effective Technical Analysis, it is recommended that you grab an account at Tradingview. Tradingview helps you to do technical analysis with a wide range of tools, and has a great community where you can grow, learn, and become a better trader. It is free to use, but I highly recommend the Pro version if you wish to become a serious trader.
Finally, to get bot annoucenemts, you'll need a Telegram account.
How it works
MOON BOT takes the high quality coins and runs a special algorithm using Twitter results. It rates the tweets and the users that tweeted them to ensure that the scores return the most favorable coins according to their Twitter hype. More integrations are coming soon, including Reddit, Steem, and Google Trends.
It then provides a rating (number of birds for Twitter) for that hour, and stores the scores in a database. Using this historical data, it rates the hottest coins of the last 24 hours, as well as the hottest coins for the last 7 days based on their averages.
I am mining this historical data to find trends and build correlations in a beautiful UI that you will be able to view in an upcoming roadmap release.
How to use it
Introduction
The introduction section will contain the link to this guide, any other training resources, information about the roadmap and other things you need to know. Any main updates are located here.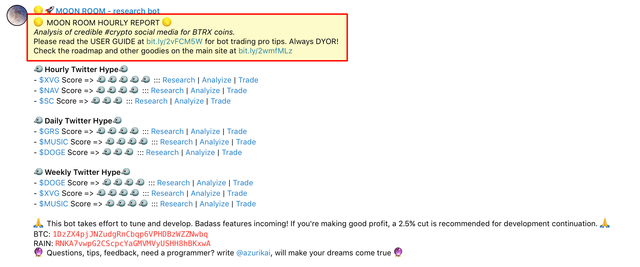 Data Report
There are three 4 links provided with each score entry under the hourly, daily and weekly categories.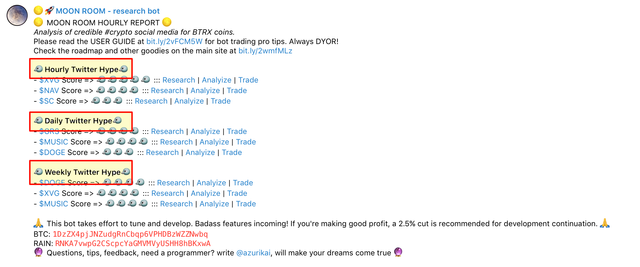 Twitter
You can click on the coin symbol ($BTC) to view the tweets related to that coin, sorted by latest tweets. Dig through the tweet walls and keep an eye out for technical analysis, news articles, speculation, and more. This is highly fundamental in affecting the trading price, and can even cut your work out for you!
Research
This link goes to Coinmarketcap. Coinmarketcap is a great resource for further researching a coins fundamentals. Fundamental analysis is important before buying in. Indicators to look for in the coin are...
All Time Coin Movement
You want to buy coins in the areas marked in green, and sell where red. Ignore coins that have low volume and not much activity in the long term. Learn about effective ACCUMULATION TACTICS.
Simply put, try to buy coins when they are in the valleys and not at the peaks. I've circled in green the valley, and circled in red the peak below: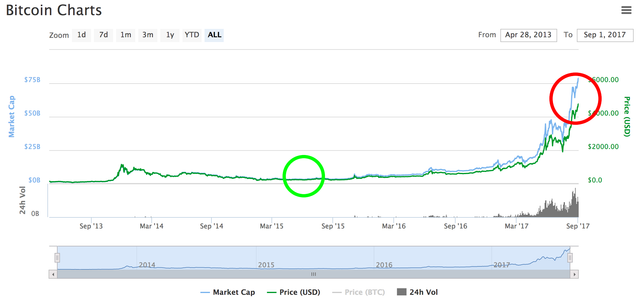 Hot web presence.
Check the website and make sure it looks legit as fuck. If they have money to spend on good design, development, etc, they're likely to have a future.
Unique Selling Points.
Find out what niche they are operating in, how well their product seems to be built, etc. Here's a quick primer on distinguishing good websites from bad.
Roadmap.
Look on the site for a roadmap, find out what is upcoming and use this to gauge your trading. You want to buy between the news releases in accumulation phases where prices are low. If they do not have a roadmap, it's kind of sketchy because it's a vague project.
Social presence.
On Coinmarketcap you can easily look at the social tab and see what kind of social presence they have. if they are not very active on Twitter or Reddit, there is a good chance that general interest in the coin is marginally lower. On their site, you might even be able to find links to their Slack, Discord or Telegram where you can often get insider information.
Market Information.
Check out the markets tab and check the volume. If the volume of the coin is not very high, it means that it is difficult to get buy and sell orders through on your preferred exchange (Bittrex).
Arbitrage
Note: This is for advanced traders, and should not be considered if you are just getting started
When sorting by price, you can find good opportunities to purchase a coin on one exchange and sell it on another exchange for profit.
Analyse
Technical Analysis (TA) should only be considered if a coin passes a decent fundamentals check, which are described above. Otherwise you might just be getting in on a pump and dump shit coin. These things can be profitable, but come with high risk when you're stuck while a pile of shit in your bags.
I tend to use TA indicators such as those shown below on the 1D or 1H candle width to check the coins movement potential, to see where it's going in the near future. I then look for the same indicators on the 5 minute and 1 minute to determine a buy in zone.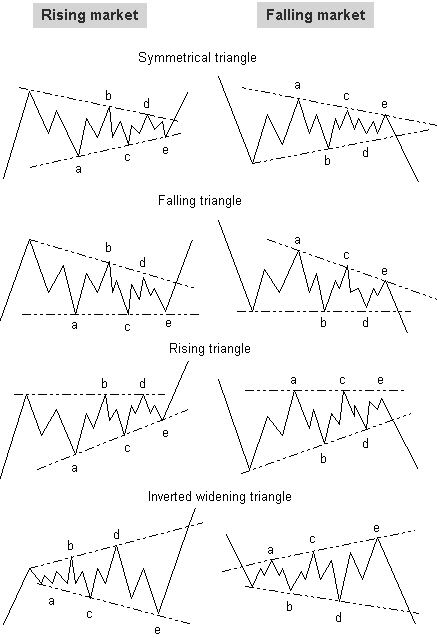 PRO TIP! Learn how to use indicators such as MACD, RSI and Fibonacci retracement analysis. Using multiple indicators will help you zero in on a killer trade. Have an edge, or get burnt.
Technical Analysis Offical Resources
I am attempting to put together excellent TA resources for everyone to learn and read about. Here's a list of what exists and also what is upcoming.
Once you've done some solid TA and charting and are satisfied that this coin is worth your time, it'd be GREAT if you shared your TA on Twitter with the hastag #MOONBOT so that other users can find these goodies and hopefully we can get a coin pumping due to good analysis. Also share it in any groups you're a part of for street cred and getting more people on board of a buy so that we can all go to the moon.
Trade.
Once you're satisfied with the Fundamental and Technical Analysis phase, it's time to trade. Using the Bittrex platform, you can use the solid entry point that you found after learning how to use the Stochastic Relative Strength Index, and place your trade. Don't forget to exit with profit using the same trading resources above.
More information on how to trade properly will come in future versions of this guide. For now if you have any questions, please contact me via the link in the Moon Bot channel.
Example Usage
A pro-user workflow looks as follows:
When the Moon Bot posts, scan the report quickly. If you see any new coins on the hourly post, give a quick look over on the Twitter feed to see if anyone is doing some technical analysis already, or if some news articles are being hyped. If so, follow the method above. You can use these for potential day trading/scalping opportunities or swing trading opportunities.
If it looks good, add it to your TradingView watch list. If not, move to the next one.
Do solid TA with actual charting on the 1 Day view so that you can continue to track the coins you are interested in. An example of solid technical drawing looks like below: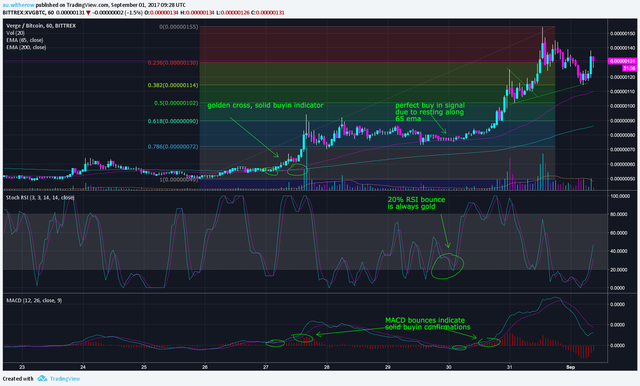 NOTE: It is very important to draw, share and get critique on your TA, and to chart often. You will begin exponentially learning once you start. Don't wait!
If you would like critiques on your TA, please message me and I will help you.
Continue to watch the 1 Day view for the best time to buy in, and then use the principals from the Stochastic Relative Strength Index Entry/Exit Strategy post to get in and out of the trade.
If you're seeing recurring themes on top daily and top weekly coins, you should keep these on your watch list and do deeper research on their roadmaps and look for swing trading opportunities over the course of days and weeks.
How to be a winner
Do your own research
Do solid technical analysis and share it with others
Get more people to use the bot. Share the website!
Wait for a trend to end or go into a Elliot Wave dip before buying again.
Buy in well after the trend is over and it begins to look as if it is going to start climbing again
Accumulate the dip
Sell the news
Stick to your system
How to be a failure
Blindly jump straight to the trade window and buy at market price
Ask others to do analysis for you without having searched first.
Buy in on a trend that is already rocketing.
Buy in after a trend is over.
Buy the news.
Sell the accumulation phase/dip.
Don't stick to the system.
Final note
Now that you've mastered the art of trading, it is now time to get started. Click here to join the Telegram MOONBOT Channel. Share it with your friends too!
If you're able to make money using this bot, please do me a favor and consider giving back to the development. A lot is planned on the roadmap, and more capital = more development time. More development time = more features and more features = more money!
Addresses
BTC: 1DzZX4pjJNZudgRnCbqp6VPHDBzWZZNwbq
RAIN: RNKA7vwpG2CScpcYaGMVMVyUSHH8hBKxwA