The brand new Auxilium (AUX) desktop wallet is fantastic!
That's why we're very eager to give you some previews. It doesn't only look the part, but also offers a wide variety of functionality and options!
The brand new AUX desktop wallet offers all functionality that Ethereum offers. Yes, equal functionality to the number two cryptocurrency according to Coinmarketcap.
But that's not all… remember Auxilium has major advantage: it utilises Auxilium Proof of Authority (PoA) and the Auxilium Interest Distribution (AID) Platform. Read more (https://auxilium.global/advantages-of-innovation/) about these advantages. Or check out the comparison table (https://auxilium.global/aux-comparisons/), comparing Auxilium PoA to traditional PoW and PoS.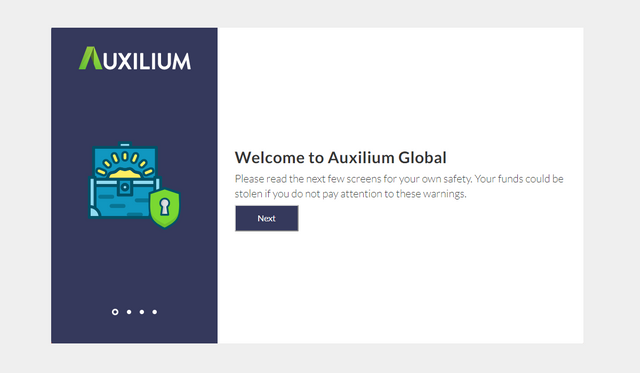 Page 1 of 4. Welcome pages informing new user after installation.
Want to see more!? Of course you do!
Let's dive straight in.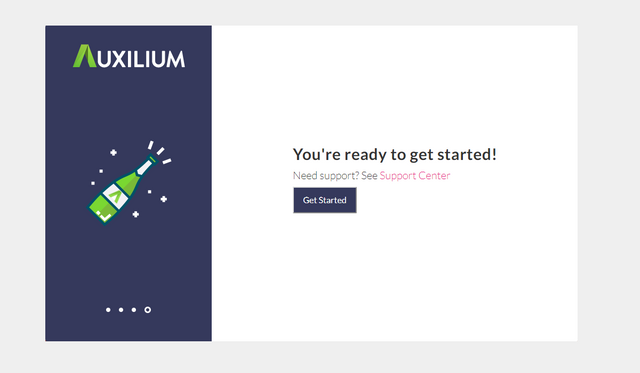 Page 4 of 4. You're ready to get started!
View & Send
In this section you'll have the option to import an AUX wallet based on: Private Key, Keystore File (allows you to import the keystore file from the current Auxilium desktop wallet), and Mnemonic Phrase.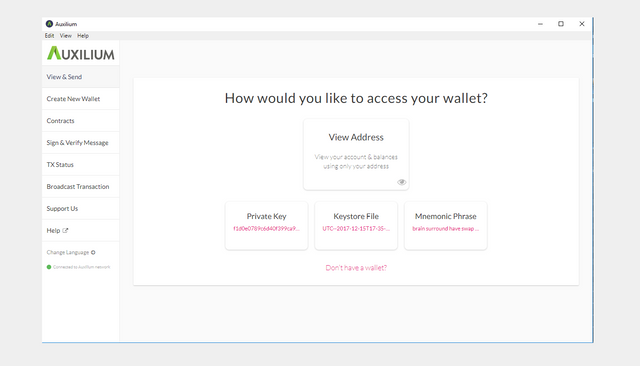 Further options:
 — Add label to address
 — View transaction history
 — Insert recipient address
 — Choose amount to send
 — Currency selection (in case you hold AUX-tokens, once available)
 — Scan for AUX tokens (in case you hold AUX-tokens, once available)
 — Set transaction fee
 — Advanced options: custom Gas price, Gas Limit, Nonce and Data
 — Wallet info: address, private key (both in text and QR-code)
 — Print wallet info
 — Generate (new) Keystore file
 — Create address book
Create New Wallet
You'll be able to create a new wallet through Keystore File and Mnemonic Phrase. After creation it's possible to download the Keystore file or print a Paper wallet. Both options also give a QR-code.
Contracts
Yes, this means smart contract functionality is available!
 — Interact with existing contract
 — Deploy new contract
Sign & Verify Messages
 — Sign Message
 — Verify Message


Example of verification message.
TX Status
 — Check transaction status
Broadcast Transaction
 — Broadcast signed transaction
Support Us
 — Social links
 — Donation addresses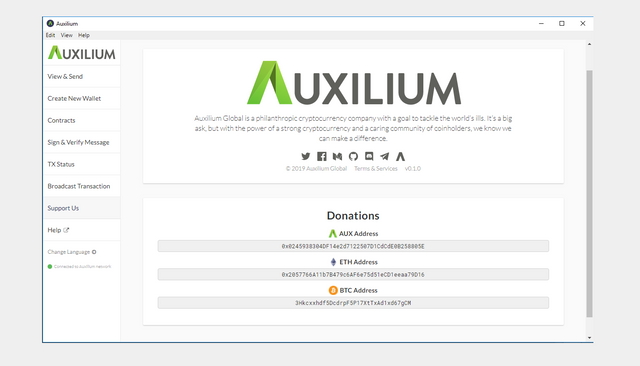 Social links, Terms of Service and donation addresses to support AUX.
Help
 — Support Center
20 languages supported
Expected launch date
We aim to launch the new wallet 9th June 2019, a week after the AUX upgrade/fork that will be performed on the 25th of May 2019.
Read more, or follow us!
https://auxilium.global
https://forum.auxilium.global
https://t.me/auxiliumcommunity
https://twitter.com/auxiliumglobal
https://fb.com/auxiliumglobal
https://discord.gg/59PXRM8
https://coinmarketcap.com/currencies/auxilium/
https://coingecko.com/en/coins/auxilium