Auxilium listed on Trezor hardware wallet
Great news! Auxilium cryptocurrency is listed on Trezor, one of the most used and well-known hardware wallets in the world!
We've informed you earlier this summer about our listing application, and Trezor adding us when launching their latest version. At the moment we're available on the Trezor Model T, and soon will be added to the Trezor One.
Auxilium cryptocurrency is listed on the renowned hardware wallet Trezor.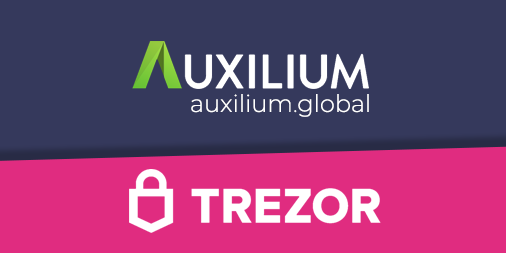 You can find Auxilium on the Trezor website: https://trezor.io/coins/#AUX
This means all users of Trezor can keep AUX safe on their hardware wallet. Adding an hardware wallet option to the already available desktop (Windows, MacOS and Linux), MyCrypto and paper wallet options.
We're aiming to get listed on the Ledger hardware wallet also. It might take a major exchange listing to get us on Ledger as they increased the amount of requirements lately. We'll keep you updated on this process. The same can be said of the mobile TrustWallet listing application.
Keep an eye on our social media channels as we'll likely update you on the exchange listing progress this weekend.
The website
https://auxilium.global
Be social
https://t.me/auxiliumcommunity
https://twitter.com/auxiliumglobal
https://fb.com/auxiliumglobal
https://forum.auxilium.global
https://discord.gg/59PXRM8