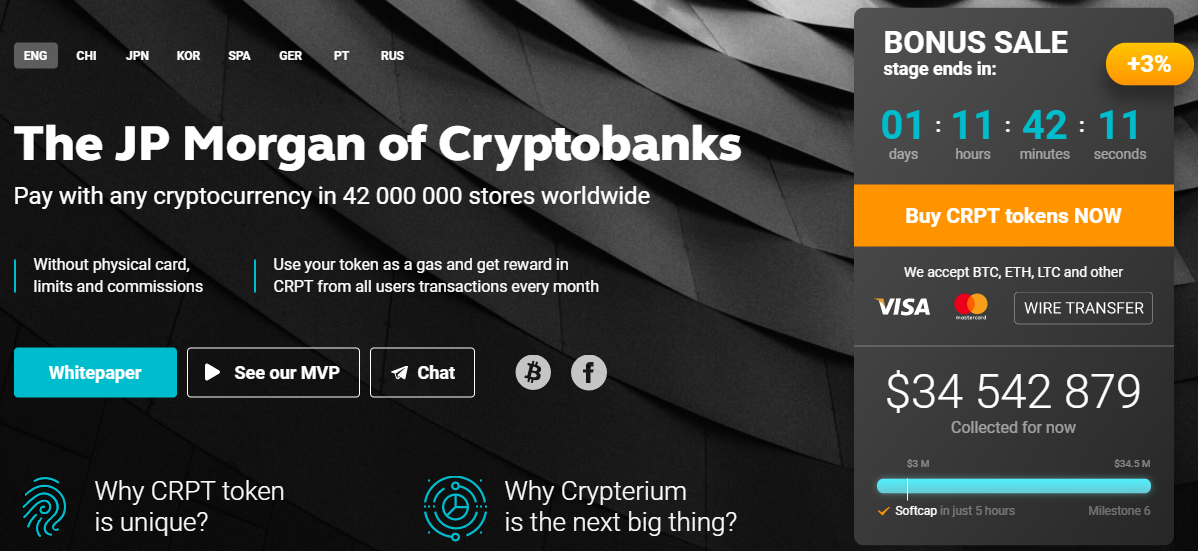 Crypterium can be related to all the aspect we need right now which are flexibility, futuristic and relevancy since it's on a right track to becoming the first blockchain bank in the world and cryptocurrency space. You might have heard about fintech, a cashless payment gateway using NFC from your mobile phone to the merchants terminal. Notable companies offering these type of payment are Samsung pay and Apple pay. But what if you can buy your coffee without using Fiat money but instead you can pay using a cryptocurrency. Watch this video and you can get the picture of it.
Crypterium will be like a bank without borders where you can store your cryptocurrencies and you can use it anywhere and anytime without a plastic card such as Debit or Credit Card. All your transactions will be online, in blockchain and automated.
Why we should invest in Crypterium:
There is always the constant demand for mobile banking and with Crypterium the lower transaction fee will boost the demand.

They offer royalty for the members to enjoy cash back up to 50% for the transaction they make.

Merchants have more reason to use it since the current adoption of cryptocurrency by the consumer, this will 'push' the merchant to adopt accepting payment in cryptocurrencies as well. Even the marketing team have put effort into social media advertising such as Facebook, Google Adwords and even steemit.


image source
Killer Feature:
Crypterium has many features such as mobile crypto banking, cryptocurrency acquiring and open API platform, however, the feature that will probably 'kill' banks are Blockchain Based Loans. Currently, if we want to make a loan with a bank for our car, mortgage, and even for business we will need a good credit report from the bank's perspective. The bank managers that will approve our loans most probably make the decision based on our credit report but sadly, some of the decision made could be wrong because the current credit report system is not accurate, flawed and can be easily manipulated. The reason being is all our data related to the credit report is not updated because there is no automation of our credit report. Therefore, it does not tell the whole story of our financial capability. Crypterium can help us to solve this problem as our credit report will be automatically updated and it can create a better financial responsibility for an individual. The day where you can buy your home with your cryptocurrencies is nearing.
In conclusion, the whole idea is praiseworthy as we are able to spend our cryptocurrency through mobile phone on-demand which opens up to a whole new ball game. The unique idea of decentralised blockchain bank that can give every advantage to merchants in term of business efficiency and a consumer market in term of landing and open platform will be welcomed with an open arm.
crypterium2017
This post is written for @originalworks competition titled 125 STEEM ~ Sponsored Writing Contest: Crypterium