EVOS: Invest, Manage and Earn - Evolution of services for masternodes coin investments
Hello friends, in this opportunity I come to present you an interesting and new cryptocurrency: EVOS . Which is undoubtedly a great project, guided by some investors of masternodes and software developers, with the objective ofinvesting in cryptocurrency and masternodes simple, profitable, and secure It is undoubtedly a good project to invest and win, besides that you can win some EVOS in DISCORD without needing Investment, just for belonging to the community of evos in discord.
I will start talking about the basic characteristics of the currency, its objectives and official sites. Then I will explain how the EVOS community works in discord, and how you can earn some evos in it. In addition to a brief explanation of how to trade the evos, both buy and sell with other cryptocurrencies.
---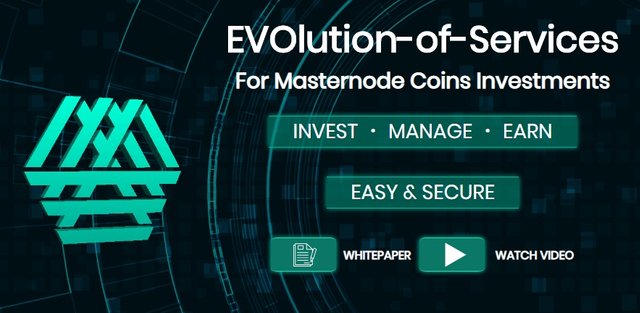 ---
What is evos?
The platform is called EVOlution-of-Services, but in the contract name it is known as EVOS. This platform will become the center of a complete and advanced destination for each and every one of the masternodes. From investors, developers and project owners, to occasional users, EVOS will offer products and services for each demographic group within the cryptocurrency universe. With only 20 million as the maximum supply of coins and a relatively high percentage of master assignments for rewards, the supply of coins in circulation will be relatively low. This means that the demand for the currency will be even more effective to increase the value of the currency. Among its features, we will have:
-For developers, investors, and end users of masternode coins
-To deploy, develop, promote, and implement new cryptocurrencies to traditional businesses.
-Buy, host, manage, and monitor your masternodes with the EVOS user interface or your favorite messengers in ONE click.
-The EVOS platform will allow users to sell rewards for BTC with one click and sell their BTC for fiat currency with another click.
-EVOS will provide Pre-Sale and Auction bots and services to provide a more secure investment.
-Direct administration and one-click options for passive income obtained.
-Safe investment in the stage of planting coins, before it reaches an exchange.
-EVOS will bring simplicity to your masternode investments. From buying and starting masternodes, to selling rewards for BTC or fiat currency, to sending those profits to your credit card, all of this will be accomplished within an all-in-one platform. EVOS will make the masternode experience easier to manage and investors will benefit from consistent passive income. By building a multifaceted platform where all services will be available, all users will be able to navigate the conundrum that is masternodes quickly and with ease. No longer will advance technical knowledge be needed to successful manage masternode investments and projects.
-Just choose a masternode you want to own or rewards you want to sell and several clicks in your mobile phone or browser - EVOS will take care all transactions!
-No longer will investors waste their time and money waiting for confirmations and paying unnecessary fees. The entire process, buying a masternode with a couple clicks of the mouse, setting up a masternode with a couple clicks of the mouse, selling rewards for BTC with a couple clicks of the mouse, sending money to your credit card to buy your husband or wife a gift, can be accomplished within the EVOS platform.
---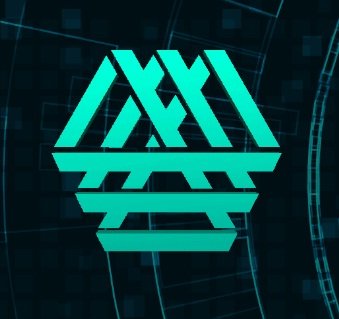 Logo
---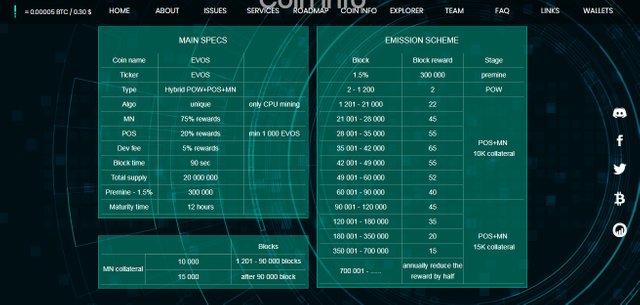 Coin info
---
Introduction of EVOS
---
Official Links:
---
---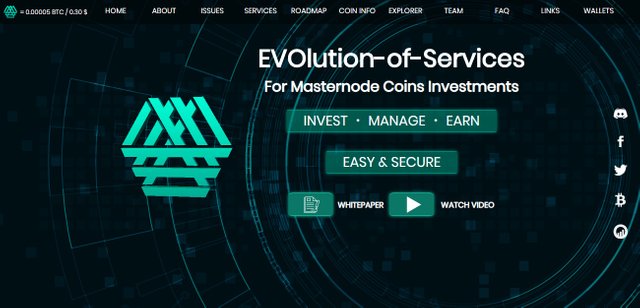 Website
---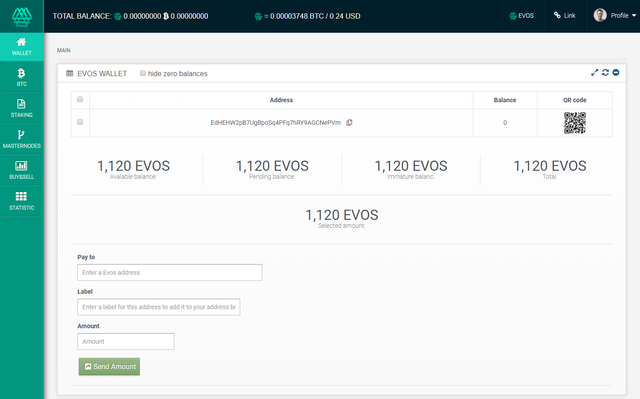 First captures of the Beta platform that the Evos team is developing
---
Official Wallets:
They are desktop applications, In it you can choose the masternodes, with only depositing some Evos, it has an integrated system of Pos Pool very interesting, fast and simple.
INTEGRATED SEEMLESS PoS POOL:
Usually if you want to began staking in your own wallet you need:
Download desktop wallet app and start it - 3-5 minutes;
Download full blockchain files and synchronize wallet - 3-40 minutes;
Rent VPS to run your wallet 24/7 - 5-20 minutes;
Setup appropriate wallet configuration;
Finally start staking.
How much time will it takes to do all above? At least 1 hour.
---
---
EVOS MASTERNODE installation tutorial
---
Community of Evos in Discord:
Link: https://discordapp.com/invite/FeUc93R
I am proud to belong to this good community for a long time, in its beginnings not much more than 2 months. I have seen how it has grown a lot and evolved positively. The administrators are very friendly and always keep active contests or rewards to the users.
In the image we can see how the structured community is: composed of different channels, in which you can learn about the project, be aware of the news, rewards and events. I will explain each one in detail.
---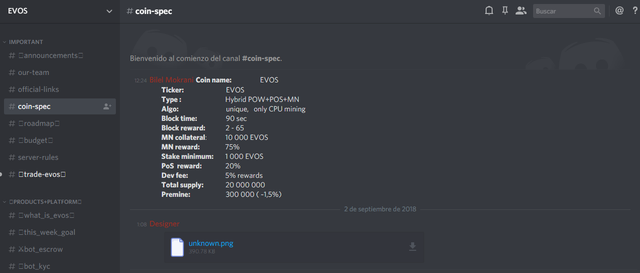 ---
IMPORTANT:
# announcements: Here is published everything that happens in evos, such as: news, updates, contests, bountys, maintenance, among others. Always be aware of the channel, always good news brings us the administrators.
# our-team: Information about the Evos team, led by Bilel Mokrani.
# official-links: Here you can find all the links referring to evos, such as: Official page, wallets, masternodes, social networks, forums, guides, tutorials, among others.
# coin-spec: Currency specifications. Like the type of currency, the algorithm, basic information of the masternodes and the stake, total supply (Supply) and other quantitative characteristics of the currency.
# road-map: It is the roadmap of the project, where they inform the dates in which there will be changes or important events relevant to the project.
# budget: An interesting channel, where we can see the budgets of the project.
# server-rules: starting in the community, you must go through here, and follow these rules to the letter, to avoid problems or problems in the community.
---
PRODUCTS+PLATAFORMS:
# what is evos: Here they explain to you briefly what is evos and what objective the project has.
# this week goals: They are the weekly goals of the project.
# bot_gatekeeper: El bot que utilizaras en la comunidad, es tu cartera. En el puedes depositar, transferir y estacar. Mas abajo explicare su uso.
The bot you will use in the community is your wallet. In it you can deposit, transfer and stake. Below I will explain its use.
---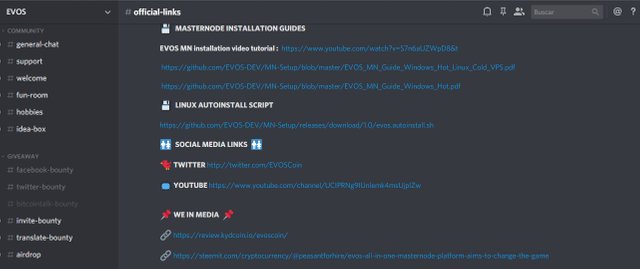 ---
COMMUNITY:
In this you can talk in different channels, be it about currency, help, advice, support and ideas that help the project. Avoid spam and be respectful and kind to the community.
---
GIVEAWAY:
# Airdrop: channel where the winners of airdrops that fall constantly are published, avoid talking here. They will know if they won an airdrop, if they have a red notification on the channel.
---
---
Internationals Channels:
Here are all the communities classified by language, you can find the one you better handle like French, German, Polish, Italian, Japanese, Spanish, Chinese, Arabic, among many others.
---
How to use the EVOS-GateKeeper BOT in Discord?
EVOS-GateKeeper BOT is incredible, fast, safe and very simple to use. It has a lot of tools, which benefit us a lot in the community, but below I will explain each of them in detail, since it seems to me a subject that everyone should know from the beginning. No need to register, just enter the group, BOT automatically creates an EVOS wallet for user. If a user leaves EVOS server, his or her wallet still remains active and all his coins are safe and available to use when the user joins again. To begin we must send the command ! Help to know all the available commands:
---

---
It gives us all the relevant information about our account / wallet:
---

---
-Your EVOS wallet address:
It is your wallet address, which you must use to receive deposits.
-Your EVOS wallet balance: It is the balance of our wallet.
-Your Stack Balance: is the number of evos that we have stakes.
-Your Pending balance: balance on hold.
-Exchange rate: 1 EVOS = BTC: Price at the moment in BTC
-Exchange rate: 1 EVOS = USD: Price at the moment in USD $
-Likes you received: Amount of Likes you have received by other users. (1 Like = 0.25 XP Points)
-Your rank: Level.
-Your posts count: Experience obtained without counting the likes.
-Your XP points count: Total experience obtained (This is the experience that counts to level up)
-Your current position in EVOS TOP users: Your position in the community EVOS TOP.
---
This command is used to send EVOS to another wallet, you just have to send the command like this: !Send address amount
---
Level information (Ranks)
---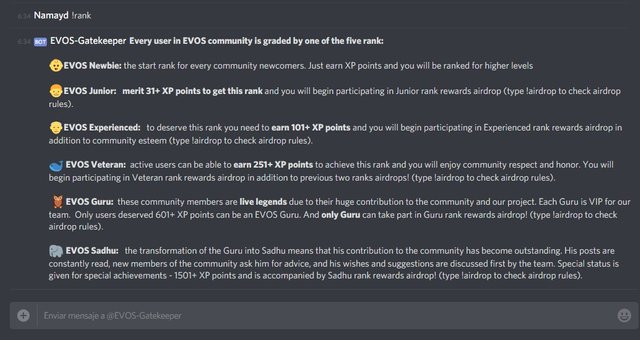 ---
-EVOS Newbie: It is the start rank, in which you can not choose to receive airdrops. So you should come up soon from that level.
-EVOS Junior: 31 XP Points: Roll Green
-EVOS Experienced: 101 XP Points - Roll: Blue
-EVOS Veteran: 251 XP Points - Roll: Purple
-EVOS Guru: 601 XP Points - Roll: Red
-EVOS Sadhu: 1500 XP Points
Tip: To raise your experience you should only speak in the community, contributing and helping, with a comment of at least 80 letters every 20 minutes, you can gain one XP Points. Avoid spam and repetitive messages, please
---
Random ranks airdrops, Users with online. Airdrops are distributed between online ranks members at random.
---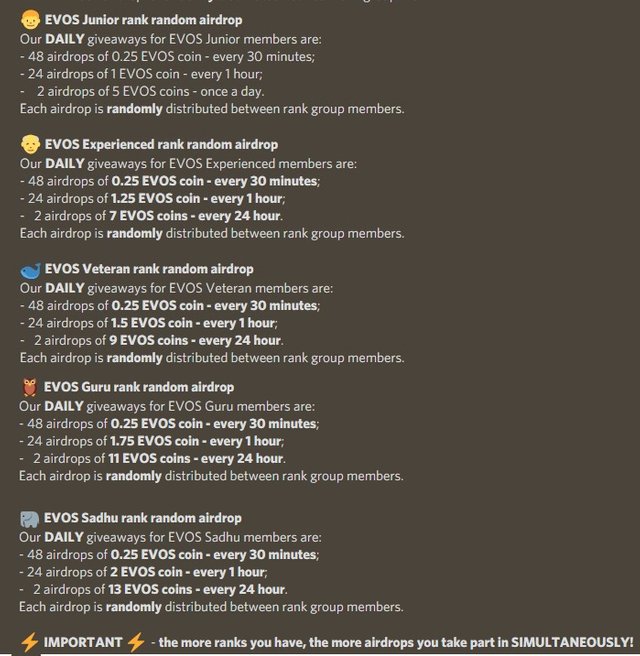 ---
-48 daily airdrop in each rank of 0.25 Evos (Every 30 min)
-24 daily airdrop in each rank, the reward increases with the rank (Every 1 hour)
-2 daily airdrop in each rank, the reward increases with the rank (Every 12 hours)
-Big ranks are also eligible in lower level airdrops. That is, the higher your rank, the more likely you are.
-For better detail, see the image below, to see the rewards for rank
---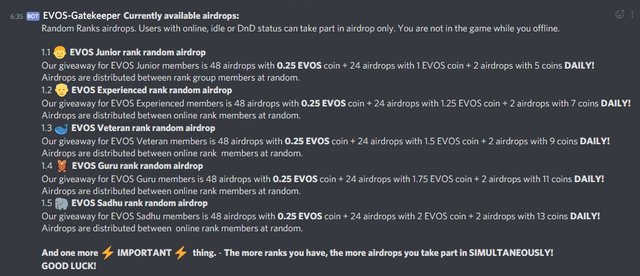 ---
EVOS GateKeeper BOT includes integrated PoS Pool so you can start staking and earning rewards in a seconds. This command is used to stake our coins and these will generate profits every 12 hours, the more coins you have stakes, the higher the profits will be every 12 hours. The other !unstaking command is used to deactivate the stake and move the coins to our balance. To stake or unstaking we just have to put the "command" + the amount of coins we want.
EVOS GateKeeper BOT Staking
---
JOINT DISCORD+TELEGRAM WALLET
You can find our EVOS Telegram wallet by this link http://t.me/EvosWalletBot
EVOS team developed the simpliest blockchain wallet ever - just join Discord and/or Telegram messengers and send or receive coins in pair of clicks.
How to use joint Discord+Telegram wallet?
Once joined EVOS Discord server or started EVOS Telegram bot you will be assigned an EVOS address. Since that everyone can easily send the EVOS coin to your wallet using this address.
Also you can send your EVOS coins by typing !send command to GateKeeper or Telegram bot.
---
EVOS telegram and discord wallets integration tutorial
---
How to trade the evos?
Cryptobridge: https://wallet.crypto-bridge.org/market/BRIDGE.EVOS_BRIDGE.BTC
For now evos are available in a one exchange,
Cryptobridge
. It is very simple to use, it does not have big differences to other exchange. You just have to create a wallet on the web wallet or in the Cryptobridge desktop application, and they will assign you a private key that you should never lose.
You only need to enter "deposit", search Evos in the list of coins, generate your evos address, with which you can deposit evos from the discord button, desktop wallet or another cryptobridge wallet. And you can also remove all mentioned platforms.
---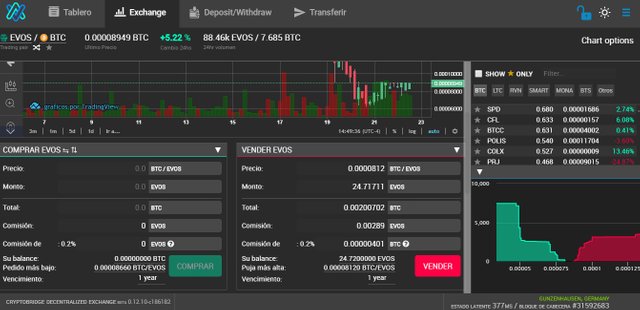 ---
In the
BTC Market / EVOS
, you can buy evos with bitcoin, or exchange evos with bitcon. If you want to send to another exchange, I recommend converting the BTC to another cryptocurrency with less commission, such as XVG, DVD, LITECOIN or DOGECOIN.
All this you can easily do in a short time. I highly recommend buying evos, considering how low the price has been in recent days. No doubt he will return to the moon, so take advantage of the offer. In addition to investing in staking or masternodes to generate daily profits. Regards!
---

---