A Bullish Pattern is formed in Bitcoin daily chart

Midterm:-
. While the price is above the support 6000.00, resumption of uptrend is expected.
. We make sure when the resistance at 9774.80 breaks.
. If the support at 6000.00 is broken, the short-term forecast -resumption of uptrend- will be invalid.
Technical analysis:
.While the RSI support #1 at 30 is not broken, the probability of price decrease would be too low.
. The RSI downtrend #2 is broken, so the probability of a resumption of uptrend is increased.
. Price is below WEMA21, if price rises more, this line can act as a dynamic resistance against more gains.
. Relative strength index ( RSI ) is 41.
. A "Bullish Engulfing Pattern" is formed in the daily chart at 7469.45 on 05/29/2018, so the probability of beginning of uptrend is increased.
Trading suggestion:
There is a possibility of temporary retracement to suggested Buy Zone (6974.35 to 6000.00). if so, we would set orders based on Daily-Trading-Opportunities and expect to reach short-term targets.
Beginning of entry zone (6974.35)
Ending of entry zone (6000.00)
Take Profits:
TP1= @ 7556.25
TP2= @ 8180.60
TP3= @ 9051.90
TP4= @ 9774.80
TP5= @ 11600.00
TP6= @ 12750.00
TP7= @ 15308.00
TP8= @ 17095.65
TP9= @ 19704.20
TP10= Free
Trade Setup:
We opened 10 BUY trade(s) @ 6715.85 based on 'Hammer' entry method at 2018.04.01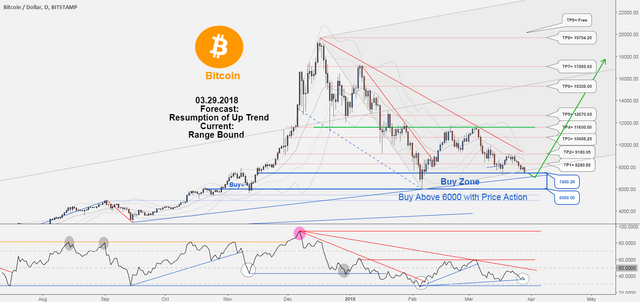 Total Profit: 1181981 pip
Closed trade(s): 770015 pip Profit
Open trade(s): 411966 pip Profit
Closed Profit:
TP1 @ 7556.25 touched at 2018.04.12 with 84040 pip Profit.
TP2 @ 8180.60 touched at 2018.04.15 with 146475 pip Profit.
TP3 @ 9051.90 touched at 2018.04.24 with 233605 pip Profit.
TP4 @ 9774.80 touched at 2018.05.05 with 305895 pip Profit.
84040 + 146475 + 233605 + 305895 = 770015 pip
Open Profit:
Profit for one trade is 7402.46(current price) - 6715.85(open price) = 68661 pip
6 trade(s) still open, therefore total profit for open trade(s) is 68661 x 6 = 411966 pip