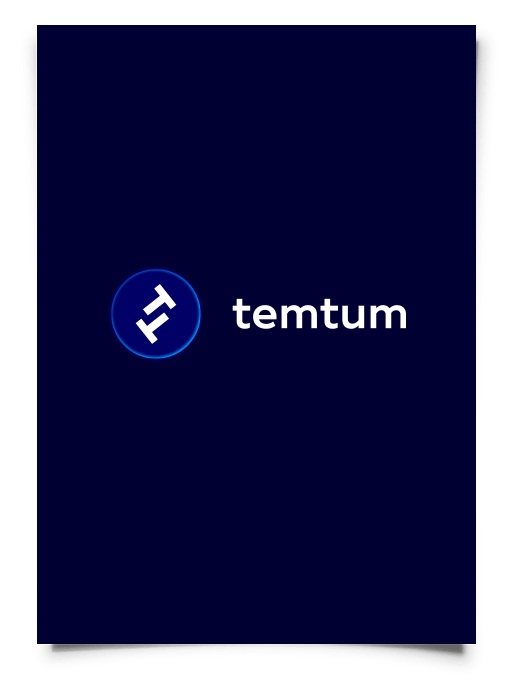 Temtum network after its successful launch and successful listing on coinall exchange has put in place some awesome collaborations that will futher drive the vision of the platform and get them closer to their end goal. Temtum strike a very phenomenal partnership with Roobet an online casino platform. This will provide ample opportunity fot temtum to integrate their awesome feature on a working product. From all indications it seems as though the gaming industry is in dare need of cryptocurrency and its blockbuster blockchain technology, although previous attempts has been thwarted it still stand that the an adoption of blockchain technology and cryptocurrency by the gaming industry is what will benefit both sectors. As the gaming industry will be able to leverage on the decentralized framework and and other multi function of blockchain.
THE INTEGRATION OF TEMTUM BY ROOBET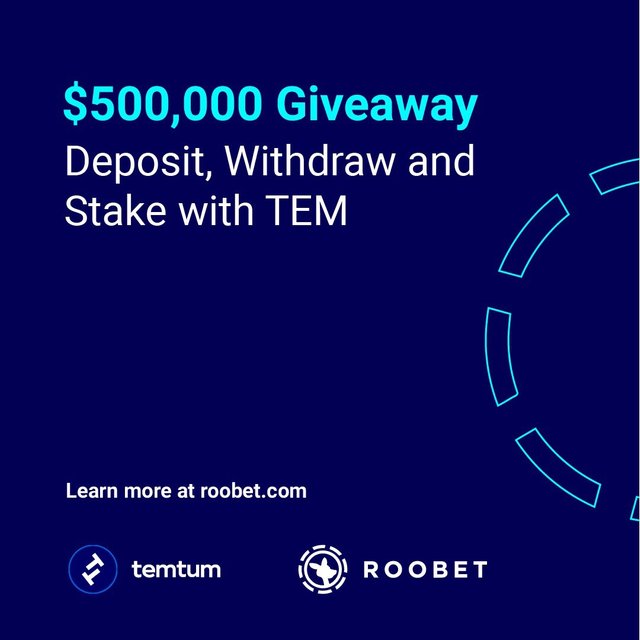 1st August 2019, an online leading casino platform based in UK precisely in London integrated Temtum into its work space. Roobet will make use of Temtum platform to deliver a fair gaming services to its users. This innovation will lead to a more fair and transparent casino operations. TEM will be available to all gamers and users on the Roobet platform , this will give them an important edge over other casino game centres. TEM which is the official currency of the Temtum platform will be accepted and used in the Roobet gaming platform. This is a win win situation for both parties as temtum gain more popularity, exposure and adoption and Roobet gets to be among the early adopters and users of Temtum awesome platform, Temtum is known for its speedy transaction and execution to that effect it will he used to place bet on the platform, with no transaction fee attached to it.
Deposit, Withdraw and Stake with TEM on the Roobet gaming site commenced from 31st of July. You can make instant and feeless deposit. Existing and new users will have exposure to a new crypto currency.
TEMTUM $500.000 GIVEAWAY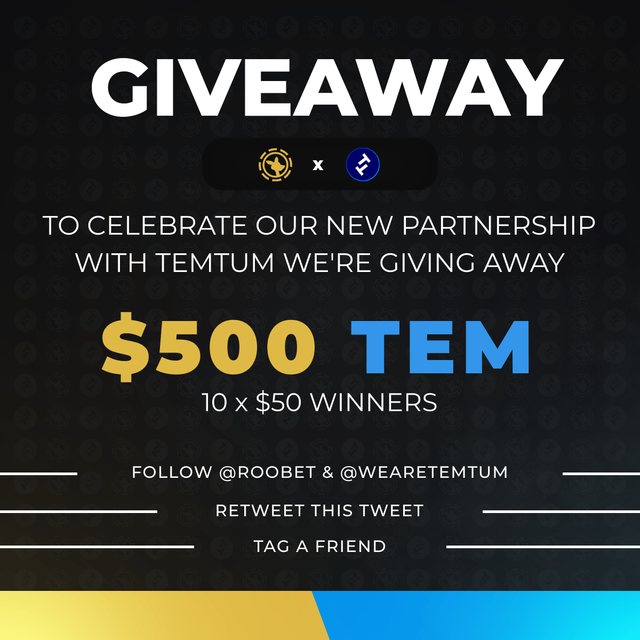 After a successful launch with @Roobet TEM and Temporal has been working exactly as planned
$500,000 Cryptocurrency Giveaway to Launch Temtum Partnership with Roobet. As part of the beneficial integration of the new crypto technology (TEM) into the Roobet gaming platform, in bid to support the valuable development of new tournament structures, Temtum provided $500,000 of rewards. This will be accessed by the new and existing users and the Roobet community through impacting tournaments, giveaways and more mediums of earning the reward. temtum will be distributed to thousands of real players arround the world.
This will be the main open door for gamers to utilize the cash on a gaming site and they could leave with good rewards for participating in the activity. This distribution operations is a piece of the rollout of temtum as a money, to support ordinary utilization of TEM as an payment coin and guaranteeing the system has a continued market usecase .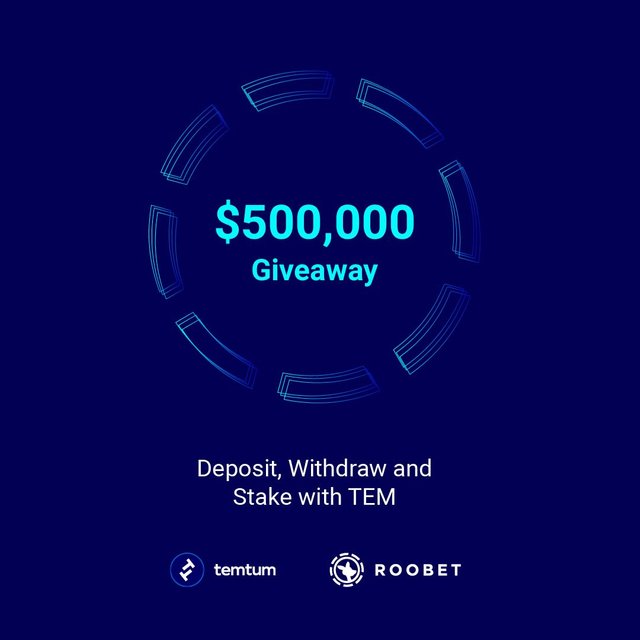 CONCLUSION
Digital currencies have made the move into the gaming industry, however their prosperity has been constrained, fundamentally because of issues in speed, cost, and security, while custom utility tokens have no utilization in reality. temtum has been intended to take on these key issues and offers disruptive services in terms of exchange speeds, a feeless system and a quantum secured that will fasten adoption. The partnersip with Roobet will ensure this.
For more information visit:
WEBSITE: https://temtum.com/
TELEGRAM: http://t.me/temtum_official
WHITEPAPER ON ENGLISH: https://temtum.com/downloads/temtum-whitepaper.pdf
FACEBOOK: https://www.facebook.com/wearetemtum
TWITTER: https://twitter.com/wearetemtum
MY BITCOINTALK USERNAME: Deathproxy
MY BITCOINTALK PROFILE LINK: https://bitcointalk.org/index.php?action=profile;u=