BINANCE HACKED?! Take Your Crypto's Out of Exchanges!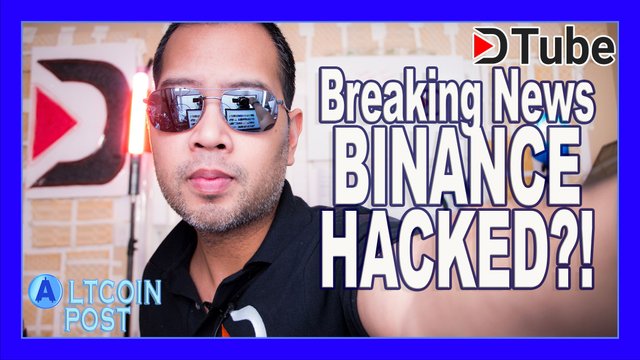 ---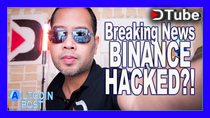 ---
Special shoutout to @artakush who was the first to notify us on our discord channel. After a bit of research here guys, it looks like Binance is going through another set of rough patches. Here are all the links below that I used for the video. Remember to take your crypto out of exchanges guys! Share the news with others if you think it'll help. Let me know in the comments below if you have any crypto stored in your Binance account. Please go and check to make sure they're there. If they are, I would highly suggest moving them to a hard wallet.
https://www.coindesk.com/funds-safe-binance-denies-crypto-hack-rumors/
https://twitter.com/cz_binance/status/971454040704872448?ref_src=twsrc%5Etfw
https://www.forbes.com/sites/jessedamiani/2018/03/07/crypto-market-drops-amid-rumors-of-binance-hack/#2c2f77c34d00
https://coinmarketcap.com/currencies/steem/
DTube Meet-Up! Niagara Falls Sheraton Hotel Lobby - April 11 @2pm
Join our discord #onelovedtube to chat with us! :)
Make sure to watch this in 1.2x or 1.5x to get through the info in lightning speed!
Welcome to AltCoin Post where we cover news and updates regarding all alt coins here on steemit & @dtube. Our goal is to bring you the most accurate and up to date info on all coins, good or bad. We're here to help you make better educated decisions to help you success and prosper in cryptocurrency.
If you found this useful, don't forget to subscribe, share and like the video to qualify for our upcoming steem/steem dollar daily giveaways!
REMEMBER - DO YOUR OWN RESEARCH GUYS!
Disclaimer: This is NOT financial advice. I am not a financial advisor. Please do your due diligence in every topic. Never invest your bread money. Take care of yourself & family first. Don't always follow the herd, follow your heart.
For news on the crypto world you can also follow us on @dnews for crypto news updates and @dlife for daily life lessons!
Thanks again and Happy trading!

---
▶️ DTube
▶️ IPFS