DTube Exclusive: What to do in Today's Crypto Market? Should You Buy/Sell/Hold? Here's my strategy.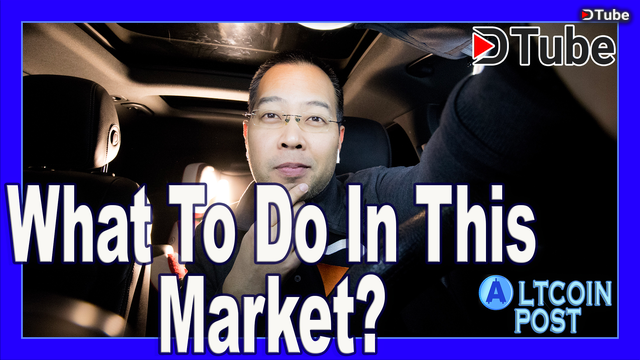 ---
The market is going down right now. I still consider it a sideways consolidation move. It hasn't crashed substantially more and with so many new developments happening. I just can't see it continuing to slide. This is my own opinion, but anytime we've seen a sideways market and slight dips like this, what's followed is usually a pretty strong run. I know a lot of people are worried, but we need to remind ourselves of what the retrospective view of this is going to be. A year from now, we could easily see a 5x or 10x rise in Steem. Sideways and little dips like this are bound to happen. Especially before a pump.
I'm keeping my skin in the game. We all believe in this platform. That's why we're here. So there's no need to panic right now. In fact, my strategy is to buy some more. This is a liquidation sale in my opinion! :)
But that's just it. Just my opinion.
Join Our Meet-Up! Niagara Falls Sheraton Hotel Lobby - April 11 @2pm
Join our discord #onelovedtube to chat with us! :)
Make sure to watch this in 1.2x or 1.5x to get through the info in lightning speed!
Welcome to AltCoin Post where we cover news and updates regarding all alt coins here on the steem blockchain. Our goal is to bring you the most accurate and up to date info on all coins, good or bad. We're here to help you make better educated decisions to help you success and prosper in cryptocurrency.
We have over 100,000 social media followers on Twitter, Facebook, Instagram on all our accounts put together and we're just so excited to be on the steem blockchain!
If you found this useful, don't forget to subscribe, share and like the video to qualify for our upcoming steem/steem dollar daily giveaways!
REMEMBER - DO YOUR OWN RESEARCH GUYS!
Disclaimer: This is NOT financial advice. I am not a financial advisor. Please do your due diligence in every topic. Never invest your bread money. Take care of yourself & family first. Don't always follow the herd, follow your heart.
For news on the crypto world you can also follow us on @dnews for crypto news updates and @dlife for daily life lessons!
Thanks again and Happy trading!

---
▶️ DTube
▶️ IPFS