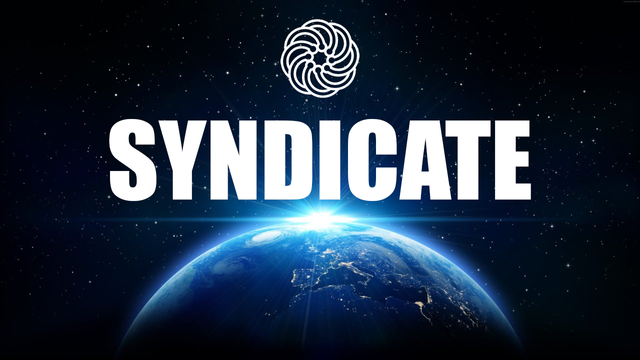 At Syndicate we HOLD and accumulate coins as a community
The HOLDERS are reffered to as our STRONG ARM Community
They will never sell coins no matter what because thy can make more money by accumulating and holding the coins
They make money buy staking coins for a 50% return
They also make money by setting up a masternode (5000 coins required) which will mine coins for them (20-40 coins a day)
They can choose to sell the coins but our STRONG ARM Community will just hold the coins, decreasing supply and increasing demand
The basic fundamentals of economics is decreasing supply and increasing demand
This approach will allow us to increase the price of SYNDICATE
Therefore, it makes no sense to dump the coins, only to sell small amounts when we have decreased supply and increased demand
We are working as a community to build a strong foundation for Syndicate with our Devs, marketing team, and STRONG ARM Community
Syndicate only has a supply of 11,268,860 coins
Our Community Currently owns a total supply of 10%
The more coins our STRONG ARM community owns the more protection we have as a community from the price getting dumped
At this point, we do not know how far this experiment can go but if you want to participate, we only ask you to buy the coin and HODL. Our goal is to HODL until the coin reaches $100 and at this rate, it doesn't seem impossible. This could be the biggest HODL movement in cryptocurrency history and you could be a part of it.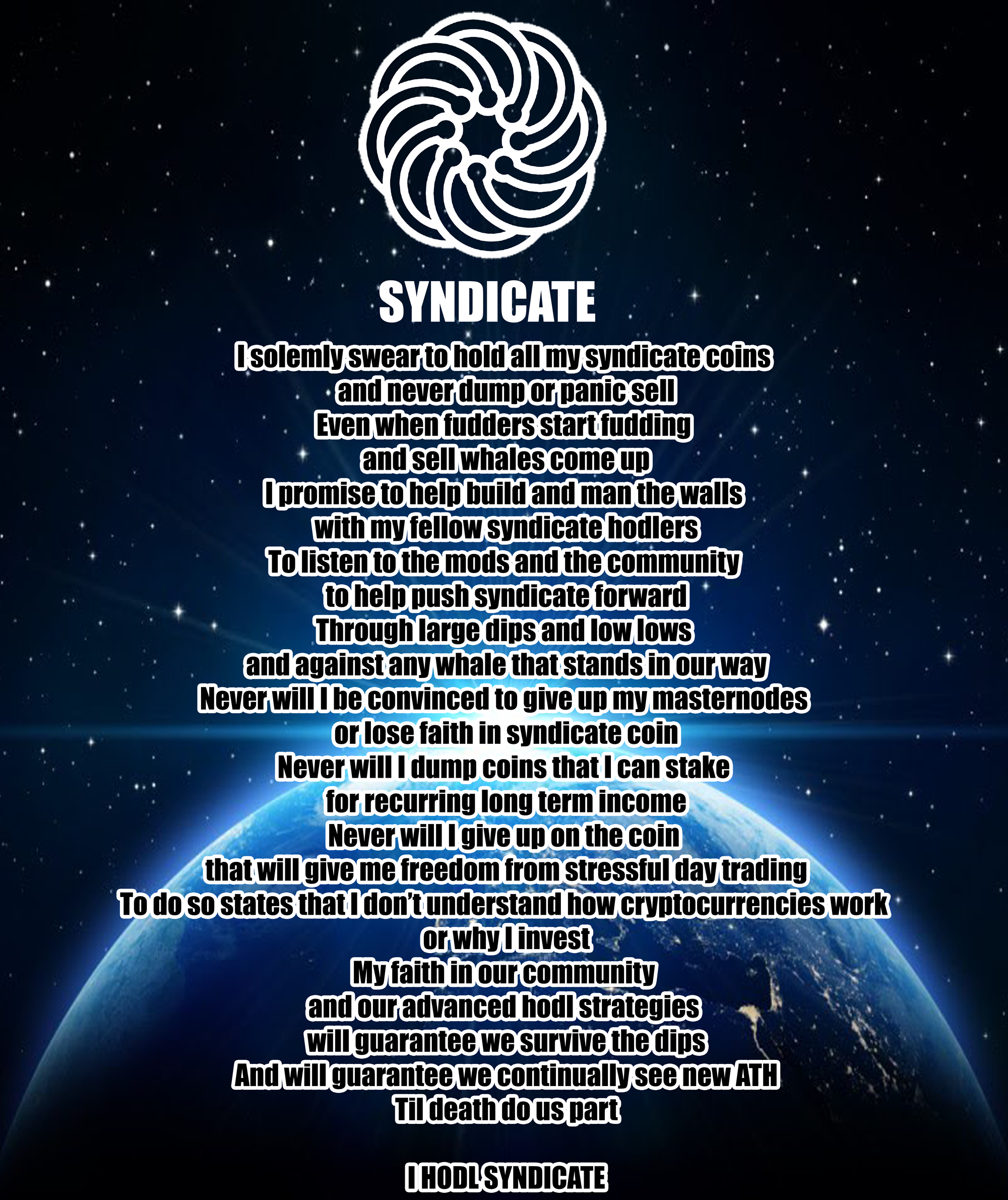 WHAT IS SYNDICATE?
Syndicate, also known as SYNX, is a master-node coin that offers a Business Management System(BMS) to connect businesses with their customers. Syndicate aims for nothing less than the par.
WHY IS SYNDICATE SPECIAL?
Syndicate is a coin with lots of potential. Some of the great strengths of this coin are listed below:
Syndicate aims to develop revolutionary new ways to help business operate on a great scale.
Syndicate has a big and passionate community working together with developers.
Syndicate offers master-nodes for every 5000 coins you own, giving you a return of 50% of POS coins.
Syndicate only has a supply of 11,268,860 coins.
Syndicate is already available for trading on Bittrex and other smaller exchanges.
SYNDICATE SPECIFICATIONS
The Syndicate blockchain offers great specifications:
Ticker: SYNX
Mode: X11 POW (ENDED) / POS
Mode - Acive: Full POS
Block time: 60 Seconds
Block Maturity: 100 Blocks
Minimum Stake age: 3 Hours
POS Block Reward: 10 SYNX
Masernode Reward: 50% of POS
Masernode Collateral: 5000 SYNX
Difficulty Retarget: Every Block
Port: 22348
RPC Port: 9999
SHORT TERM PLANS
The development team is working hard on getting the new versions of the wallets ready. The community is working hard to create easy step-by-step documents to set up your masternode. The official website of Syndicate will be updated soon, with new roadmaps for future plans and different languages for full worldwide reach. Also there are plans to be listed on other big exchanges like Poloniex.
COMMUNITY
By now the community is already mentioned a couple of times before. Everyone in this community believes strongly in Syndicate and all are working hard to make it grow big. Plans are to get Syndicate in the Coinmarketcap top 20 of coins. The community is shooting for the stars and you can be a part of it. Don't miss out on this opportunity of a lifetime!
Join our Slack group to get started:
https://join.slack.com/t/synxhodl/shared_invite/MjE0MjM4OTIyMzc1LTE1MDAwODUxMDMtZmEzMmJiOTMzYg