CTO Coinbase: "Crypto will go mainstream!"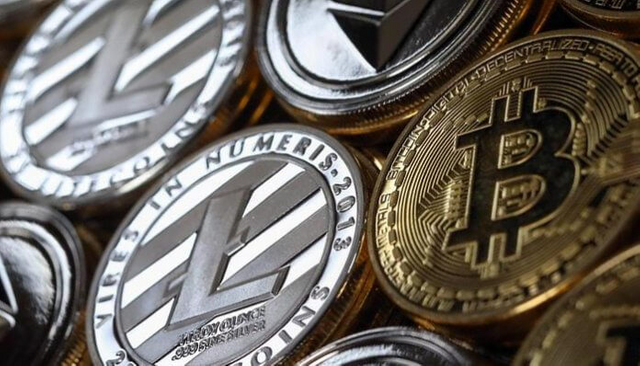 Balaji Srinivasan, CTO of Coinbase, says on Twitter that crypto is becoming mainstream in the tech world.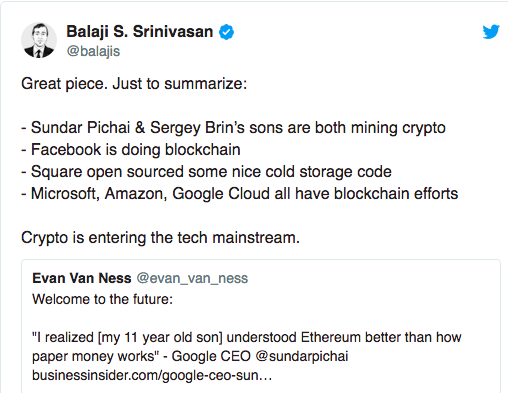 Srinivasan draws this conclusion on the basis of the following points:
The sons of Sundar Pichai and Sergey Brin are both mining crypto
Facebook is doing blockchain
Square open sourced some nice cold storage code
Microsoft, Amazon and Google Cloud focus on blockchain
Sundar Pichai is CEO of Google and Sergey Brin is co-founder of Google. Pichai recently mentioned in an interview with Business Insider that his 11-year-old son is mining Ethereum (ETH). The Google CEO said:
"Last week I was having dinner with my son, and I was talking about Bitcoin, and my son corrected me that I was talking about Ethereum, which is slightly different. He is 11 years old. He told me he is mining. I had to explain to him how fiat works. I realized that he understood Ethereum better than paper money. I had to talk to him about the banking system, its importance. It was a good conversation."
Sergey Brin recently told a similar story during a blockchain conference in Morocco. He says that he is also mining ETH with his son:
"About a year or two ago my son insisted that we get a gaming PC. I said to him, "Okay, if we buy a gaming PC, we need to mine cryptocurrency." So we set up an Ethereum miner and we've made a few cents, a few dollars since then."
At the end of October, Square, an American payment company founded by Twitter CEO Jack Dorsey, announced that it has open sourced the code of its Bitcoin (BTC) cold storage.
Names like Facebook, Microsoft, Amazon and Google are of course the biggest in the tech world. Now that they are investing in blockchain technology that could mean that crypto is about to become mainstream.