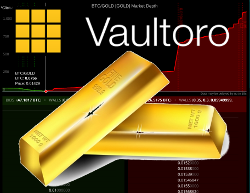 Diversifying assets is a key element of investment, and solid gold has a lot of arguments in its favor, with very few against. It is stable, rare, it is likely to go up if the global markets crash, etc. However there are also some key drawbacks to investing in gold. It is heavy, easy to steal and it's a terrible idea to have a lot of it at your own house. (It attracts dragons.)
This dilemma poses a question for investors. Do you invest in gold, like your ancestors, putting up with the discomfort in favor of the stability and 'weight' it adds to your portfolio, or do you let it go, and leave yourself vulnerable in the case of an economically destabilizing solar storm?
Well, you don't need to choose anymore. A few months ago I came across Vaultoro. A company promising to let me buy actual physical gold, in a vault in Sweden, directly with Bitcoin. It seemed like a scam at first, and I actually ignored it until I heard it mentioned by Ryan Lee. This prompted me to take a closer look at the company, and to be fair, it wasn't too hard. They seem to have a 'Crystal Books' policy, meaning that all their holdings in BTC and Gold are public, they even provide guidelines that let you prove it yourself, using a combination of traditional auditing for Gold and Blockchain technology for Bitcoin. You can read more HERE.
What I found after registering and verifying my identity, was a low-volume market with a Coinigy-compatible API.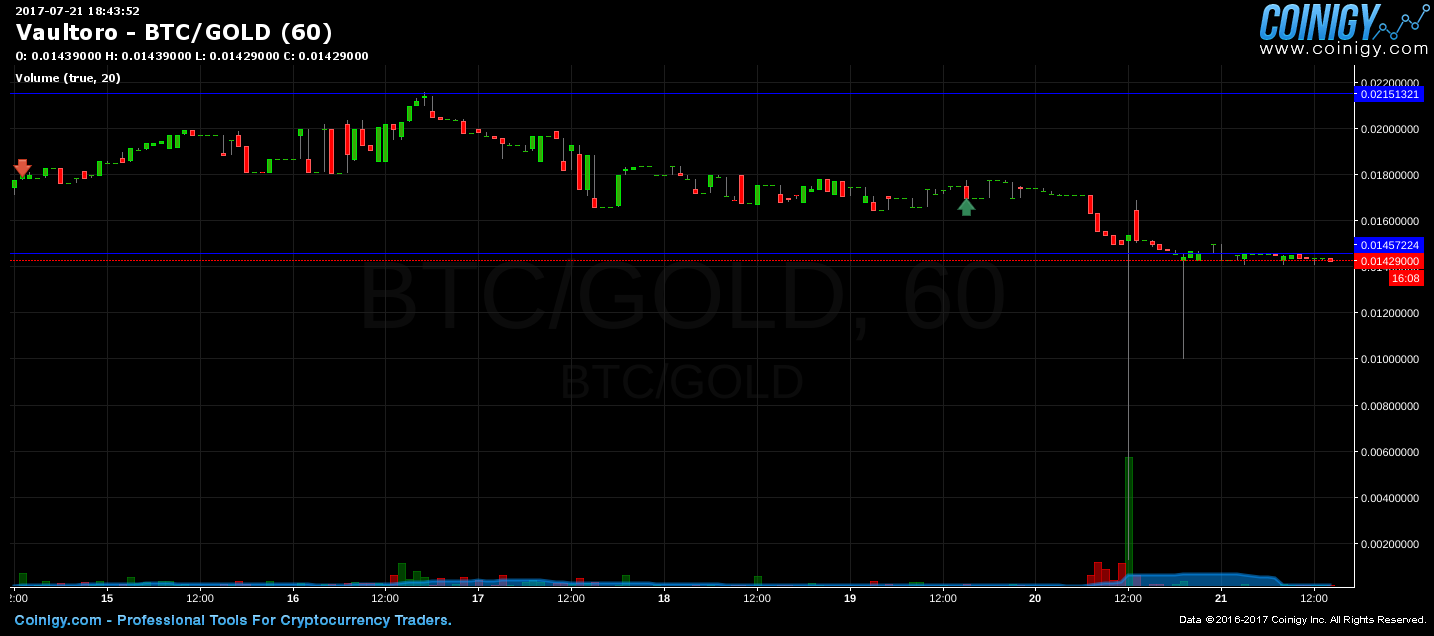 A switch to 4 hour candles, then revealed a market with plenty of trading opportunities, this opened the possibility of using my reserve gold to trade against Bitcoin. But it's a wild ride. This market moves in almost direct opposition to BTC/USD, for obvious reasons, if BTC goes down, they hedge against Gold.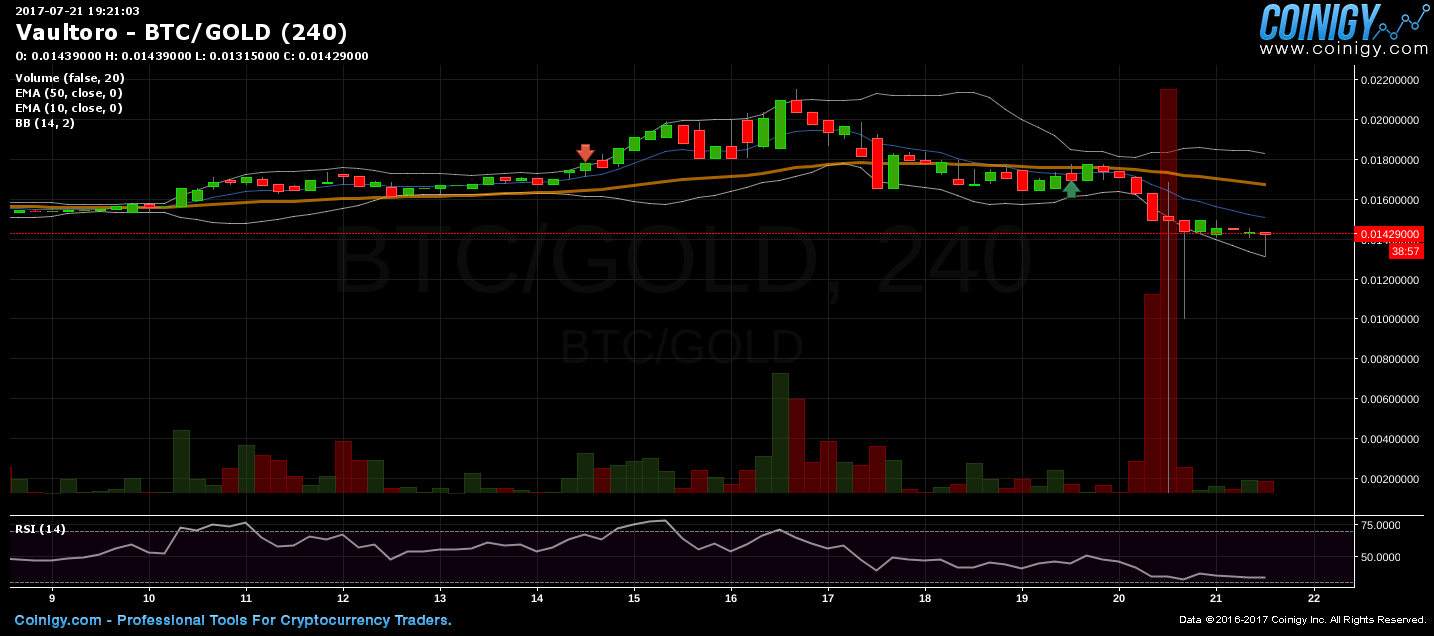 This means that this market will have a narrower range and experience just as much volatility as BTC/USD, but with the safety of hard gold. This is an excellent alternative if you'd rather trade with something less risky than altcoins, but with some of the volatility from the crypto markets.
Finally, in the 1 day chart, you can see what to expect in the future. I'd say that probably Gold is undervalued in this market because of the low volume, which increases the chances it will moon raise as the BTC markets stabilize and, if you believe in that, once world markets start collapsing.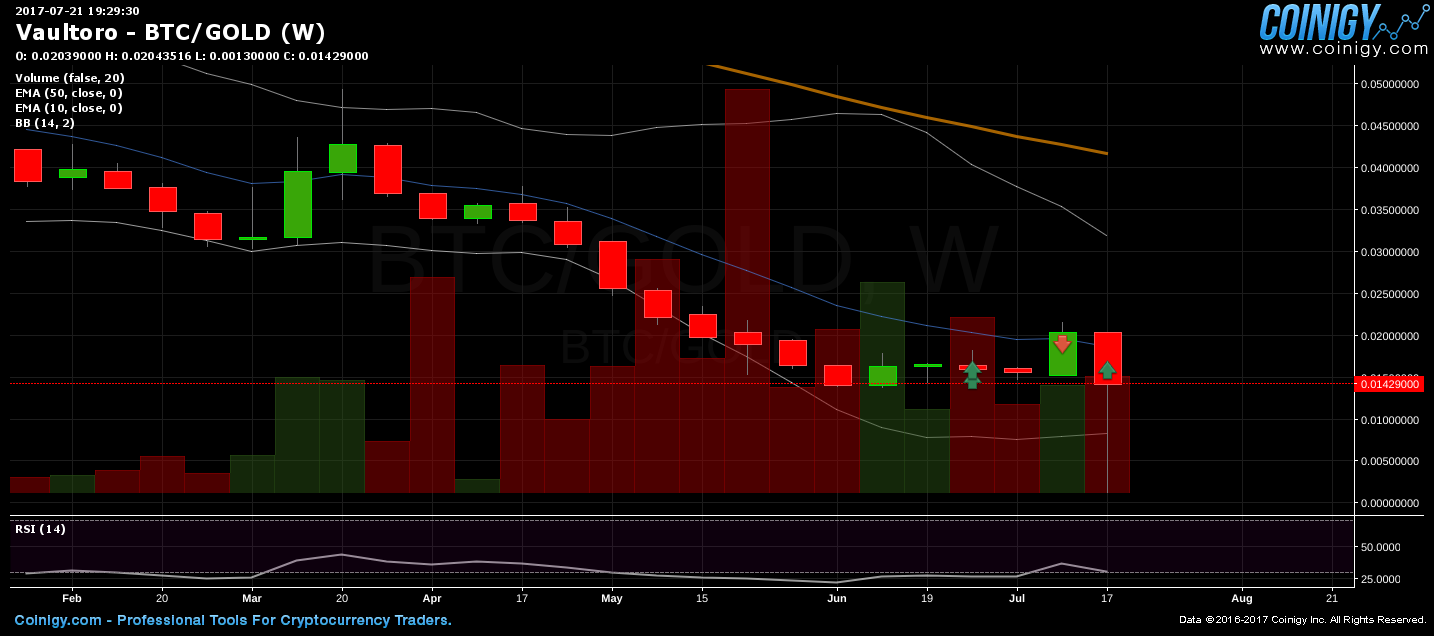 You can see the volume imbalance in the Market Depth Graph: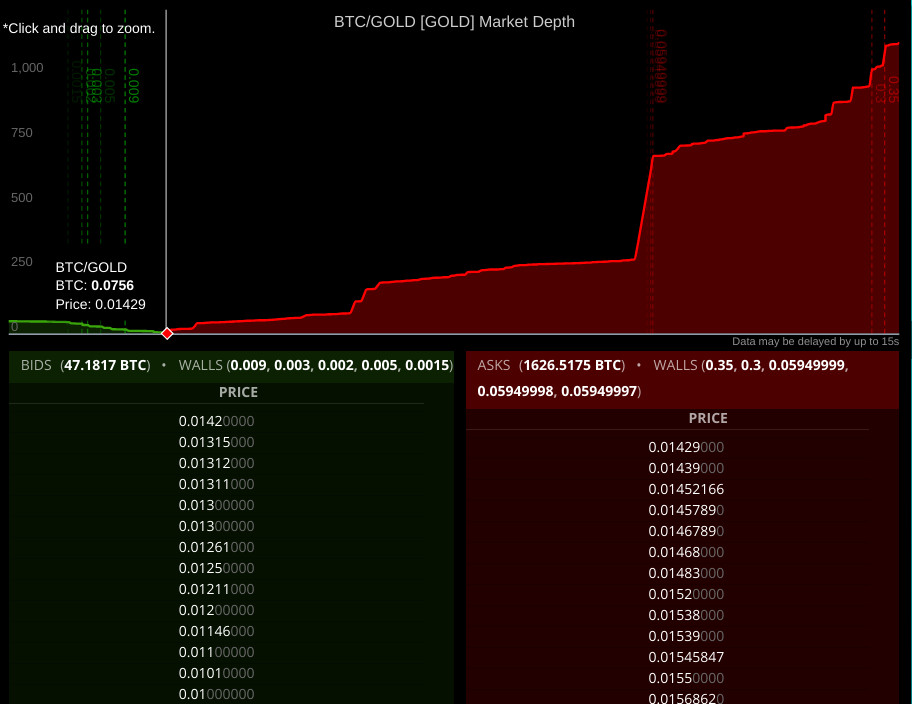 THAT is a price wall. But lets saay you wanted to withdraw your gold to buy supplies in the post-apocalypse, again Vaultoro seems to have that option if you are willing to pay a fee. This is an obvious drawback, but it makes sense, they are an online service for physical goods, not the other way around, and their business model seems to reflect that. They are aiming to be an exchange rather than a gold seller.
Obviously I have already invested as much as I feel comfortable with at moment, and I'm writing this article because I believe the BTC/Gold pair has a lot of potential and everyone wins if the market as a whole flourishes.
I hope this helps you expand your portfolio by reminding you of the importance of investing in gold.
I'll see you next time.