This post summarizes the Zeepin whitepaper (as of v1.06, 26 Dec 2017 publication) and evaluates the project based on a number of criteria listed below. The details here do not constitute any investment recommendations and is purely for informational purposes. Subscribe below or follow me on Twitter for more of this.
---
Summary
Zeepin is a digital asset rights platform for the creative industry. The platform focuses on the entire lifecycle of creative assets — from digitization to utilization to compensation. While sparse on technical details, the project has two huge factors going for it: Onchain and NEO partnership, and the Arting365 community. It also doesn't hurt to have a beautiful website and YouTube intro videos (as expected from a creatives project!).
Zeepin is another key piece in the NEO smart economy, focusing on digital asset rights and usage. Expensive valuation at $109.2M USD implied market cap.
Evaluation
Important Dates:
16 Jan 2018: KYC closes
18 Jan 2018: Crowdsale begins
29 Jan 2018: Crowdsale ends
(Source)
---
Team
Zhu Fei (CEO) — Former CEO of Arting365
Shenbi Xu (CSO) — Former CSO of Arting365. Designing the ZeeRights business procedure
Deep industry knowledge of the creative rights problem, with a built-in community from Arting365
Partnerships
Onchain and NEO — Arguably the most important piece to the entire project as the Onchain Mafia will not let them fail
Arting365 — Community of purportedly 1.2 million designers that would be an instant community of users for Zeepin. SimilarWeb stats
Onchain Mafia.. 'nuff said.
Technology
Zeepin Platform
Based on DNAProject (Onchain)
Supports multilayered and private blockchains
"Credit Score" to encourage positive content and behavior

Can be exchanged for Zeepin Token (ZPT)
Used to increased "credit rating"
All projects evaluated by Zeepin Foundation or third-parties, evaluation compensated in ZPT; projects that do not pass evaluation will not be allowed to execute
Zeepin Chain — Underlying blockchain on NEO platform
ZeeRights — Digitize and record creative assets for copyright and tradability. The core dApp of the entire Zeepin ecosystem.
Copyright Pro — Validated certification of ownership
Authorization Pro — Transaction authorization and smart contract clauses such as profit distribution
ZeeSure — Asset insurance. Ensure protection of copyright (Q: How to enforce?). Also provides real-world legal consultation (Q: How does this model work?)
"Reputation" (or integrity, credibility) impacted by violations of copyright
Mechanisms and procedures for reporting and reviewing content infringement; violations subject to account and IP suspension (Note: this sounds like a centralized governing structure)
"Credit Score" and ZPT can be locked up or destroyed
ZeeProof — "Zero-knowledge proof" of copyright existence without revealing contents
ZeeCrew — Platform for forming DAOs
Zeepin Name Service — Human-readable name service
Zeepin Token (ZPT)
Medium of exchange
Vote for improvements to Zeepin Platform and other Zeepin dApps (except there is no technical or legal binding for vote results; end decision entirely up to Zeepin Foundation)
Maintain Zeepin Platform (?)
ZeeTalent — Digital identity for each user. Uses external authentication and KYC (eg. TheKey?)
ZeeFund — Crowdfunding for projects, paid in ZPT
Minimal technical details and more a list of dApps and use cases that the Zeepin Platform plans to provide. Tackles a number of different problems but the core product is ZeeRights for digital asset rights and usage.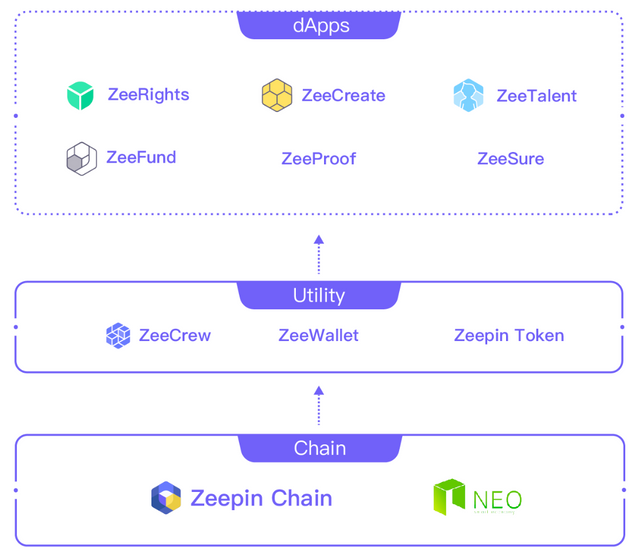 Economics
1 billion ZPT

50% crowdsale, 20% community development, 20% team, 10% R&D

500 million ZPT sold in crowdsale

Proceeds: 50% development, 20% operations, 15% marketing, 15% Board of Directors and fees

Hard cap: 700,000 NEO

Update: Hard cap at $42M USD if 1 NEO < $100 USD, or at 420k NEO if 1 NEO > $100 USD
At time of writing, NEO is $130 which means hard cap is $54.6M USD

10% inflation starting year two, decreasing inflation thereafter
Hard cap of $54.6M USD means implied MC of $109.2M USD. Expensive for a new project pre-Mainnet.
Useful Links
---
This post originally appears on my personal blog.