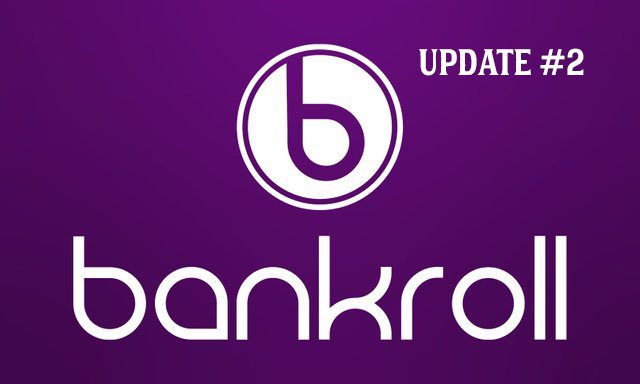 Update #2 : Another week in and we have reached a huge milestone! Over 100 million TRX in the contract! So far, the math behind the contract and community have made this one of the most successful ROI contract's to date on the platform.

I have personally invested 30k TRX and I am already about halfway to a 100% ROI on my initial deposit. To celebrate the 100M mark before the release of LUCK, Bankroll will be running a competition where depositors of over 5K TRX will have a chance to win 100K, 50K, and 20K TRX. Speaking of LUCK, this is a brand-new dice game that should be launching next week. This is what makes this contract truly something special. All losses will go to the treasury to further the contract. My next update will focus on that, and how this could revolutionize the way on chain casinos operate by removing the dividend tokens but still keeping dividends. This implementation will completely dissolve the "Ponzi" argument and provide a means of making the economics more deflationary. There is also a working prototype of this game in action on the official telegram page so you can see for yourself.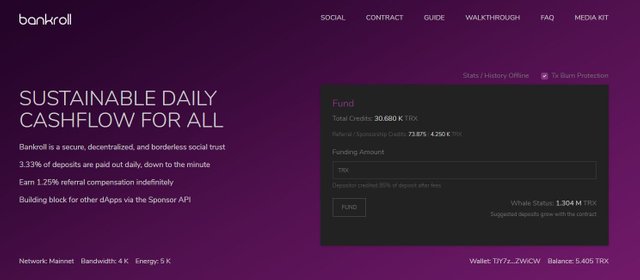 Sign up here : https://bankroll.network/?ref=TJY7zwJ2uMFbNCWPu4BpMrjsLDWEAZWiCW
This smart contract has the potential to be the most sustainable ROI model ever created. In turn, providing a basic income for all of its participants… forever.
The Bankroll Project is a social experiment on the TRON blockchain to implement a voluntary, sustainable, and permissionless universal basic income. Distribution: 2.5% to development and referrals, 12.5% to the in-contract treasury, and 85% credit to the depositor/beneficiary. Donations go directly to the treasury.
It's up to you to get involved, but if you do, use my link below. Everyone using my link will be eligible for a sponsorship in which I am able to give you back rewards over a set period of time (something unique to this platform) for even more gains. I am now able to see my referrals and one lucky person using my link will receive a 1000 TRX sponsorship! Anybody that resteems this article will also receive 1 steem for every thousand followers sent directly to your account!
Sign up here : https://bankroll.network/?ref=TJY7zwJ2uMFbNCWPu4BpMrjsLDWEAZWiCW
If you're new to Tron, just download this wallet and add TRX to get started. https://chrome.google.com/webstore/detail/tronlink/ibnejdfjmmkpcnlpebklmnkoeoihofec?hl=en-US
---
Sponsored ( Powered by dclick )