The Crypto Digest #6 - On-Chain Governance, Tether and Being Human in the Age of Algorithm.
Hi there and welcome to the fifth installment of the Crypto Digest where I share a weekly list of my favorite articles and videos on technology, blockchain, futurism and beyond.
Enjoy your weekend!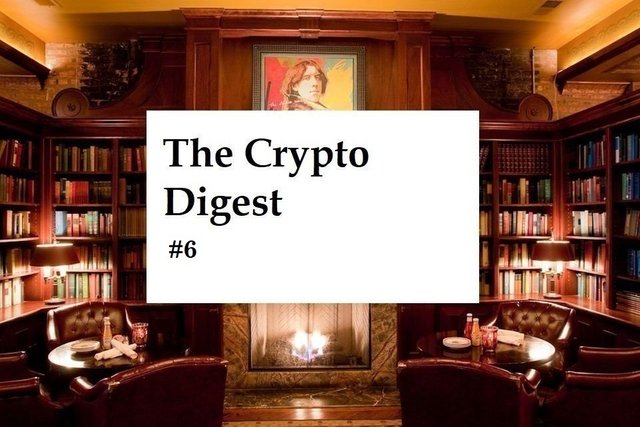 from the ZCash YouTube channel
---
Vitalik Buterin, the Founder and Chief Scientist of the Ethereum Project, discusses why he had a change of heart about on-chain governance and how coin voting governance manages to fail in allocating capital.
a podcast by Laura Shin
---

Dan McArdle, cofounder of Messari and the creator of OnChainFX, discusses why tether lost its dollar peg, how the Gemini USD traded at above $1, and how this was similar to the time before Mt. Gox imploded. We also discuss the significance of the Fidelity news, plus McArdle's thesis on how Bitcoin would behave in a recession -- which isn't the conventional wisdom.
from the Chainanalysis blog
---

New data shows that bitcoin's largest holders are a diverse group that may be stabilizing, rather than destabilizing, the market.
---
Jimmy Song explains what the newly launched Blockstream's Liquid network for "High Value" Bitcoin payments is.
from Hidden Forces

---
As computer algorithms increasingly control and decide our future, 'Hello World' is a reminder of a moment of dialogue between human and machine. Of an instant where the boundary between controller and controlled is virtually imperceptible. It marks the start of a partnership – a shared journey of possibilities, where one cannot exist without the other. In the age of the algorithm, that's a sentiment worth bearing in mind.
---
Until next weekend,
---
FØx.
This content is for informational purposes only and does not constitute financial advice.
---
If you liked this article, make sure to show some love by up-voting or following the blog. You can also follow us on Twitter at F0xSociety.
---

Buy Digital Assets: Coinbase


Trade on Decentralized Exchanges: Radar Relay / Kyber Network


Keep your Crypto Safe in a Hardware Wallet: LEDGER NANO S
---
Published on



by FØx
---