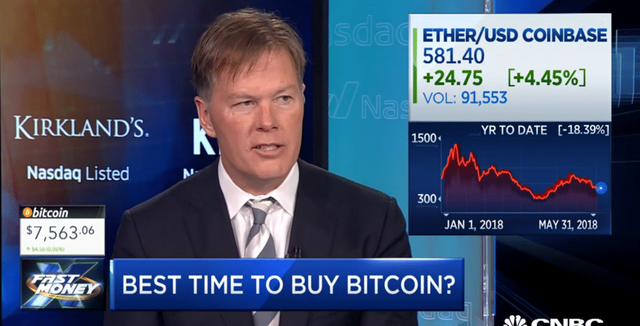 The leader of a cryptocurrency investment fund suggests buying digital assets - especially Bitcoin - while they are still cheap.
Pour Dan Morehead, le fondateur de Pantera Capital Management, le Bitcoin a probablement atteint son plus bas cette année. Il a ainsi déclaré à la chaîne de télévision CNBC qu'il pourrait s'agir du meilleur moment pour se tourner vers cet actif :
"Bitcoin may have reached its lowest point this year,' he says. This is the right time to buy."
Overall, digital assets have averaged a 65% decline since the beginning of the year.
"It's a lot cheaper to buy now, and it will take advantage of the next outbreak,' he says."
Bitcoin peaked at nearly $ 20,000 last December, falling back to just over $ 6,000 in February. At the time of writing this article, it was trading on average at around $ 7,600.
Regulatory threats already integrated by the markets
At the same time, many observers remain on the lookout for regulatory changes that could hinder the expansion of these assets. But for Mr. Morehead, such fears would already be incorporated into their prices - which would suggest a rise this year:
"'Many institutions buy the rumor [of a possible rigid regulation by the Securities and Exchange Commission (SEC)] and sell the event itself,' he says. 'It is suggested that you buy now to be positioned when the institutional investors and custodians we hear so much about will arrive in the markets within 3, 4 or 5 months."
His tip for investors: buy an asset once it falls below its moving average of 230 days, wait a year and then sell it.
'So, without thinking, you can achieve an average return on investment of 239%,' he says.
And to add that the relevance of this strategy can be illustrated by the historical evolution of the Bitcoin price, with which 'this has more or less produced 5 times over the last 6 years'.
"That's the essence of a good trade: the asset is rarely cheap compared to its long-term average, 'says Morehead. 'Therefore, today is the right time to get it."