Gone are those days when you needed to buy bitcoin from a cryptocurrency exchange before you could ever dream of having some ethereum in your wallet. Today, things have changed for good thanks to the fast-evolving world of cryptocurrencies - powered by blockchain technology. It's now possible to instantly buy ehtereum using your credit or debit card with a few clicks.
This guide focuses on the most reputable sites where you can buy ethereum with your card and a brief summary of how each exchange works ( from verification to buying). The list is in no particular order.
*1. Coinbase
Coinbase is a cryptocurrency exchange based in San Francisco in the United States. It is one (out of a few) of the well-established Exchanges in the world today, but unfortunately, it operates only in 32 countries across the world - at the time of writing this (see the list of countries below). For now, Coinbase supports the buying and selling of ethereum, bitcoin, and litecoin.
Before you get started on Coinbase, You'll have to go through 3 simple steps.
i) Sign up for an account to enable the automatic creation of your digital wallet. You'll be using this wallet to buy and sell any or all of the available cryptocurrencies on Coinbase (if that's what you want)
ii) Verify your Identity.
iii) Then get your card connected to Coinbase and you are all set to start buying.
Note. If you use the link above to sign up for a Coinbase account, You'll get a bonus of $10 worth of bitcoin after you've $100 or more on any of the digital currencies. Check out the list below to see if your country qualifies for buying and selling on Coinbase.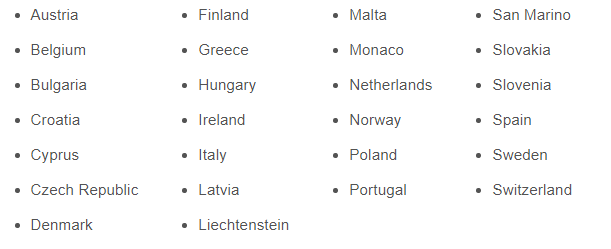 *2. Coinmama
Coinmama is a European based Exchange in Slovakia and operates in 226 different countries making it a desirable option for almost everyone from all corners of the globe (just a few countries not supported).
While other Exchanges have an inbuilt wallet into their systems, Coinmama doesn't. Instead, you'll have to provide an external wallet address. Don't have an ether wallet yet? No worries, you can easily sign up for a wallet at blockchain.info. You'll be provided with 3 different online wallets for storing relevant cryptocurrencies ( bitcoin, ethereum, and bitcoincash)
*3. Changely.
As the name suggests, Changelly started out as an exchange meant for exchanging bitcoin and altcoins, leaving no option to use your debit or credit card as a means of carrying out transactions. By the end of 2016 though, they announced that they've added a new feature that enables its customers to buy cryptos with fiat money ( like Dollars and Euros etc) with credit cards.
What's special about Changelly is that it supports all currencies in the world, so you don't have to worry about eligibility.
*4. CEX.io
There's a small catch here. Unlike the other exchanges where you can sign up today and start buying your beloved ether, you'll need to verify your account (which takes anywhere from 24hrs - 48hrs) before you become eligible to buy from the platform. That said, depending on how you look at it, you may not really consider the exchange as suitable for instant buying. But mind you, once your account gets verified, you don't have to wait even for a second to initiate your first purchase using a debit or credit card.
Tip: If you believe you'll want to use CEX.io sometime in the future to buy any crypto, consider configuring your card any time from now so that whenever you're ready to buy, You can just dive in and grab the amount of ether that you need.