How to make your first investment in SPDR and generate revenue with masternodes and other amazing news
Welcome to the weekly blog section of the SPIDER VPS team, blog section where we will talk about the development of our platform. For us, it is very important to have a space dedicated to the weekly updates of our project, as we demonstrate that our commitment and our effort is real and that we want to deliver a project 100% dedicated to our community. For this day's section, we will talk about how you, as a young investor, will be able to invest directly in our currency and generate income with our masternodes system.We would also like to show the progression of our marketing campaign,new services and partnerships are being added everyday in order for spider coin to "reach out every corner".We seek to be the best project of the moment. You are welcome to join us and find out how our project is right now, its development and movement in the community,which is the most important thing because we can do any kind of positive development but if we do not have the support of our community and investors we can not move forward so all our progress we owe to you, our faithful and big family.
First investments in SPDR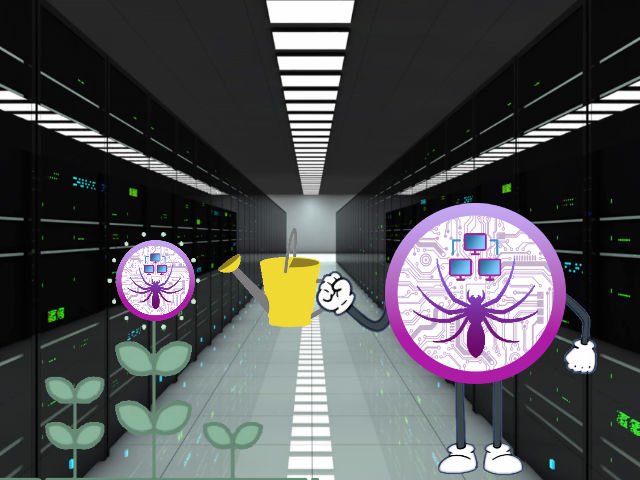 First we'll talk about why it's a good option for you to invest in our project. We are currently among the 20 best masternode coins of the moment as we have a current volume of 24 hours of more than 23.70 BTC. Also in such a short time we were listed in coinmarketcap. This is a great joy for us because many know that being on the list in such a short time in coinmarketcap is a challenge that only a few can achieve. To list a project on CMC they must have a very good volume of trade because CMC does a very deep study to know if a currency can be listed with them and they listed SPDR almost immediately showing that it is a project worth believing in and investing in. This makes us understand that we have a growing community that believes in us and fully trusts that we are a project with a very strong base. With such a large percentage of currencies closed, we have a very good decrease in ROI that will give more price and stability to our currency, in just fifteen days we saw how the price of our currency doubled compared to its value, which is amazing. I will show it in the following graph, because the young investors to whom this post is addressed need to know why it is a good idea to invest in us and what are the great advantages of doing so… We know we still have a long way to go, but we work day by day constantly refining our platform and telling only the truth to our community.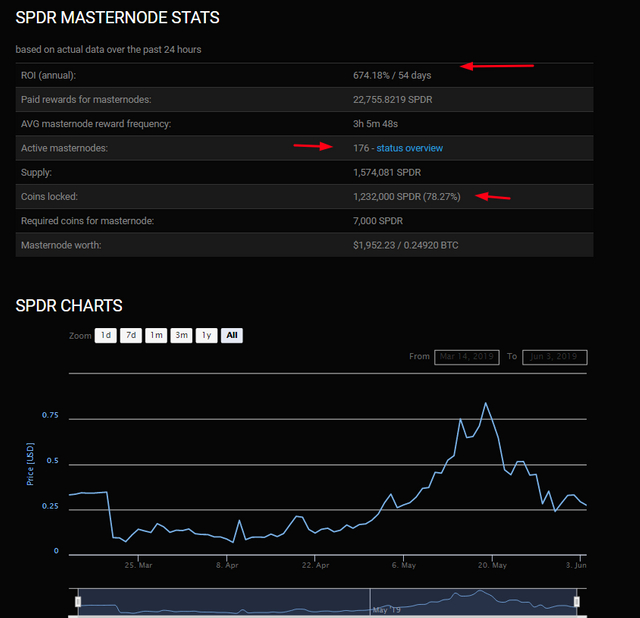 SPDR has been a very innovative concept because you can acquire it thanks to its hybrid algo that has mining POW and POS staking/masternode system which means that investors can choose either to mine their coins with their Gpu's or stake them/run masternodes by themselves or by using our trusted partners that offer shared masternode services and earn a passive income from a coin in constant growth.. As a second point we will talk about how these shared masternodes work because they are the most used at moment.You do not need to have all the collateral to acquire rewards because you can invest in what you want and buy a seat available to duplicate those coins to get to have your own node in this way but this is what we will talk about. Then, as I said, let's talk about the fact that SPDR was able to list in an exchange very early on, which is also amazing since part of the pre-sale was done in CREX24. Our team was very assertive in listing with this great exchange because it is very respectable nowadays, it has a daily volume of 192 BTC and by the way our currency is in the number one position, after a while we decided that it was time to expand and we needed another exchange so we chose CryptoBridge which has a current volume of 52 BTC and has earned the affection of many for its great system together with the chain of blocks of Bitshares ,our coin here is ranked in the top 10.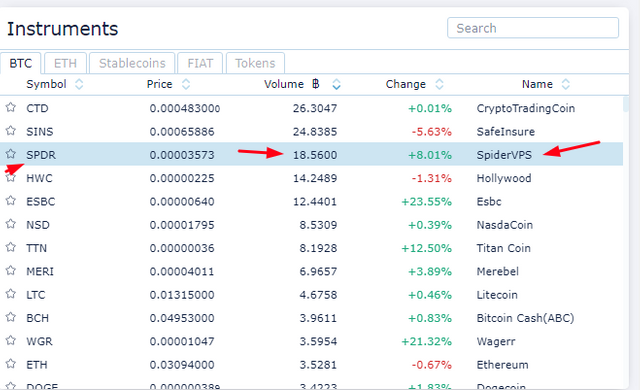 CREX24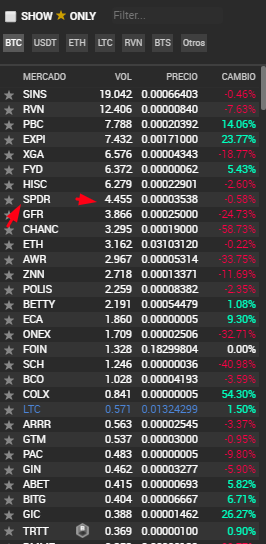 CryptoBrige
About our shared, instant masternodes partners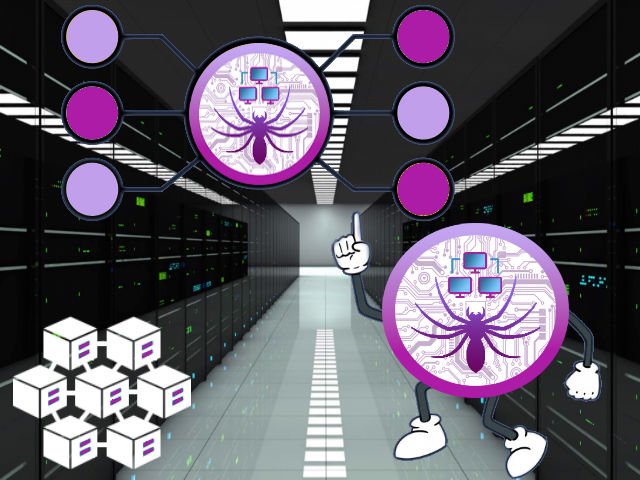 Every day more and more partners join our project so this time we will talk about all the shared masternode services which have brought many benefits to the projects because they do something that is a true for many masternode investors which is that not many of them know the technical parts of how to host a masternode, and with those platforms they can do it for a percentage cost of their hosted currencies or simply because they are investors who want to expand their portfolio and want to invest in many currencies. Many of this services(if they agree with the coin teams) run instant nodes.What is an istant node? Basically it is a masternode running in the background which gives instant rewards to all members that join a shared pool. If there are for example 3500 coins in the pool but no istant node running then all users will get staking rewards only. If there is an instant node running than all users will get 50% of masternode rewards shared between them.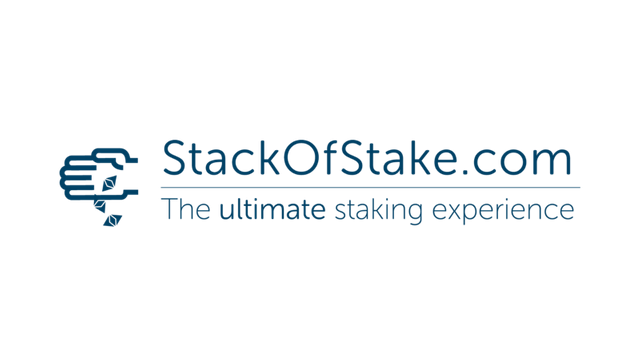 service offers an instant shared masternodes for SPDR.
Check out ultimate features:
• 0-click-masternode-launch (tm)
• full automation
• instant masternode join
• instant rewards
• instant withdrawal
• no deposit or withdrawal fee
• instant auto-reinvest
• no minimum deposit / masternode join amount
• super-clean and intuitive interface
• referral system
Join the shared masternode in 2 clicks:
Click 1 - Login with your social network account: Facebook, Twitter, Google supported (don't forget to confirm your email).
Click 2 - Deposit your SPDR coins.
You will start to receive rewards instantly!
Visit https://stackofstake.com/ and explore the ultimate masternode experience!
Got questions or suggestions? Join our official Discord server Need support? Feel free to report any issues to [email protected]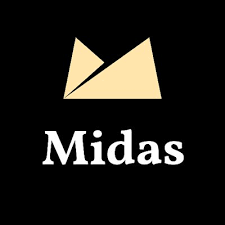 Established in January 2018 and offering the largest community in the masternode space, Midas are a highly trusted and reputable investments platform, and through this listing SPDR endorse their service.
Invest through the Midas Investment Platform - https://p.midas.investments/
Earn rewards instantly using the SPDR instant share held at the Midas platform.
Manage your investments on the Midas platform, providing regular and consistent payouts.
Instant and automated deposits and withdrawals, giving you full control over your investments.
Industry low fees, offering a three tiered fee structure to ensure fees stay low. Pay in MIDAS for the lowest fees.
Scaled reinvestment. Reinvest 100% for compound interest, or set a full/partial automated withdrawal to your wallet.
Midas become the first to offer a complete investment ecosystem
Investors with Midas gain the unique ability to utilize a combination of platforms to research, trade and invest your favourite projects.
Research - Follow the latest updates from your favourite projects with content published directly on https://mn.investments/ from the teams themselves.
Trade - Have you found the investment you want to make. Trade directly on Midex, the exchange operated by Midas - https://dex.midas.investments/
Invest - Invest your coins on the Midas platform https://p.midas.investments/, the intuitive and easy-to-manage platform offered by Midas.
We hope to integrate SPDR to other Midas platforms very soon!
DISCORD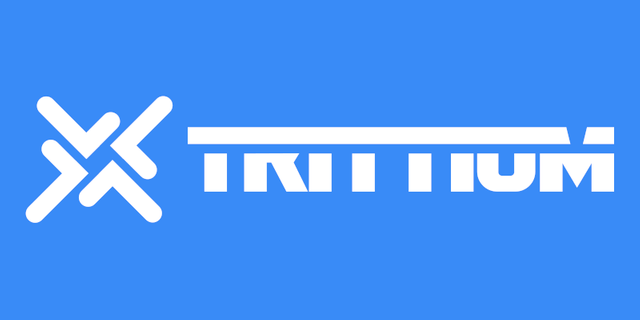 All the SPIDER investors have now 2 weeks with no fees at the trttNodes platform
What does the service offer:
INVESTMENT IN MASTERNODE POOLS
Investments with no limitations or barriers : starting from 10 EUR minimum value and no cap on maximum investment.
Investment pools :  no shares, seats or dedicated masternodes, your investment will be treated as one position and always get it's fair rewards.
Instant rewards : no waiting for the first rewards or masternode filling, get paid 4 times a day, on every 6 hours
Instant withdrawals : no coins locked for days and waiting for replacement.
Compound interest by Reinvesting :enable "Re-invest" feature and get the accumulated rewards automatically added to your investment.
Flexible management :  you can add more coins to running investment or withdraw from it any amount, whenever you wish.
Low fees : 5 EUR/month flat fee per masternode and 4% on rewards for the amounts less that full MN.
Fees paid in TRTT:  your coins won't be sold on the market and drive the price down.
Team dedicated to investors
COLD WALLET MASTERNODE HOSTING
No tech Knowledge needed
3-clicks setup
Special launch offer - only 0.49€/Month
Fees charged daily in TRTT
24/7 service
Special offer will be valid as long as we continue in beta phase
Guides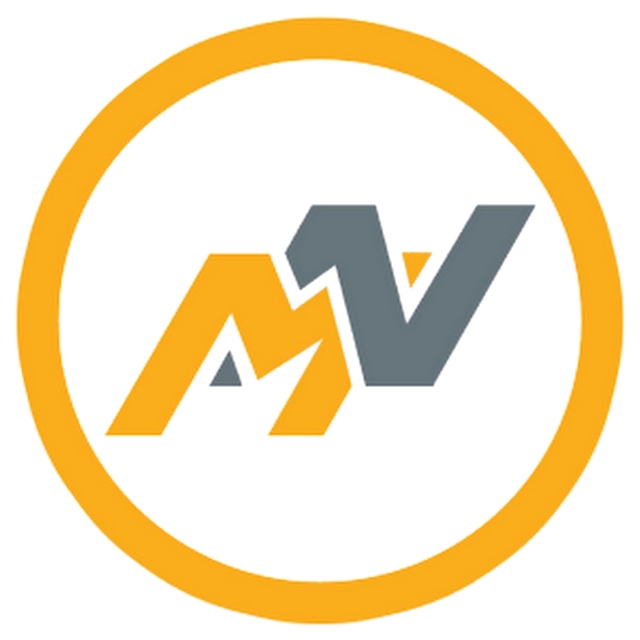 Shared Masternodes service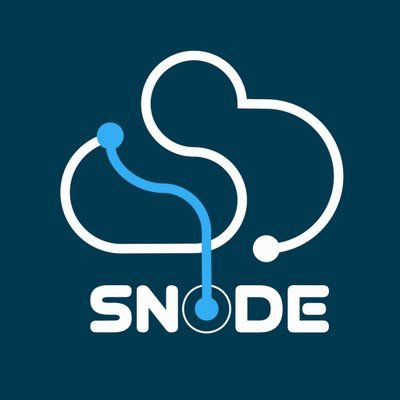 About Snode:
One of the first automated shared MN and MN hosting platforms working since Feb 2018
Website and dashboard
Exchange
What Snode offers:
HQ Services: Shared/instant/dedicated/trustless hosting

Security: Secured platform and users are protected by 2FA for every task

User-friendly dashboard https://dashboard.snode.co/masternodes/reservation

Low fee, no deposit no withdraw free, 20% referral bonus

Transparency: Investors can track information of all running MNs https://dashboard.snode.co/masternodes/running

Instant payout: The rewards are released as soon as they are spendable.

Auto Reinvestment with our Web Wallet

Ticket system: We provide instant support 24/7 via ticket system

SND Payment: You can choose to pay the fee in SND instead of your invested coins
With help of this service you can deploy Spider Masternodes
for only $3.90 per month without any technical knowledge.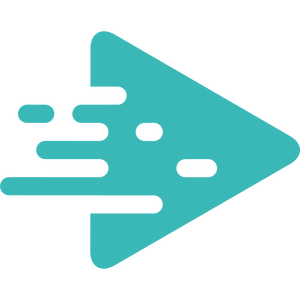 FlitsNode Mobile Masternode Service
We are glad to announce that FlitsNode has listed us on their mobile app.
NOW you can host your masternodes at FlitsNode mobile app for only $3.49/Month if paid in FLS or $5.99/Month if paid in another currency!
What benefits does FlitsNode offer:
No coding needed

Start a masternode with just a few clicks

Super fast and convenient

Mobile Staking enabled

Deposit and Invest Bitcoin

Buy/Sell coins right from the mobile(in upcoming versions)

10% monthly discount for 10+ nodes
*Fees charged daily.

30 days free trial from the registration dateFor further inquiries, please visit FlitsNode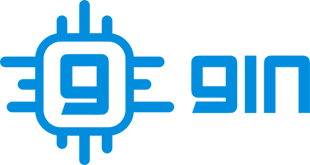 one-click masternode platform — GIN Platform
What is the GIN Platform?
The GIN Platform is a web application that allows you to create cold wallet masternodes for Spider coin, without having to deal with servers, terminals or Linux. This lowers the entry barrier to the masternodes market for non-technical people.
How does it work?
The platform automatically creates and configures the server for you in the background. At certain points you are asked for input that links your wallet to the server.

OS/MN Service "Spider Coin" INSTANT NODES & SHARED NODES & DEDICATED NODES!
What makes SPP different?
https://blog.simplepospool.com/what-makes-simple-pos-pool-different/
No minimum deposit
Host over 2300 mns
Daily Payouts all day long
Some payments are almost instant
Follow the stakes and rewards in real time
User Dashboard to follow all your investment growth
3% Commission for POS and 5% for masternode
Instant masternodes
Shared masternodes
Dedicated masternodes
You earn always. Even if the masternode is on pending status, you receive stakes
Probably the only pool that pay staking and masternode interest
You can follow all activity by watching the addresses they give you
Secure Logins
4 tier Referral Program
SHM Masternodes discord
SHARED MASTERNODE HAS ADDED SPIDER COIN TO THE SERVICE !!!

PAYMENT : EVERY 1 DAYS

MINIMAL DEPOSIT: 350 SPDR ( MN 7000)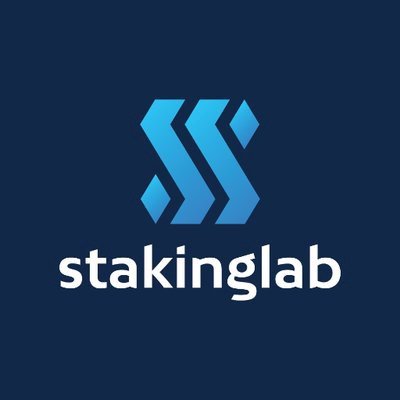 Your reliable partner for Shared Masternode & PoS services!
general info about:
30k active Community
no minimum deposit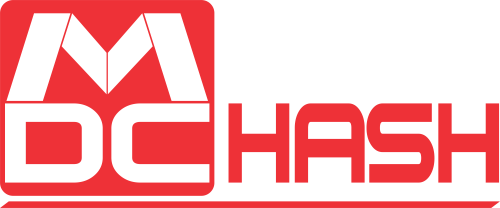 Shared Masternode & MN Statistics
About Our services :
MDC-Hash offers various services such as MN statistic, staking pool, shared masternode, price updates on coins and lot's more to come.
About safety :
We use a cold wallet system, all encrypted and secured using the latest technology to ensure our clients assets are never compromised.
About fees and other things.
Our services funded 100% by fiat. So we have lowest fees, Fee for shared MN(and pool) 2% fee on rewards
Instant MN for each coin listed that already has a MN running
All rewards are reinvested automatically
PS : we do not build coins. We only provide info, statistics and pools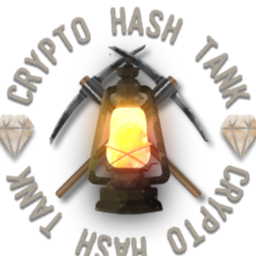 What do have we for you?
MASTERNODE POOLS
Minimum Deposit of 1 Coin!

Instantaneous Reinvestments

Superior User Dashboards

Secure Logins

Instant Earnings Accrual

Referral Program

Earn More!

Automated Masternode Deployment

4% Commission (No Hidden Fees)

We are Hosting and Shared MN service mn.gtmcoin.io.
11k+ hosting Mns ( biggest platform in the world )

$0.11 daily fee for hosting

INSTANT MNs ( you get immediately rewards in shared MNs)

REINVEST option (DOUBLE YOUR REWARDS)

No deposit or withdrawal fee

Only 2% fee in shared MN

More than 150 MN coins in automated shared MN

Friendly community

Full node host, you can send coins to shared MN or host your own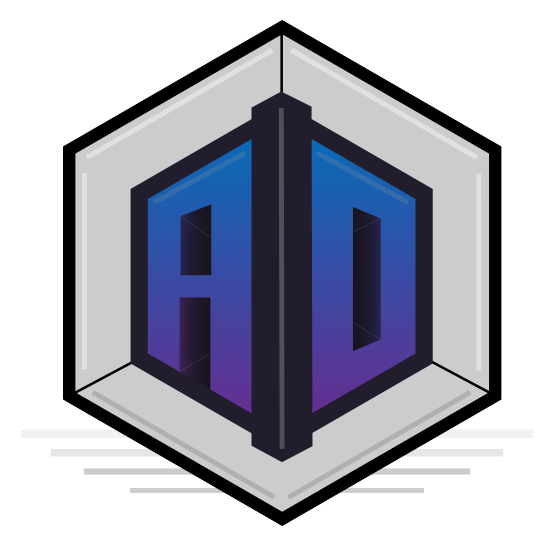 This is great news that we have in mind and that will be a great boom! not everything is Proof of Stake we also have great news for our investors who work at Proof of Work! We want to announce our great partnership with the AIOMiner platform which we are hoping that in a few days this will become official we have already established with them our enlistment, we also want to work day by day for our miners POW! but for those people who do not know AIOMiner what this is all about? mining software in one GPU for Windows in which you can control your mining from anywhere that is automatically synchronized that generates the best return using WhatToMine.com and make this more profitable for you. They also have a system that we all know that in mining there are times of day that are usually more expensive so it will be configured depends on performance to offer you a better return but the best of all this is that AIOMiner does not charge any commission because each currency is yours but the best of all is that you have a service 24 hours a day support so you do not lose time and generate more revenue because time is money.
WhatToMine has added SPDR to its list Crypto coins mining profit calculator

For us it is a pride to be listed on this great page because for a long time it has been the excellence for the POW miners that day by day use it to calculate which is the best option of profitability to be able to obtain a better profit of quality coins, what do I mean by this? WhatToMine does an extensive study to determine if a coin is applicable to your platform and for the joy of us we have passed this test and we are in, already for our POW miners may know that they will have the option to draw their own conclusions if mining our coin is good and also this will attract new miners to our network which is something amazing that our family grows so if you are a POW miner please run and do the review and calculate that our coin is your best option. The amazing thing about this page is that it is very accurate and calculates every detail that is presented in a POW mining from the FEES to the cost of energy something very excellent.
This is the publication for this week, we know that it is a little long but when you do real work and strive to bring the best to your community great things have to be announced and there are many more that will add up day by day! With this, those young investors who want to start investing in our project but were not sure or did not know how to do it we hope that this article has cleared their views about the trasparency and hard work that is being put in our project. Again we welcome you to join our big family and invest in a coin with great capabilities.Thank you for reading!
This is the publication for this week, we know that it is a little long but when you do real work and strive to bring the best to your community great things have to be announced and there are many more that will add up day by day! With this, those young investors who want to start investing in our project but were not sure or did not know how to do it we hope that this article has cleared their views about the trasparency and hard work that is being put in our project. Again we welcome you to join our big family and invest in a coin with great capabilities.Thank you for reading!
Contact us