Whole crypto market crashed close to 50% going from 832 billion on Jan 7th to 428 Billion on Jan 17th. In 10 days over 404 billion was wiped out of market cap.
QRIPs research indicates that this crash was a play of wall street money bet on futures that are due to expire on the 26th. After 26th, we anticipate a turn of tides of sorts in the market.
We are also mindful about the market lows in the month of January due to Chinese holidays that will stretch into February. Add to this, China's mining shutdown, Korea regulation FUD have all contributed to the snowball effect of the crash.
We know that blockchain is here to stay. Crypto currencies are here to stay. Most of the 1500 existing projects will be replaced by more prestigious brand players as they get into the market. Think of IBM, Amazon, Facebook etc. When these guys come up with their own utility cryptocurrencies, money will move from weak projects into these massive future players.
At the time of this writing, the entry of big players is a speculation although we have seen Hyundai and Kodak's entry already.
Point is, most of 1500 projects do not stand a chance of survival, especially if they are backed by weak or greedy or incapable team.
That brings me us today's topic. While the whole market crashed 50%, 22 out of 25 picks projects stayed in positive, some even showing a triple digit percentage growth. The ironic thing is, the 3 projects that did show negative are the ones that we are bullish on when these projects get added to exchanges and market turns around.
See it for yourself!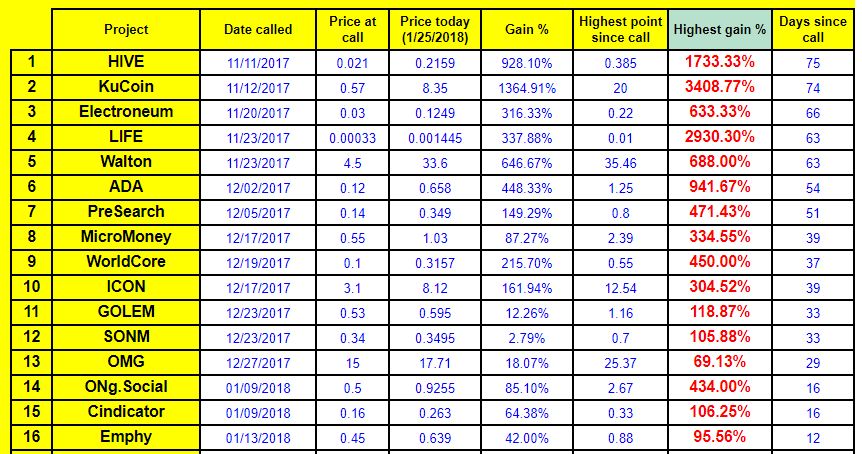 You have to come visit QRIP Group to check out the other projects we called during the crash. As the market has not rebounded yet, these calls remain at a good entry point.
Overall, we are happy with our picks and thank the group for their continuing support. You can scroll down the QRIP posts and you will find NO fluff.
If you have a project that has great potential and one our QRIP group has not picked on yet, you can submit it as a post (following guidelines) and tell us what makes your favorite pick strong. This is a great opportunity to gain exposure to your project, if it is truly strong.
Opinion. Not an advice. Do your own research before investing.