Gobaba.com Update Report (19.10.2018) — 9 new features added in the past month!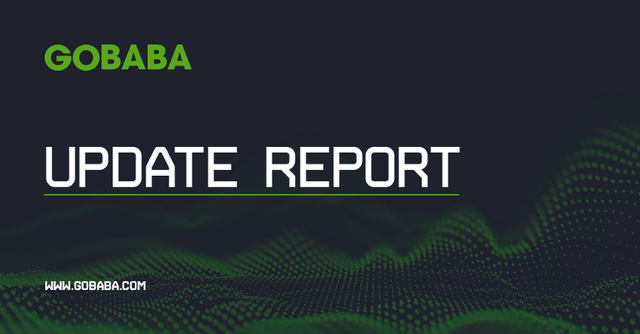 Greetings from Gobaba!
We've updated our platform with a number of new feature during this past month. The majority of these new features were based on user feedback and requests. We will keep doing our best to listen to your feedback and provide our users with a better trading experience.
Let's take a look at what these 9 new features are.
1) Ethereum deposits now live on the platform
Gobaba users are now able to make Ethereum (ETH) deposits to their accounts. With a market cap over $20B US Dollars, Ethereum is only second to Bitcoin in volume and popularity. The Gobaba platform now allows its users to deposit to their Ethereum (ETH) wallets.
2) New and simpler KYC levels for quicker user verification
Account verifications are now a lot quicker with the introduction of new KYC levels. Users wanting to make smaller transactions can get their accounts verified with fewer pieces of information. Should you want to make larger deposits or withdrawals, you can simply provide additional documents to get into the next verification level.
3) Browse trade screens without signing in to your account
You can check out our trading screens on all pairs without having to sign in to your account. You can browse through pairs and look out for trading opportunities, analyze volumes and depths, or simply examine our platform even if you are not a Gobaba.com user.
4) Gobaba accounts for businesses
Gobaba.com now offers separate accounts for individual users and businesses. For enterprise-level transactions and crypto payment capabilities, you can set up a business account and contact our dedicated advisors.
Click here for more information on business accounts.
5) Popular stablecoins Tether (USDT) and TrueUSD (TUSD) now listed on Gobaba.com
Gobaba.com lists two of the major stablecoins in the market: TrueUSD ($TUSD) and Tether (USDT). With the addition of these two stablecoins, Gobaba users now have more freedom in their trading strategies.
6) 15 Ethereum-based coins added to the list of coins on our platform
15 new Ethereum-based (ERC20) cryptocurrencies have been listed on Gobaba.com for deposits and trades. Here is the full list:
Tether $TUSD, Augur $REP, OmiseGO $OMG, aelf $ELF, Decentraland $MANA, FunFair $FUN, Gifto $GTO, Holo $HOT, IOST $IOST, Lunyr $LUN, Crypto.com $MCO, Populous $PPT, Storm $STORM, Zilliqa $ZIL, Gnosis $GNO
7) Transaction limits updated for top-level verified accounts
Hesap onaylarını (KYC) tamamlamış kullanıcılar için günlük işlem limitleri artırıldı.
Users who have fully verified their accounts now have higher transaction limits.
New limits are as follows:
Daily withdraw limit: 100.000 EUR
Daily deposit limit: 100.000 EUR
Daily crypto withdraw limit: 100.000 EUR (crypto equivalent)
Monthly withdraw limit: 300.000 EUR
Monthly deposit limit: 300.000 EUR
Monthly crypto withdraw limit: 300.000 EUR (crypto equivalent)
8) New low fees for all maker and taker orders: 0.2%!
We have lowered our transaction fees to 0.2% for all buy and sell transactions, regardless of your transaction size! This means you'll pay the same percentage of fees for transactions of all sizes. No limits or tiers!
9) New trading pair: USDT/ETH
Trades are now open for the Tether (USDT)/Ethereum (ETH) pair on Gobaba.com!
Watch this space for updates on our platform and don't forget to upvote us if you enjoy our posts.