Make money using your internet speed!!!!
DDOS attacks are a security nightmare for website owners.now a days DDOS(Distributed denial of service)attacks are increasing at a dramatic rate.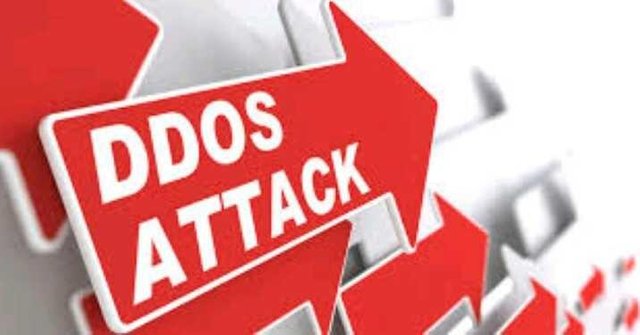 Perfoming a DDOS attack is simple and has the most devastating effects.
Even a unskilled hacker can bring down a website easily protection against these types of attacks are low BUT there is a simple solution to this big network security threat
Introducing Gladius
Gladius is the decentralized solution to protecting against DDoS attacks by allowing you to connect to protection pools near you to provide better protection and accelerate your content. With an easy to use interface as well as powerful insight tools, Gladius enables anyone to protect and accelerate their website.
According to the Gladius white paper the Primary Objectives of Gladius are
"The primary milestones we are aiming for with our core product.
Phase I: Building an Initial Content Distribution and DDoS Protection Network
The Gladius team is aiming to create a CDN and DDoS mitigation service by using
blockchain technology, distributed mining pools and smart contracts.
This goal will be met and these technologies will be incorporated throughout
the entire course of Phase I which is made up of 3 stages (see Roadmap). Once Phase I is complete, there will be a complete and comprehensive network that
is capable of handling several Gbs of connections per second and drastically
improving site load times. This will include multi-level protection and a private
rollout to select partnered websites.
Phase II: Develop Network to a Commercial Scale
The aim of Phase II is to finalize the network from Phase I and making it
commercially viable on a large scale. This means greatly increasing the amount of
data throughput to cope with a far greater demand. Additionally, Gladius node
pools will be greatly improved with full vetting and rating processes and smart
contracts will be expanded for discovery and identification services.
Once Phase II is complete, there will be a polished network that is ready to take
on the demands of hundreds, if not thousands, of websites. Phase II also allows
for the possibility of expanding pools. Each pool will be rated and validated
to ensure proper performance. Additional CDN features such as static content
caching will be added depending on levels of funding reached."
The Gladius Network architecture, comprised of several distinct sections.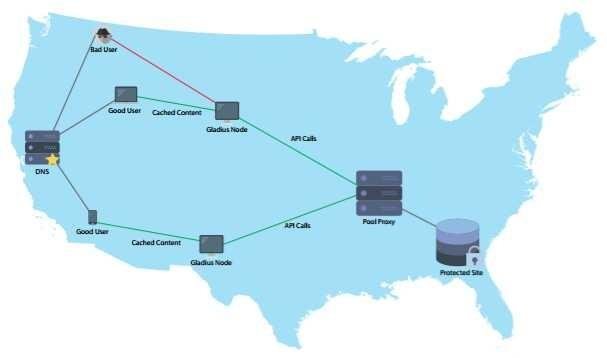 Ethereum Blockchain
Acts as a centralized database for storing the proxies and their associated service
providers. There is a cost associated with being added to the database.
Custom proxy
A series of clients act as a distributed traffic validator while keeping the protected
service hidden from the exterior. These nodes will also be able to cache site
content and be part of the Gladius CDN as points of presence.
3.Protected & Enhanced service
Simply changes their nameservers to the ones associated with the custom prox
The best part
You can mine Gladius on any PC.
For Mining Gladius there is no need for a good GPU you only need a fast internet connection