JACS - Just Another Communications Stack - BOUNTY HUNTERS Take Note !
JACS is a new part of internet 3.0 infrastructure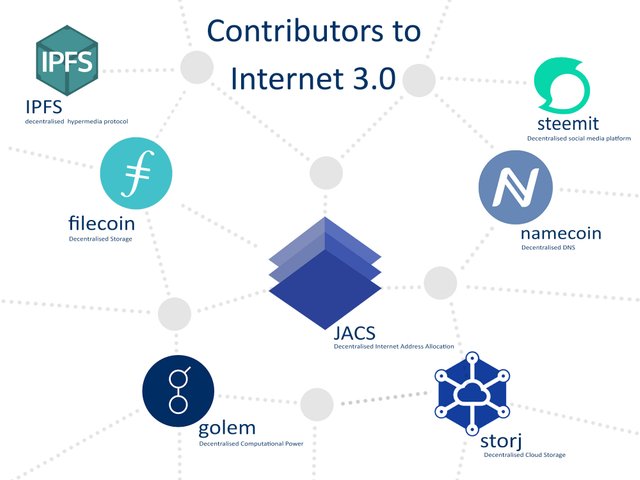 If you're reading this on steemit then you're probably aware of the difference between the old internet structure and the new. The defining feature of the new is de-centralised using blockchain to achieve improvements over the limitations of the old. Sometimes referred to as Genesis technology, the entire sector is widely predicted to undergo massive growth over the next decade, as blockchain replaces legacy technology in many areas of our day to day lives from finance, logistics and IT to medicine, mining and agriculture, eventually reaching governance & an automated economy through a combination of machine learning & self executing smart software, (autonomous apps).
Steemit is a great example: the blockchain powered social media platform and it's supported in turn by another web3.0 creation IPFS; a protocol and peer to peer network which stores & shares data using a distributed file system. Along with namecoin, filecoin, golem & storj these competitor technologies are among a growing number of parts of the web 3.0 equation, collectively helping to create and develop a new landscape, one which no longer depends on large centralised organisations, using technology which highly disrupts the traditional way of doing business across the internet.

Some people call it the democratisation of technology because networks are often powered by citizen users, increasingly using ordinary pc's and mobile apps to power networks, others just say that it's just a more efficient way of approaching old problems. imho blockchain and it's cohort / offspring are the killer app the internet has been waiting for and there's probably not much that will escape it's revolutionary touch, although for many users, it will be just as invisible as IP addresses, DNS and network sockets.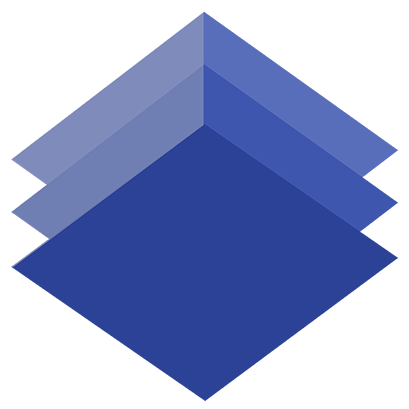 JACS - Just Another Communications Stack
With an ICO launching in November 2020 JACS is another structural part of the change in the online landscape and one that is impeccably timed to suit the ongoing depletion of internet addresses. In the age of 5G and the Internet of Things internet addresses (commonly known currently as IP or internet protocol addresses) the demand for unique addresses sees no slowing down and the founders of JACS have spent a long time working out how to solve this thorny technical issue. The rollout of 5G introduces low latency which allows for the true beginnings of a fully automated machine economy. JACS meets this challenge head on with astronomical address abundance and the low latency provided by blockchain. This fact cannot be ignored or underestimated.
for more information about JACS visit JACS.tech
Blockchain - what else ?
JACS' founders have been working in the ICT industry for many years developing multi-million dollar, global blue-chip data communication projects and JACS has been developed in response to known and anticipated challenges within the sector. It's an exciting proposition. As allocation of internet addresses currently stand, it's a highly centralised sector with high renewal fees and a number of security issues.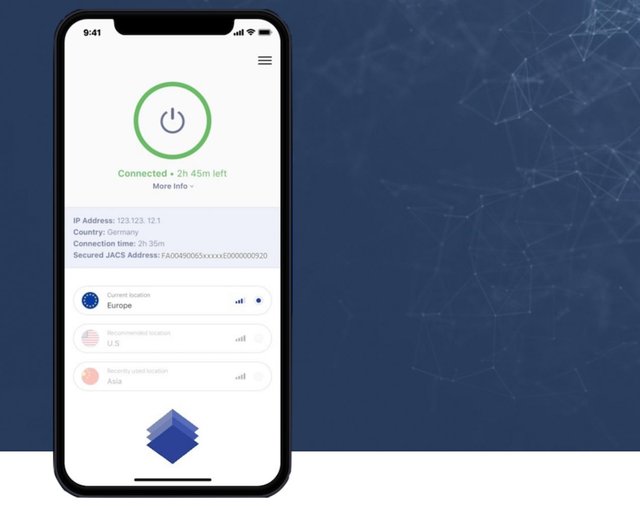 Various ways of expanding internet address allocation have been attempted before but the JACS project offers a revolutionary approach. JACS super abundance of address blocks comes with NO renewal fees and provides robust security through high levels of encryption. The dual stack node structure can also be utilised in the event of a DDoS attack, giving JACS a competitive advantage with enterprise clients who require super secure, high volume, low latency communications structure. JACS is launching a mobile app with (limited time) free VPN access and an unlimited premium version, available soon for MacOS and Android.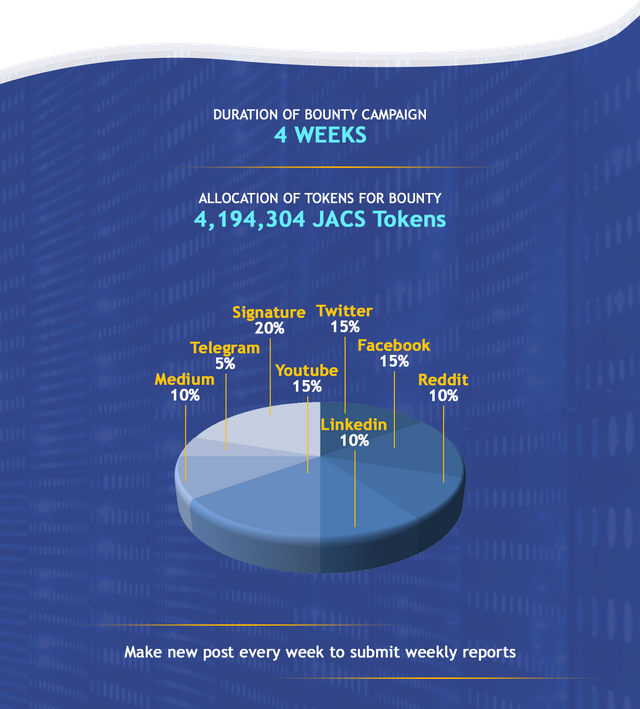 JACS is set to enter ICO phase in November 2020 and the BOUNTY CAMPAIGN includes a wide range of activities from signature, linkedin and telegram to twitter, facebook, telegram & youtube. If you're a seasoned bounty hunter of just starting out, this is a bounty you probably won't want to miss.
JACS Tokenomics
Maximum Token Supply: 536,870,912 (2^29: 2 to the Power of 29)


Token Symbol: JACS
Standard: ERC-20
Decimals: 18
Token Function: Utility token over JACS Platform
Platform: Ethereum dApp then native JACS blockchain Q1, 2022
Creation Date: Q4, 2020
Rewards: 18.75% Reserve 18.75% Crowdfund 62.5% Distribution
for more information about JACS visit JACS.tech
find out more about purchasing JACS tokens TOKEN SALE
disclaimer The author works with JACS in a consultancy role and this article is written for educational and entertainment purposes only. I always recommend performing your own due diligence and not rely on the opinions of others where investments are concerned. Remember, cryptocurrencies can go up as well as down and the blockchain revolution is happening