CryptoCollider moved into 2017 with the biggest record breaking tournament in cryptocollider history.
A BIG THANKS goes out to REDDCOIN for sponsoring the first tournamemt of 2017 https://www.reddcoin.com
Crypto Collider is a first-of-its-kind Player Vs Player Blockchain Trading Game played with skill and strategy. Featuring open-source physics based game play with innovative client-side verification... It's the fun and multi-functional, edge-of-your-seat crypto-trading experience!
REDDSURRECTION TOURNAMENT STATS (full stats below)
The total prize pool $1,159.00
Total play volume $15,617.00
Most coins in play
546,087,237 (million) REDDCOINS 83%
0.98 BITCOIN 6%
127,598 NXT 5%
25,443 STARTCOINS 1%
1,036,183(million) DOGECOINS 1%
Lagmeister takes down another tournament win with a record point score of 64474 points. (prize win $104.29)
TOP 5 PLAYERS
LAGMEISTER - 64474 POINTS
MARKAZ - 54158 POINTS
MERLINSCAT - 51088 POINTS
DOMAPHITES - 33120 POINTS (NEW PLAYER)
JJMONEYMAKER - 31664 POINTS (NEW PLAYER)
BIGGEST BALL
MERLINSCAT - 477,217 DOGECOINS $97.51 (prize win $69.53) (See last game of tournament video below)
MOST SLAMMERS
ROADCRYPTO - 107 (Prize win $69.53)
MARKAZ - 70 (23.17)
SINAMONS - 62 (11.58)
Crypto Collider's inner core, The GameChain, is a fully transparent system where the results are calculated and confirmed by the players in client-side code. The system has been operative and secure for over 12,800 games, 147,000 throws and 22,000 transfers. You can also play using the new "No Account mode" which means we don't store any of your coins for any longer than they are actively being played.
FIRST TOURNAMENT GAME

FINAL RESULTS TABLE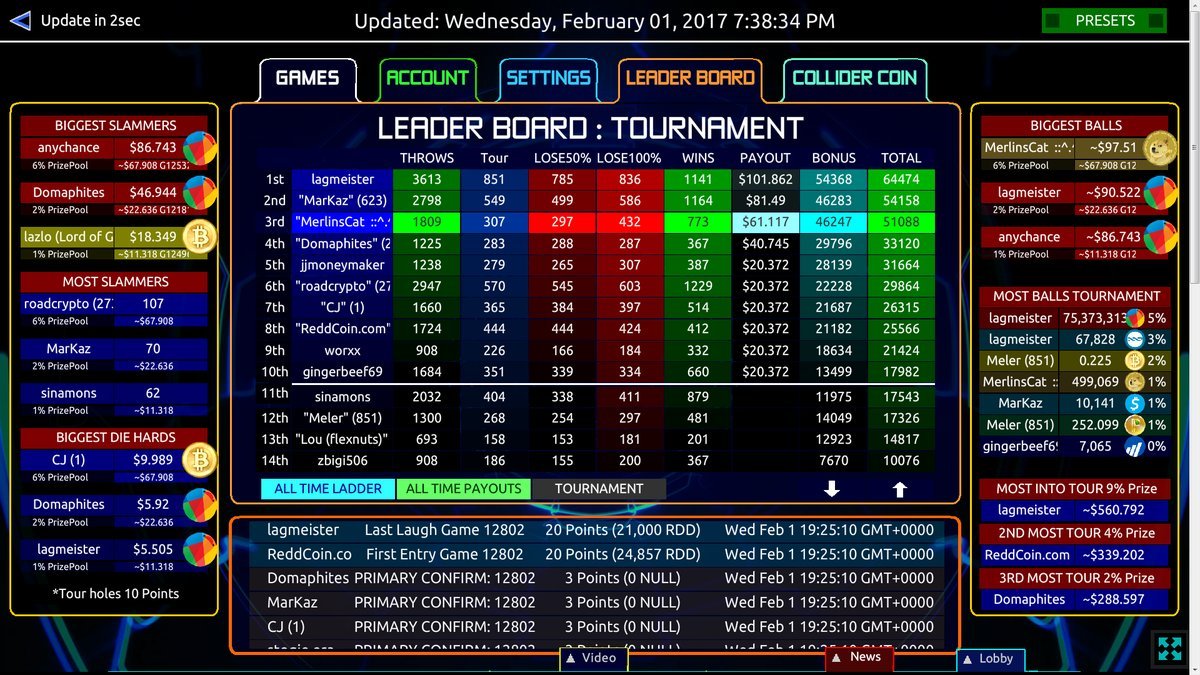 Join in the fun now and get some practice for the next tournament at the end of Feb 2017 https://cryptocollider.com/
For more info follow Cryptocollider on Social media
Main site https://cryptocollider.com/
Facebook support page https://www.facebook.com/groups/556401111220793/
Twitter https://cryptocollider.com/s://twitter.com/Crypto_Collider
Facebook https://www.facebook.com/groups/556401111220793/
Forum http://cryptocollider.boards.net