"New Crypto Collectibles (For You To Collect!)" by Richard F. Yates
Hey folks!!! This time I'm bringing you three new pieces of crypto art AND a flash fiction story! The artworks are being released in single, unique editions of ONE each (making them HIGHLY collectible!!!), and they are being tokenized on the Ethereum blockchain by the fine and fastidious folks at MakersPlace!
To check out these works AND all of my other freaky, weirdo, punk propaganda art (I'm secretly pushing a program of CREATIVITY FOR ALL!!!), visit my MakersPlace store / slash / gallery! Meanwhile, here are my three newest pieces along with the descriptions that I provided on the site. Ready? Let's go…
%%%%%%%%%%%%%%%%%%%%%%%
"Radiant Idol"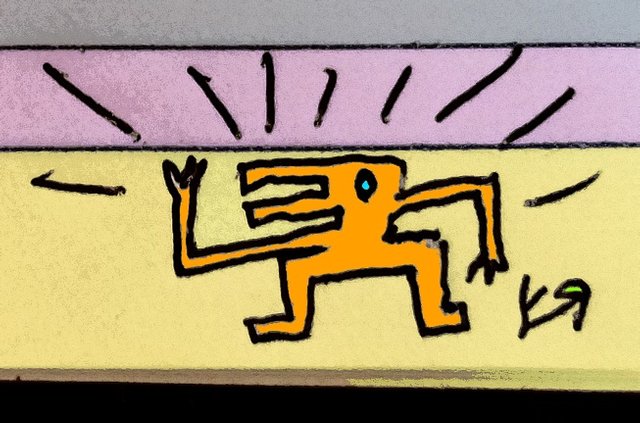 It seemed to pulse with an internal glow. We walked past the skeletons on the floor, drawn by the sapphire eyes---the golden body...
We KNEW it could be deadly to attempt to take the idol. The evidence was all around us---but we were hungry. Sal stepped onto the dais, slowly...carefully...and we listened for any sound that might indicate danger. After several seconds, he took another step, reached for the idol...and grasped it by the head.
He turned with a smile as he lifted the idol off the stone column where it sat, but his smile melted into a line, as the glow from the idol became a flash. The rest of us covered our eyes---but we could still hear his scream... I ran for the cave entrance, felt a searing burn on the back of my neck. My hair ignited.
I dove out of the cave and rolled to the left, pulling what was left of my jacket up to smother the fire on the back of my head. I was disturbed by the crispiness of the back of my skull. I got up, feeling the skin on the back of my arms and neck starting to flare into a shrieking pain. I ran for the stream near camp and fell into it, submerging in the chill waters to combat the rising agony.
Looking back towards the cave, a few moments later, I suddenly realized---no one else had followed me to the stream...
%%%%%%%%%%%%%%%%%%%%%%%
"Black Cat (And Blue Moon)" Card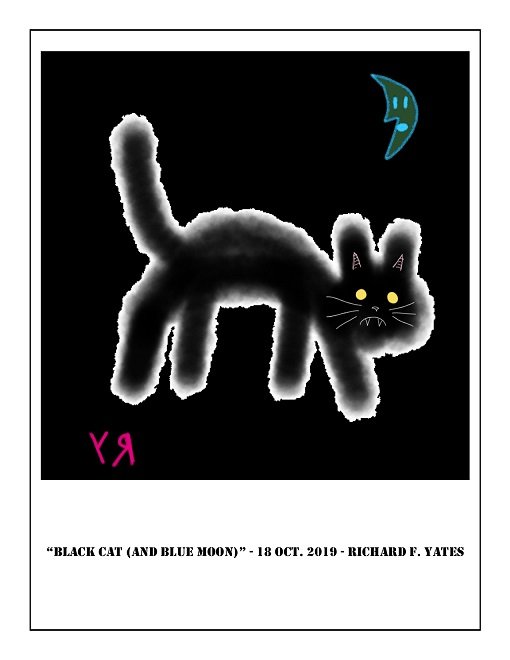 Spooky! There's a chill to the air...(even though it's springtime)...and I feel the pull of HALLOWEEN! I've always enjoyed the spooky times, and this digital drawing came from last FALL, although I JUST made it into a "digital collectible card" for you folks to get your grubby little digital mitts on!!!
Honestly, I'm seriously enjoying this low price-point, fun, easy to purchase digital collectible market THING! Rare digital assets are still kind of new for most folks, who ain't even AWARE of them, yet, so you crazy hep-cats who have already started your own digital goody galleries are BUILDING THE FUTURE! NIFTY!
So, if this kind of art is your thing, here's a "black cat" that you can add to your collection...if you're quick enough! (I'm only issuing ONE of these, so it ain't just RARE, it's UNIQUE! No reprints! First come, first gets it, and nobody else can have it!!! Weeeeee!!!!)
%%%%%%%%%%%%%%%%%%%%%%%
"'Miscommunikation' Slide 34" Card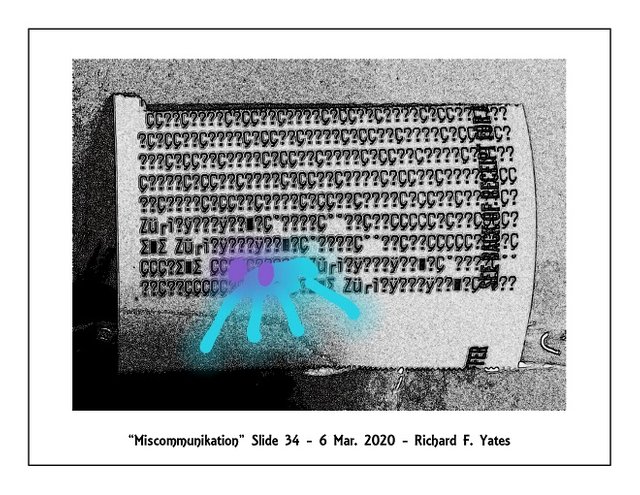 I think there's a bug in this program!
Maybe you remember my animated gif, "Miscommunikation," from a few days ago. There were a few of the individual slides in that piece that I particularly enjoyed, and this was one of them. The little bug looks almost like I spray painted it onto the photo of that freaky receipt. (The receipt was kicked out by an angry printer at work a week or so ago, and I photographed it and then manipulated it in my phone.)
This digital collectible card is being released as a single, unique edition of ONE. First come, first served, and when it's gone... It's GONE!
Meanwhile, watch out for bugs!
%%%%%%%%%%%%%%%%%%%%%%%
That's it for today! If you're interested in seeing more crypto art, check out MakersPlace (where a great many extremely talented folks have artwork to enjoy), and if you like idiosyncratic, weirdo art, then check out MY MakersPlace store / gallery, and see if you aren't inspired to make YOUR OWN art! (If I can do it, so can you!!!) And if you don't know anything about crypto art, but you're interested in LEARNING, let me know in the comments, and I can provide some links to a couple of great videos that explain it!
---Richard F. Yates
(Primitive Thoughtician and Holy Fool)
SUPPORT INDEPENDENT FOLKS WHO ARE JUST MAKING STUFF BECAUSE THEY LOVE IT!!!
https://steempeak.com/@richardfyates
https://noncom.art.blog/reviews-books-movies-music/
https://makersplace.com/store/richardyates/
https://primitiveentertainment.wordpress.com/