Monero Faucet 1 (Part 1)
Monero is a cryptocurrency that is private, meaning that transactions cannot be traced back to you or the other person, leaving both parties anonymous.
It does not hurt to have a little bit of Monero as it is around $60 per coin at the making of this article.
There are two faucets I have found that been reliable so far in acquiring Monero.
Today I will show you one.
Note: This is not financial advice, only education, do own research before any investing (both time and money) and do at own risk.
Now then, use this link to head to this website: https://free-monero.com/?referer=80189
You should see this Page once it is loaded: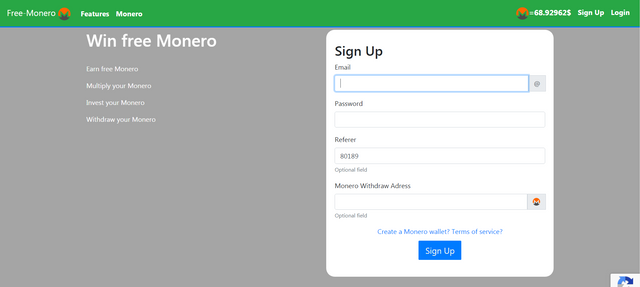 Use an Email that your comfortable with as this part cannot change (this is the faucets way of verifying the individual). I recommend creating an Email specifically for crypto and many other sites will also use your email as verification. If you already have a Monero Address, you can apply it at the bottom. Otherwise leave it blank (it can always be change later).
Once you signed up, you should see this page: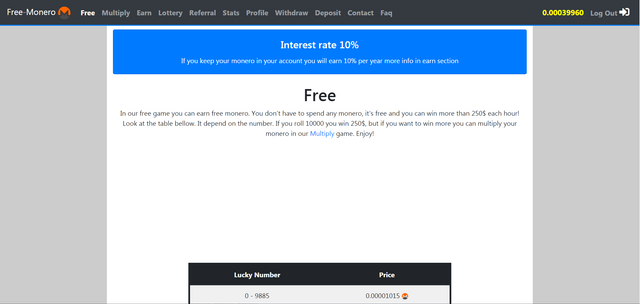 This is where to acquire the free Monero, you roll for a random number and earn free Monero. The table shows how much you can earn when rolling. It may look little but 1 full Monero coin is worth a lot. The table will also fluctuate as the price of Monero fluctuates so that the fiat value for the faucet stays the same. This happens with most faucets anyways in order to stay in use.
To roll head to the bottom: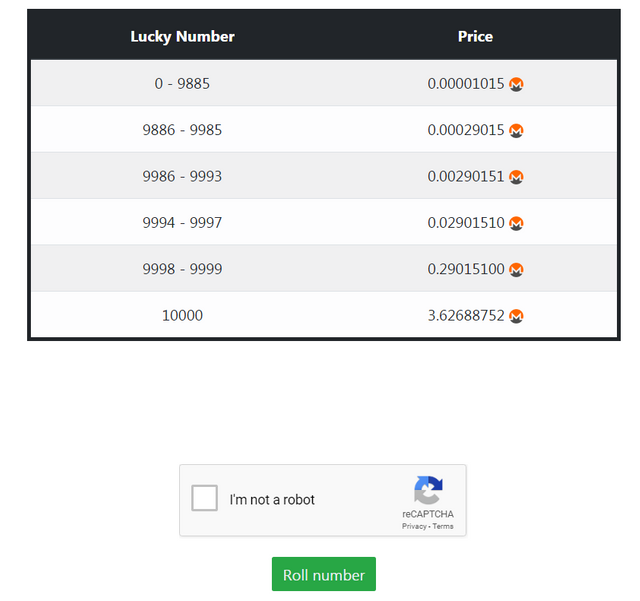 Click the I'm not a robot and solve a little problem provided (this will change every time you roll). Once completed, you should see a green check mark showing that it has been completed:

Then Click Roll Number:

Congratulations! You have just earned your first bit of Monero free!
This shows you your roll number and how much you earned. Usually it will be the lowest amount. The Faucet will also show a timer. This timer shown when you can roll again which is 1 hour. Meaning you can only roll once every hour. Not bad considering it is free crypto we are talking about!
Note: As you try to roll there will be some pop-up advertisement that can get in the way, just close those ads and get back to rolling!
Now, there are also many other this that can be done using this site that I will show starting from the left after Free (Free is where your roll for free Monero).

Multiply is for those who are willing to gamble there just earned Monero to gain even more. After all, Higher risk higher rewards: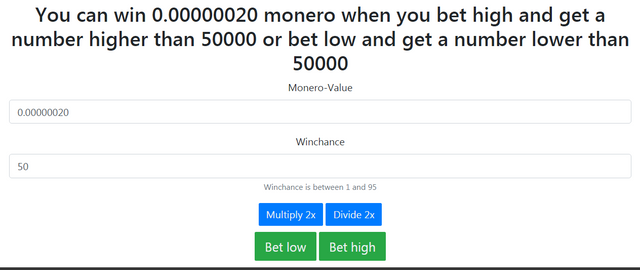 The winning chances can be adjusted to where you can win 95% of the time though from my experiences the house has a big edge and can easily lose it all in minutes. This is not for the faint-of-heart.
A much easier way to earn more is earning interest on your Monero
If you go to Earn their you'll see this: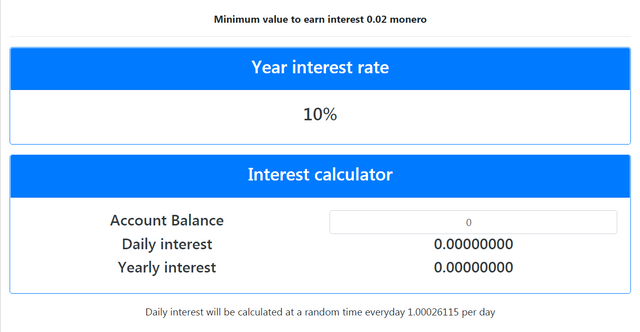 So, if you have 0.02 Monero, you can earn 10% per year just by hold it in the faucet account. The payout happens every single day though, let me explain
So if you have 0.02 Monero, you can earn 10% per year. 10% of 0.02 is 0.002. Payout happens every single day. So that 0.002 is the yearly amount divided by 365 (since there are 365 days in a year) will get you 0.00000550 Monero per day. Passive income right there! Doing nothing but holding in this faucet.
However, keeping your Monero in this faucet IS the risk for earning passively. Faucets are known to close down and hacks (Both have happened to me). If you have Monero when that happens, you lose it all without anyway of getting it back. Only keep enough Monero that you are comfortable in losing so that when it happens (hopefully not) no hard feelings. Rewards always comes with risks.
For the Monero that you don't want to keep in the faucet, then you go to Withdraw on the top of the page: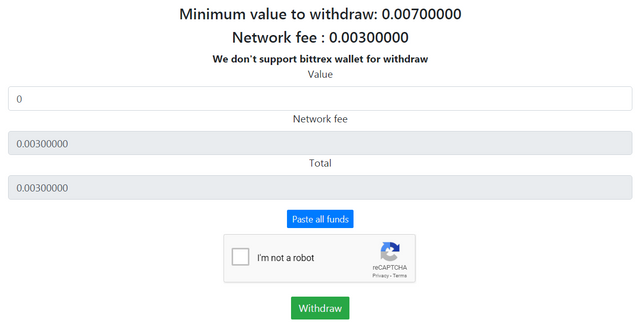 Here is where you have to have a Monero address from another source in order to remove the coin out of the faucet (wallet posts in near future). If you don't have one don't worry. I recommend Exodus wallet for computer use and Coinomi for phones as they both can hold Monero and other cryptocurrencies that I'll be showing in the future. (Tutorials coming soon). If you already have those wallets or have another personal one then head on to profile first and add your public address seen hear:

Then head on back to withdraw to remove coins from the faucets.
Notice however that there will be a minimum amount needed in order to even withdraw. For example, the photo above shown that the minimum amount needed is 0.007. The Network fee is the charge needed in order to do the transaction, in this case 0.003. 0.007-0.003 is 0.004 meaning what you would really get is 0.004 Monero after withdrawing everything.
0.007 can seem hard to acquire consider your getting very little at a time. But let us do the math.
Let's say you acquire 0.00001016 every time you roll (the num comes from when we learn to earn Monero seen above). 0.007 divided by 0.00001016 is about 689 times.
So, you need to roll 689 times in order to meet the minimum amount to withdraw.
That's 689 hours since this faucet is 1 roll per hour. Sounds like a lot, if you roll every hour since you started it will take about a month.
However, this does not include the price fluctuations on Monero meaning that you can acquire more Monero per roll when prices are down and vice versa along with the possibility of hitting jackpot or getting luck in the multiplier not to mention referrals.
All of these things can speed up the process, but don't forgets .007 Monero may seem like nothing (about 42 cents $USD) but that same amount in Bitcoin is worth a lot (about $58 USD). In the Crypto space, prices can fluctuate dramatically which is honestly an advantage when starting off so little. After all the purpose of Faucets is to introduce people to the actual coin without buying them with your own money. Kinda like a test trial to see if its truly worth investing in.
And that is my two cents on this Monero faucet, I'll be making a part two as there are some more features to this faucet.
Use this link if you want to view other faucets, I find reliable. Again, do own research before investing in these faucets.
https://docs.google.com/document/d/1e-0N_Vb-YE1HOj65OxbFsVprWWXCr9D5BAzeijwd5Sw/edit?usp=sharing
If you want to make a crypto donation, use link down below. (Monero address is highlighted for 7 days after posting this)
https://docs.google.com/document/d/1h-m_w_4_dVT_DQ7netGdkXAqmP9OgNDsNDR98VOjBrE/edit?usp=sharing
Note: All pictures are of my own
Note: I am not a sponsored, I just like these faucets that much.
Do share the post if you like it so much!