Zcash Price Prediction 2019, 2020, 2023, 2025 | Realistic Zcash Price Prediction
What is Zcash (ZEC)?
Zcash is a cryptocurrency that focuses on privacy. Zcash ensures your personal data as well as transaction data remains completely confidential. Zcash uses an innovative system called 'Zero-knowledge' proofs to verify transactions without revealing the sender, receiver or the amount.
Zcash protocol is actually based on the research of scientists from MIT, Tel Aviv and more. Zcash main mission is to empower everyone with economic freedom as well as privacy.
The Zcash Foundation is a non-profit organization that runs the Zcash protocol and is in charge of development as well as funding.
Zcash protects users privacy by using shielded addresses, this means that even if an attacker could completely compromise the Zcash Ceremony, he would still not be able to penetrate the privacy of Zcash shielded addresses.

Current Situation of ZEC
Zcash is one of the most popular coins and it's ranked 28th by Market capitalization. The current price of ZEC is $46.9 and the all time high was $905 in 2018.
ZEC has a $130 million of daily volume which is in the top 20 of coins by daily volume.

Predictions for ZEC in 2019
ZEC, like many other cryptocurrencies, has experienced a prolonged downtrend after the first half of 2019.
DigitalCoinPrice
DCP
thinks ZEC will hit $64.39 by the end of 2019 and that it will increase in the future.
TradingBeasts
According to
TradingBeasts
ZEC will reach a price of $38.996 by the end of 2019, which means they think ZEC will be in a downtrend until then.
WalletInvestor
WalletInvestor
has a far worse outcome for ZEC predicting the price to hit $20.5 by the end of 2019.
Our Prediction
ZEC's situation was similar to many other cryptocurrencies, however, a week ago, bulls were able to change the daily trend into an uptrend. Currently ZEC is trading at $45.67, below the 12-day EMA, however, the uptrend is still in place and bulls are looking for a higher low compared to $44.33 and then seek continuation.
The volume of the bull move has been significant, more than two times higher than in previous weeks. If the bulls are able to keep this uptrend, ZEC will be in a good spot in the short term, however, there is a lot of resistance nearby, the 12 and 26 day EMA's as well as the last high.
When we zoom out to the weekly chart, the situation of ZEC looks far worse, in fact this weekly chart is probably the worst among the other cryptocurrencies we have discussed. ZEC has experienced 8 weeks of negative gains in a row and the high of the weekly trend is all the way up at $124.27. The bears were able to break below several support levels and they hit $43.84, the lowest price of all 2019, in fact, the lowest price since April 2017. The bulls clearly have no chance to change the weekly trend any time soon but the could see a surge up to the 12-day EMA, located at $60 currently.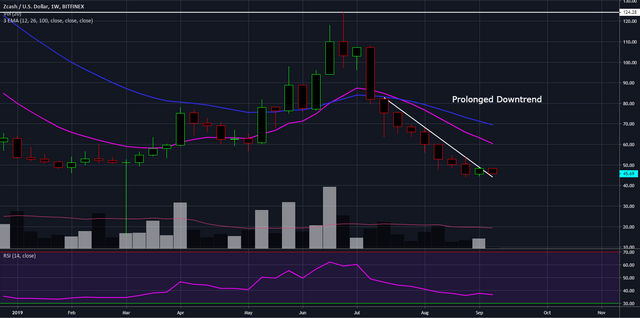 The monthly chart doesn't look any better and it's in a confirmed downtrend, again the bulls have no chance to really change the trend right now. If the daily uptrend holds, ZEC could hit $55 within the next few weeks but could go down to hit a lower low by the end of 2019.

Our Prediction for 2020
Zcash does have a roadmap for 2019 and 2020 even though it's already an established privacy cryptocurrency. The team is looking to upgrade the Zcash network and aims to set a consistent pace of two upgrades for year.
Clearly, Zcash's team is prepared to upgrade their coin whenever it's needed, the only question remaining is, who is using Zcash right now? Zcash has had a lot of big partnerships in the past, in 2017, the giant JPMorgan announced a partnership with Zcash. More recently, Zcash announced a partnership with Parity Technologies to improve security.
With this in mind, we could see ZEC hit $124 again by the end of 2020.

Our Prediction for 2023
We think that Zcash and any other privacy coin will do very well in the near future. The reason is simple, as more and more regulations start to form, a lot of cryptocurrency users will look for anonymity, something that only privacy coins can offer.
A lot of countries are actually even banning cryptocurrencies, something that again, forces users to make use of privacy coins.
Considering Zcash is already very popular and well known, it's safe to assume it will act like Bitcoin in the future, where every other privacy coin will depend on Zcash. It could easily hit $1000 by the end of 2023 if everything plays out as it should.

Our Prediction for 2025
Cryptocurrencies and the Blockchain technology will become mainstream by 2025. This isn't necessarily good for Zcash, once all the regulations are settled, people won't need to make use of privacy coins anymore, your salaries will probably be paid in crypto, you will be able to buy your groceries with it.
At this point, Zcash could experience a downfall but it's hard to come up with an accurate number. We think that the most likely scenario will be Zcash staying at around $1000 or going down quite a bit until $500.

About Whaleagent
Whaleagent.club is the Most accurate crypto signals group in the world. We provide easy to follow educated signals: based on Market research & Technical Analysis. Our signals are being shared to monitor our personal trades aka journey. We are trading at Bitmex, Bittrex, Binance. If you want to watch our Trades in live, simply subscribe via the website as a Premium Member.
Whaleagent.club content should not be considered as an investing parameter and the user should do their own research before investing. Price prediction is based on the data collected from various sources.
---
Posted from my blog with SteemPress : https://whaleagent.club/zcash-price-prediction-2019-2020-2023-2025-realistic-zcash-price-prediction/
---