Steemit Price Prediction 2019, 2020, 2023, 2025 | Realistic Steemit Price Prediction


What is Steemit (STEEM)?
Steemit is a social blockchain where users can share their content and get rewarded for it in the form of cryptocurrency. Steemit uses a new revenue model that allows users to become the platform stakeholders while controlling their data and earning rewards for each contribution they make.
Steem has paid almost $60 million since June and its cryptocurrency, STEEM, has no transaction fees and transactions take only 3 seconds to process. Steemit it's built to scale to handle all the possible social media users.

Current Situation of STEEM
Steemit was released all the way back in 2016 and for the most part, has followed the rest of the market when it comes to its price. It is currently trading at $0.16 with an overall ROI of -75% which means that if you bought STEEM right when it launched, you would have lost 75% of your money.
The all-time high stands at $8.57 in 2018 and the all-time low at $0.069 in 2017. STEEM is available for trading on all major exchanges including Binance or Bittrex.

Predictions for STEEM in 2019
STEEM had a pretty bad performance all year, unlike the rest of the cryptocurrencies, which were able to experience a really nice bull run for the first half of 2019, STEEM has been in a downtrend all year long.
TradingBeasts
According to
TradingBeasts
, STEEM will reach a price of $0.20 by the end of 2019 which means they think STEEM will eventually enter into a small uptrend.
WalletInvestor
According to the analysts of
WalletInvestor
, STEEM will be trading at around $1 by the end of 2019, a wild prediction considering STEEM would need to see a 500% increase in just 3 months and a half.
DigitalCoinPrice
DigitalCoinPrice
thinks STEEM will be worth around $0.15 by the end of 2019, a similar prediction to TradingBeasts and really close to the current price of $0.1541
Our Prediction
STEEM is currently in a daily downtrend trading at $0.1541 below both EMA's and inches close to the daily support of $0.1492. The daily RSI has been overextended for many weeks in a row without any kind of bounce from the bulls, it's clear they have lost steam and they are showing no strength right now.
The weekly chart is really rough for STEEM, much worse than most of the other cryptocurrencies as the price is currently the lowest price for 2019 and since mid-2017. STEEM is trading below both EMA's and the RSI has been in the oversold zone for 8 weeks in a row at this point without any kind of attempt by the bulls to bounce back. The current high of the weekly downtrend is all the way up at $0.447.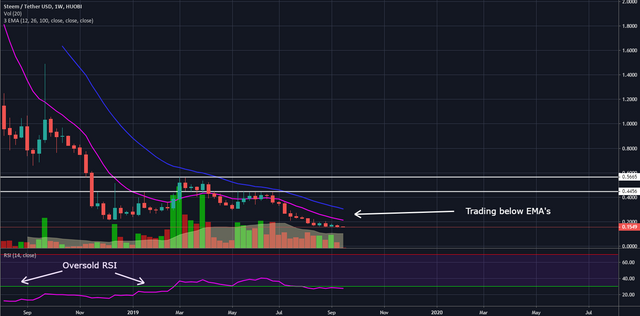 Similarly, the monthly chart looks pretty bad for STEEM as the RSI has also been overextended for months in a row at this point and the nearest EMA is all the way up at $0.57. The only small good news for the bulls is the drop in volume.
We don't see STEEM breaking out of this huge downtrend any time soon, it could, however, see a small bounce to calm down the RSI levels but the price would most likely fall again probably reaching $0.10 by the end of 2019 or a big higher.

Our Prediction for 2020
While the Steemit team is working hard on updates, they recently released another version of their platform, investors' confidence seems to be fading away and users are not interested in the product anymore. Many users seem to be favoring Medium over Steemit.
The biggest issues with Steemit come from the hard-to-use interface, especially if you are new to cryptocurrencies as well as abuse of the system since whales control the reward pool. Although decentralization is great, it seems that the top 1-3% of users that use Steemit control the whole platform by voting for themselves which also leads to vote-selling as well as the use of bots and other mechanisms to cheat the system.
It also seems to be really difficult to actually cash out your money and the volatility of the cryptocurrency doesn't help either. We think Steemit will maintain its current monthly downtrend and reach it's all-time low in 2020, perhaps below $0.05

Our Prediction for 2023
It's hard to predict what will happen with Steemit in the future, clearly, the platform is dying but the developers could solve the issues in the near future which could boost the price of STEEM.
If Steemit continues to operate the way it's currently operating, the cryptocurrency will most likely be dead by 2023 as better platforms will simply take over.

Our Prediction for 2025
Our prediction for 2025 remains the same, we believe Steemit will most likely be dead by the end of 2025 unless some drastic changes are made.
---
Posted from my blog with SteemPress : https://whaleagent.club/steemit-price-prediction-2019-2020-2023-2025-realistic-steemit-price-prediction/
---