Ontology Price Prediction 2019, 2020, 2023, 2025 | Realistic Ontology Price Prediction


What is Ontology (ONT)?
Ontology is a public blockchain and platform offering different services and products like the ONT ID, a decentralized identity platform that helps users manage their own data in a decentralized way.
ONTO is a 'one-stop' client to the decentralized world, it allows users to manage their digital assets easily. DDXF is a decentralized data exchange. DDXF enables the tokenization of any valuable data and provides the traceability as well as cross-system data processing.

Current Situation of ONT
ONT is currently ranked 25th by Market capitalization and it's trading at $0.73 with an average 24-hour volume of $45 million.
The current overall ROI for ONT is -72% and the all-time high was set in May 2018 at $10. The all-time low was hit back in December 2018 at $0.438.

Predictions for ONT in 2019
Ontology is in a fairly similar situation to the rest of the cryptocurrencies, there is however a significant difference, the increase in volume over the last few months has been notable.
TradingBeasts
TradingBeasts
sees ONT hitting $0.906 by the end of 2019.
CryptoNewsZ
According to
CryptoNewsZ
analysis, ONT could reach $3.5 by the end of 2019, they think ONT will be in a slow but steady upward trend, however at this point, it seems quite improbable for ONT to hit $3.5
WalletInvestor
According to
WalletInvestor
, the future of ONT is really bad and it will hit $0.08 by the end of 2019.
DigitalCoinPrice
DCP
analysis shows a price prediction of $0.78 which is close to the current price of $0.73.
Our Prediction
ONT is currently in a daily downtrend similar to the rest of the cryptocurrency market. ONT bulls are trying to change the trend, however, they have been rejected in the past and they are currently being rejected from the EMA's. Yesterday a reversal hammer candlestick formed and today it saw a lot of continuation for the bears.
The weekly chart is really weak for ONT, although the volume is slowly declining. The EMA's remain quite high and the RSI is almost in the oversold area.
The monthly chart is not great either, although, similarly to other coins, the bulls do have more room to work with here. They are currently trying to set a higher low compared to $0.43, it's also worth noting that the bear volume has been declining while the bull volume was increasing. The goal for the bulls here is to set the higher low and then seek continuation after breaking above the high of $1.856, this is a scenario that could play out in the next 4-5 months, however, the bears could easily just continue with the pressure and create a lower low.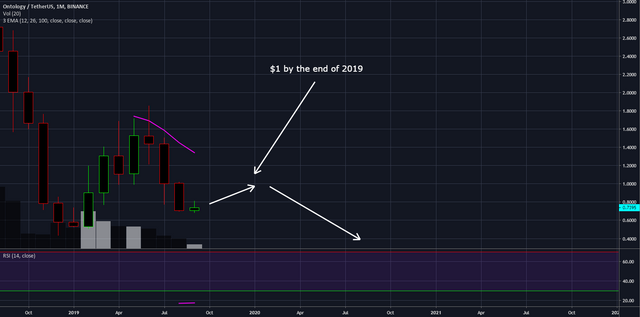 If ONT bulls are able to wake up and set a higher low, the price could hit $1 by the end of the year.

Our Prediction for 2020
The roadmap for Ontology in 2018 was really extensive but has slowed down significantly in 2019 and it's really vague for 2020 with a simple statement about 'becoming a top global trust collaboration platform'.
Ontology has been able to secure a good amount of partnerships in 2019, however, the effect on the market price wasn't great. The partnerships themselves aren't amazing either and it's not exactly clear where Ontology is going.
The biggest partnership for ONT has been NEO, they are now both working together trying to build the next-generation Internet, however, this is something that many other companies are already doing and have been doing for a longer time.
Ontology is likely to continue in a monthly downtrend and could hit new all-time lows by 2020, we think the price of ONT by the end of 2020 will hit $0.2.

Our Prediction for 2023
What is the point of Ontology? The applications of Ontology are not exactly clear. Ontology has over 2 million community contributors as well as 900 technical contributors and more than 200 core team members. This is great but doesn't solve the issue of ONT's identity. The ontology platform is home to 50 DApps, certainly not an impressive figure.
We think that Ontology will keep tanking reaching below $0.1 by the end of 2023.

Our Prediction for 2025
Will 2025 be the end of Ontology? Perhaps. It seems that Ontology won't have a specific purpose in the future and all the features and services they are offering are already in the market offered by more advanced companies.
We think Ontology will be worth $0 by the end of 2025.

About Whaleagent
Whaleagent.club is the Most accurate crypto signals group in the world. We provide easy to follow educated signals: based on Market research & Technical Analysis. Our signals are being shared to monitor our personal trades aka journey. We are trading at Bitmex, Bittrex, Binance. If you want to watch our Trades in live, simply subscribe via the website as a Premium Member.
Whaleagent.club content should not be considered as an investing parameter and the user should do their own research before investing. Price prediction is based on the data collected from various sources.
---
Posted from my blog with SteemPress : https://whaleagent.club/ontology-price-prediction-2019-2020-2023-2025-realistic-ontology-price-prediction/
---