Neo Price Prediction 2019, 2020, 2023, 2025 | Realistic Neo Price Prediction


What is Neo (NEO)?
According to the official website, Neo is an open-source project that is driven by the community. The Neo project makes use of the blockchain technology to automate the management of digital assets through the use of smart contracts.
Neo was originally called AntShares and was launched back in 2014 but was eventually rebranded to Neo in 2017. The Neo platform allows users to buy, sell and exchange different types of assets that can be easily digitalized.
The main difference between Neo and other blockchain platforms is their emphasis on regulatory compliance. Users on the Neo platform will have a unique digital identity that can be verified using the blockchain and users or businesses can only transact with each other when the other party has the required identity.

Current Situation of NEO
Neo is one of the oldest and most popular cryptocurrencies and it's currently ranked 20th by Market Capitalization. Neo usually enjoys a lot of volume with an average of more than $300 million per 24 hours.
The overall ROI for NEO is around 5000% from the launch of the digital currency. The all-time high for NEO stands at $196 on January 2018 and the all-time low at $0.07 all the way back in 2016.

Predictions for NEO in 2019
Neo has been relatively stable in 2019 compared to most of the other cryptocurrencies, Neo was trading at $7.50 on January 2019 and it's now trading at $9.56 so the digital cryptocurrency has actually gained a decent amount of percentage throughout the year.
WalletInvestor
According to
WalletInvestor
, Neo could have a massive bull run by the end of 2019 and hit a price of $30.
DigitalCoinPrice
DCP
places NEO at $13.46 by the end of 2019, a reasonable price considering the current situation.
TradingBeasts
The prediction done by
TradingBeasts
is far more reserved at only $8.02 by the end of 2019.
Our Prediction
NEO was in a daily downtrend for some time but the bulls have been able to change the trend recently creating an uptrend that broke above the 12 and 26-day EMA's with a good amount of volume while maintaining the RSI low enough for the bulls to see more continuation.
This recent uptrend could extend until the end of the year as Bitcoin is losing dominance and alt-coins are creating daily uptrends.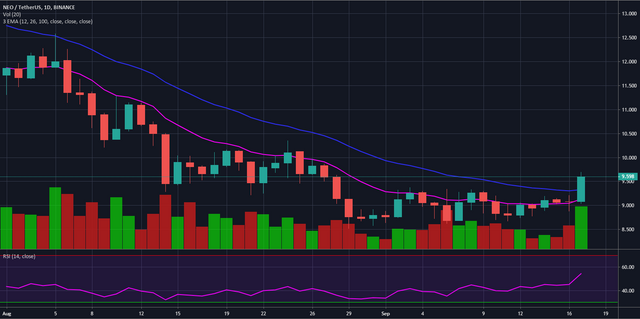 The weekly looks pretty weak for NEO although the bears have no volume which is a bullish indication. In fact, the amount of volume the bulls got on the bull run the first half of the year was 4 to 5 times higher. The bulls still need to break above the EMA's to even consider changing the weekly trend but the recent alt-coin momentum could certainly help.
The monthly chart does look better and the bulls have a lot of room to work with as they are trying to set a higher low compared to $5.39 and although a break above $20.98 in just one move seems really unlikely, the bulls can try to set a lower high and a higher low at first before trying to change the trend. The volume is definitely in favor of the bulls and the alt-coin momentum will be a key factor.
We believe that NEO could at least set a lower high compared to $20.98, perhaps around $15 by the end of 2019 but it's unclear whether NEO will stop there.

Our Prediction for 2020
Neo has released a pretty extensive roadmap for 2019 and 2020 called NEO 3.0. The team will work on the protocol redesign as well as improved transactions per second and a simplified validation model. The launch of the Mainnet is planned for 2020 Q2 which would push NEO to the next level.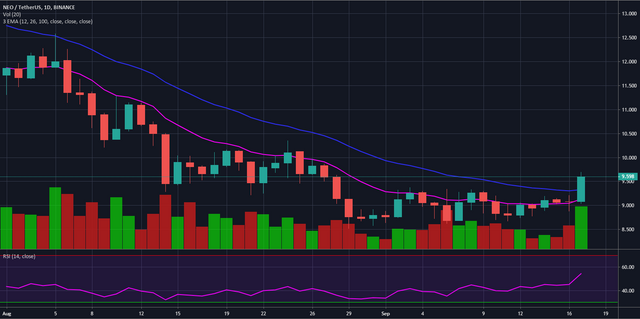 NEO has partnered with many blockchain projects and has enabled developers to create accept NEO tokens on their DApps. Some big DApps are already using NEO, for example, Jarvis+ a decentralized service and AI-based personal assistant uses NEO tokens, Switcheo, Trinity and many other DApps use NEO tokens.
The most likely scenario for NEO in 2020 will be a long-term uptrend which could take NEO above $20, possibly hitting $50 as there is no resistance after that point.

Our Prediction for 2023
Continuing with our projection and we consider a monthly uptrend since mid-2020 where NEO was able to break above $20 and topping out at a maximum of $50. The projection would show a pretty significant consolidation followed by a lower high and a higher low with a bullish break-out toward $100 as there is some resistance ahead.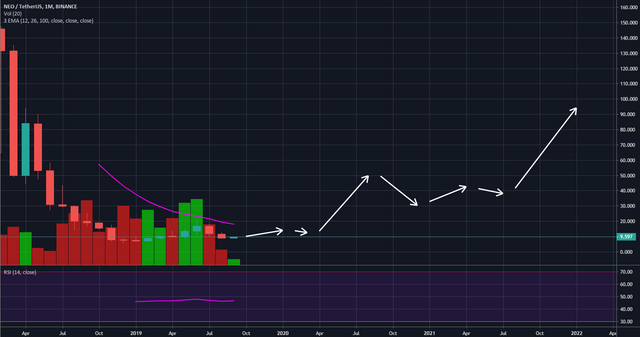 If this scenario plays out, NEO could possibly hit $200 again in 2023 as there is really no resistance aside from psychological levels.

Our Prediction for 2025
Our projection shows NEO hitting a new all-time high by 2025, easily. NEO could be worth around $300-500 by the end of 2025 depending on market conditions and regulations toward cryptocurrencies, something that NEO shouldn't have issues with as they are compliant with regulations.
About Whaleagent
Whaleagent.club is the Most accurate crypto signals group in the world. We provide easy to follow educated signals: based on Market research & Technical Analysis. Our signals are being shared to monitor our personal trades aka journey. We are trading at Bitmex, Bittrex, Binance. If you want to watch our Trades in live, simply subscribe via the website as a Premium Member.
Whaleagent.club content should not be considered as an investing parameter and the user should do their own research before investing. Price prediction is based on the data collected from various sources.
---
Posted from my blog with SteemPress : https://whaleagent.club/neo-price-prediction-2019-2020-2023-2025-realistic-neo-price-prediction/
---