NEM Price Prediction 2019, 2020, 2023, 2025 | Realistic NEM Price Prediction
What is NEM (XEM)?
NEM is a cryptocurrency and blockchain platform launched in 2015. NEM uses a revolutionary consensus algorithm called PoI (Proof of Importance) which intends to solve all the issues present with classic consensus algorithms like PoW and PoS.
The NEM platform makes the development of blockchain much easier with a powerful yet simple API interface that can be used with any programming language. The NEM platform allows developers to fully customize their blockchain and according to the website, the NEM Smart Asset System 'enables businesses to build an incredible variety of real-world application uses. By using NEM's built-in features to define your Smart Assets and connect them together, you can represent almost any system of business transactions on the blockchain with minimal development.'

Current Situation of XEM
Despite the recent market crash, XEM is still at the top and ranked 25th by market capitalization trading currently at $0.0415. The overall ROI for XEM is >9000% as the initial price was around $0.0001+ for several years.
NEM usually enjoys a good average daily volume of around $30 million. The cryptocurrency itself has been holding fairly well despite the market crash.

Predictions for XEM in 2019
The trend of XEM in 2019 has been similar to many of the top cryptocurrencies, starting with a significant drop in value followed by a huge bull run of around 300% increase and then a slow daily downtrend.
TradingBeasts
According to
TradingBeasts
, NEM could end up trading at around $0.048, a price not far away from the current one.
WalletInvestor
The data from
WalletInvestor
shows NEM entering a huge bull run and trading at around $0.44 by the end of 2019, something that looks extremely unlikely right now.
DigitalCoinPrice
DigitalCoinPrice
has a pessimistic view on NEM as they think the digital asset will be trading at around $0.024 by the end of 2019, half of the current price.
Our Prediction
Checking the daily chart for XEM, it's clear the downtrend is still in place, however, there has been a recent huge market flash crash with Bitcoin and others losing between 20 and 30% in value within a few hours. XEM, however, has been able to hold its price of $0.04 after dropping to $0.0364, something that most of the other cryptocurrencies haven't been able to do as they are still trading at the price of the crash or even lower.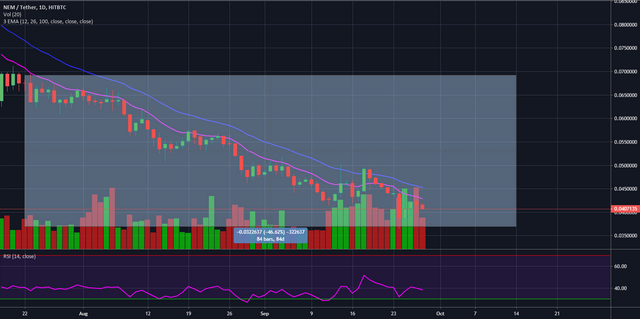 This could indicate some strength for the XEM bulls, however, it's important to keep in mind that the daily downtrend is clearly still in place and the bulls will need to do a lot of work to change it.
The weekly chart is showing 10 weeks in a row of negative gains for XEM and although they haven't been huge losses independently, the overall value loss in these 10 months has been around -47%. Again, the bulls clearly need a lot of strength in order to change this trend but they have been able to hold an old weekly support of $0.0341.
The monthly chart is perhaps a bit better as the bulls have been able to hold a higher low, if they can keep up the momentum and really confirm this higher low, an Equilibrium pattern will be formed, a good start for the bulls in the long-term.
We believe that NEM will not be able to achieve a change in the weekly trend this year, however, a lower high compared to $0.0695 might be set around the end of 2019, this could put XEM at around $0.055 by the end of the year.

Our Prediction for 2020
Although NEM is an old cryptocurrency, the team and developers are still working quite hard on improvements, in fact, the roadmap for 2019 is quite complete and there are plans for 2020 too.
The developers are looking for IoT support as well as a Lightning Network App. The creation of a Stable Coin is also in the cards. Clearly there is still a lot of hype around NEM and the developers and team know what they are doing.
The downtrend of 2019 could certainly change in 2020 where a lot of cryptocurrencies will fail to survive. NEM could end up changing the weekly trend and possibly the monthly one too. We see NEM trading at around $0.08 by the end of 2020.

Our Prediction for 2023
There are a lot of projects being built by the NEM community members. Projects like NEMp3 or NEMventory were built by members and integrated into the NEM ecosystem.
The NEM foundation is still holding events and conferences regularly as well as expanding into different countries and languages like Italy, Spain or Russia
We believe XEM will slowly increase in value and could possibly hit a new all-time high by the end of 2023.

Our Prediction for 2025
One of the most important questions when it comes to predicting the success of a project in the long term is usability and current stats. The NEM network has 408 active nodes and it's currently being used in many different industries.
NEM is currently used in financial services as instant payments are available when using NEM. The platform also enables users to create their own cryptocurrencies.
Additionally, NEM can be used as a form of escrow services. The use-cases of NEM are almost limitless, ranging from the financial industry to business management, securing records and decentralized organizations like voting or crowdfunding.
We believe NEM will set a new all-time high by 2025 and possibly hit $2.

About Whaleagent
Whaleagent.club is the Most accurate crypto signals group in the world. We provide easy to follow educated signals: based on Market research & Technical Analysis. Our signals are being shared to monitor our personal trades aka journey. We are trading at Bitmex, Bittrex, Binance. If you want to watch our Trades in live, simply subscribe via the website as a Premium Member.
Whaleagent.club content should not be considered as an investing parameter and the user should do their own research before investing. Price prediction is based on the data collected from various sources.
---
Posted from my blog with SteemPress : https://whaleagent.club/nem-price-prediction-2019-2020-2023-2025-realistic-nem-price-prediction/
---