Dash Price Prediction 2019, 2020, 2023, 2025 | Realistic Dash Price Prediction


What is Dash (DASH)?
Dash is a payment platform and digital cash that provides fast, easy and secure payments with really low fees. Dash is basically what Bitcoin intended to be, a day-to-day digital currency that people can use to buy groceries, coffee or a plane ticket.
Dash actually provides users with ATM's around the world that they can use to cash out or exchange Dash for other cryptocurrencies. Dash works very well because the transaction speed is really fast, 1 second and the fees the user has to pay are really low.
Similarly, Dash is a great way to increase revenue and the efficiency of businesses. The Dash platform also offers businesses custom integration and e-commerce plugins as well as auditing and reporting.

Current Situation of DASH
DASH is currently in a small uptrend trading at $91.74 with a total market capitalization of $829 million. CoinMarketCap places the ROI of DASH at over 9000% with an all-time low of $0.21 back in February 2014.
Clearly DASH has had a great performance so far and it is one of the oldest cryptocurrencies ever. It is currently ranked 14th by market capitalization.

Predictions for DASH in 2019
Dash looks far better than a lot of cryptocurrencies in 2019 and it's actually enjoying a nice uptrend as well as a listing announcement from Coinbase.
TradingBeasts
TradingBeasts
analysis shows a negative trend for DASH and they think the digital currency will hit $70.35 with a maximum figure of $87.94
WalletInvestor
WalletInvestor
has a different view on DASH and they predict the currency to reach around $179 by the end of 2019, something that doesn't seem that unlikely right now.
DigitalCoinPrice
According to
DCP
, the price of DASH will be around $175, they basically agree with WalletInvestor's prediction.
Our Prediction
As usual, let's take a look at the daily chart for DASH. The digital currency seems to be doing great right now, the bulls already changed the daily downtrend last week and now they have confirmed it in a big fashion. Of course, the news about Coinbase listing the digital currency helped the bulls tremendously.
DASH is currently trading above both daily EMA's which are looking for a bull cross within the next few days. The volume behind the recent bull moves has been impressive and the RSI is not even extended. The 4-Hour chart at this point is in a bull flag which could break out soon.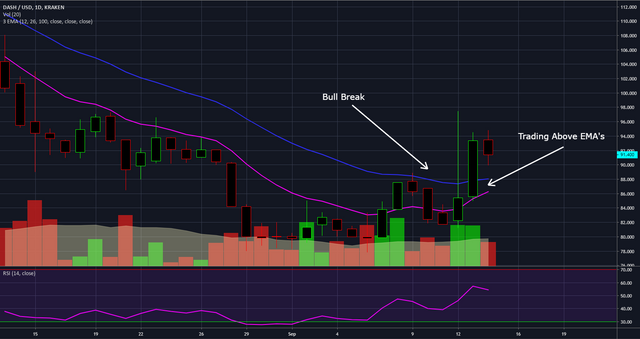 Zooming out, the weekly chart looks worse for sure, however, the bulls do have increasing bull volume, something pretty significant. The strategy for the bulls to change the weekly trend would be to set a lower high and then create an Equilibrium Pattern, something that looks likely right now.
Zooming out even more, the Monthly chart is in better condition than the Weekly chart as the bulls are attempting to set the higher low right now which would confirm an Equilibrium Pattern.
We are bullish when it comes to DASH and we think it could reach around $130 by the end of 2019.

Our Prediction for 2020
Dash has a great Roadmap ahead and the team has been working on updates since 2015. The team is now looking to integrate a decentralized API as well as data storage. Create usernames for DashWallet and enable users to pay and receive payments.
There isn't a lot of resistance for Dash if the bulls can switch to a monthly uptrend, Dash could easily climb back up to $500 or more by the end of 2020.

Our Prediction for 2023
The statistics for Dash are quite good, they had $3.3 billion in payment volume during the second quarter of 2019 and is processing around 15,000 or more transactions per day. Dash also has around 71,000 active addresses daily and the digital currency is accepted on more than 4,800 merchants and services only in Q2 2019.
Clearly, people and businesses are using Dash and the numbers are certainly not going down after 5 years. The community is more active than ever and the price is not an accurate reflection of Dash price right now. Dash will hit a new ATH by the end of 2023

Our Prediction for 2025
Dash has a lot of partnerships and it's already used by many companies and accepted by many services. The 'discover dash' website shows all the places where Dash is being used and accepted, users can find restaurants, clothes shops, hotels and more.
Dash is used and accepted in popular locations like America, Australia, Spain or the United Kingdom. It's safe to assume that by 2025, Dash will be a main form of digital payment and could reach prices of $3000-5000 by then.

About Whaleagent
Whaleagent.club is the Most accurate crypto signals group in the world. We provide easy to follow educated signals: based on Market research & Technical Analysis. Our signals are being shared to monitor our personal trades aka journey. We are trading at Bitmex, Bittrex, Binance. If you want to watch our Trades in live, simply subscribe via the website as a Premium Member.
Whaleagent.club content should not be considered as an investing parameter and the user should do their own research before investing. Price prediction is based on the data collected from various sources.
---
Posted from my blog with SteemPress : https://whaleagent.club/dash-price-prediction-2019-2020-2023-2025-realistic-dash-price-prediction/
---