Kucoin exchange, one of the largest cryptocurrency exchange that ranks #21 (as of writing, base on liquidity) on the Coinmarketcap launch its new platform called KucoinPlay. KuCoinPlay allows users to participate in contests where they can discover and support their favourite blockchain projects in a more fun and engaging way. The top players for each of the contests will be rewarded with amazing cryptocurrency prizes.
To celebrate the event, KuCoinPlay is launching its biggest campaign yet, giving away 1,000,000 USDT in rewards to participants.
To participate in the giveaway, visit this page: https://kucoinplay.com/1-million-usdt-giveaway?friend=BTRskTvHzkozNWI88085&tab=earn-points
To qualify for the rewards users must complete at least 1 task in the campaign.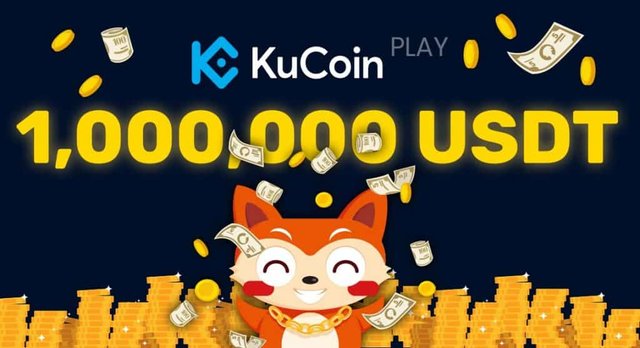 Duration of giveaway: From 19:00 on January 10, 2020 to 19:00 on February 10, 2020 (UTC+8)
Prize pool: A total of 550 users will be rewarded, the top 500 users will be rewarded 1000 USDT each and will select 50 users at random from all participants to win 10,000 USDT each.
KuCoinPlay's Official Social Channels
Telegram Channel: https://t.me/KuCoinPlay
Twitter: https://twitter.com/KuCoinPlay
Facebook: https://www.facebook.com/KuCoinPlayOfficial
Reddit: https://www.reddit.com/r/KuCoinPlayOfficial
YouTube: https://www.youtube.com/channel/UC7QiPgzOLkE9sv9TnewNPyA