Ich habe dieses Wall St. Crypto Cheat Sheet gerade in einem neuen Video von @louisthomas gesehen und finde es einfach genial und sehr witzig. Ich finde jeder Krypto-Investor sollte dieses Cheat-Sheet ebenfalls berücksichtigen, da die Psychologie hinter Marktzyklen eigentlich immer dieselbe ist, solange es noch menschliche Trader mit Emotionen gibt.
In welcher Phase, glaubt ihr, befinden wir uns gerade im Crytpospace? Würde sagen irgendwo zwischen Disbelief, Depression und Hope.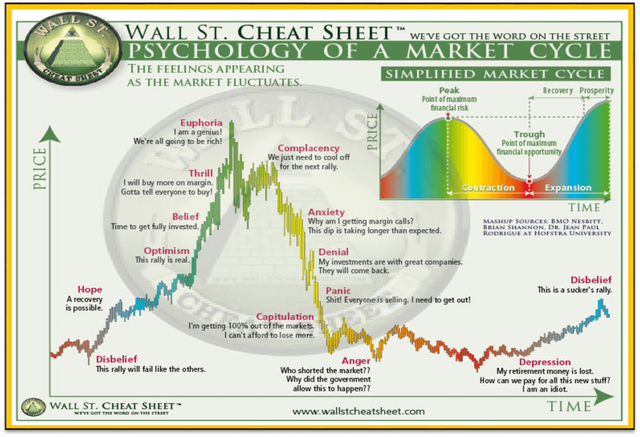 English
I just saw this Wall St. Crypto Cheat Sheet in a new video of @louisthomas and think it's just awesome and very funny. I think every crypto investor should also consider this cheat sheet, because the psychology behind market cycles is always the same as long as there are still human traders with emotions involved.
In which phase do you think are we in crypto space right now? I would say somewhere between Disbelief, Depression and Hope.
Live your Secrets and Steem Prosper 🔥
xx Viki @vikisecrets