Jenny Goldberg, the Bytecoin development team has a way to communicate its aims to the public. CCN got on the line with Goldberg on Wednesday, and the following is what she had to say.
Jenny speaks 0f:
Untraceable coins - created under the "Crypto-Note" protocol

Wallet(light) integrated solution to allow anyone to create their own Bytecoin-based token.
https://bytecoin.org/
https://bytecoin.org/blog/



Starting @ 16:00min into the vid speaker talks about how some ppl say "To N0t Diversify Until Your Well 0ff" - I personally beg the differ, especially if playing with penny crypto-coins! But I do understand the concept because I was just telling myself that had I been just focusing on 1-3 coins rather than trying to put m0ney into so many with FOMC, my gains(portfolio)would be much higher(percentage) 0r If I just held 0n to everything ha!


You all know how I feel about my RDD MAN!!!! cALL ME RDDMAN! i'M currently sitting @77,000+ RDD
After the Alt's stated to take 0ff this year, I got serious about sticking with my BCN investment . I had BCN@17Sats but then sold as it got boring. Right when I sold of course, pops up to damn near 200Sats 0r m0re I believe SMH
S0 now I dont' even BUY BCN, I just mine it on over @ https://www.eobot.com/new.aspx?refer=TradZdigital@icloud.com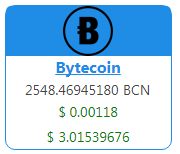 As you can see, I have 99Doge as 0f today sitting on over@Eobot from accumulating 1 FREE D0ge a day just f0r logging in. This is basically a built-in faucet ;). I have m0re D0ge 0f course sitting in my i0S-wallet(dough) which was also FREE fr0m when I use to trade 0n over@p0l0. This D0ge sitting in my i0s-wallete(1,000 +) was from lending with the lending-bot. I would still be lending but, the lending bot got taken down;( And I'm n0t trying to fish f0r rates when I have other business to attend to!
First Ever Alt-C0in based 0n Crypto-N0te Tech!