The blockchain for creative coins,
CIC have launched and succeded the first critical days pretty well.

They are planning to get listed at MasterNodes Online and Crypto-Bridge exchange.
Several masternodes are up already, and mining difficulty is HIGH due the demand.
Wallets are compiled, download them directly here:
Win64: - Win32: - Linux: - Mac wallet:
Today is a wallet upgrade happening, and if all goes well I expect a
downtime of a couple minutes at GpuHot.com Pool.
Here's the mining code again:
-a x16s -o stratum+tcp://gpuhot.com:3663 -u CafYZoKw9tFsjJBPwHpPui99pD39S2XeFa -p c=CIC
If you want the fast lane to masternode and help speed up the exchange listings, you can buy a masternode in the presale:
1 Masternode collateral is 100,000 CIC
2 Price for each masternode is 0.6 BTC
3 If you would like to buy: contact CIC in discord:
* Artwood#4817 id:447353974023258112
* Bronwich#7205 id:420562744006279178
* https://discord.gg/STu25MK
Visit the Discord
CIC have lots of bounties and contests to come up with, both fun and profitable to participate here!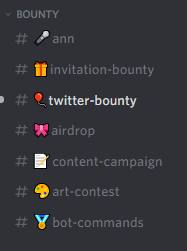 ---
♨️ Coins channel: https://discord.gg/xUBuyxe
♨️ ANN: https://bitcointalk.org/index.php?topic=4456430
♨️ Github: https://github.com/Creative-Innovations-Coin/CIC-Core
♨️ Medium: https://medium.com/@CreaInnovaCoin
♨️ Website: https://creativecoin.design/
♨️ Mining pool: GpuHot.com

🔅 GpuHot.com 🔅