Mixin Network - why you need to pay attention this project

🌐   Website   🌐
🌐   Telegram group   🌐
🌐   Twitter   🌐
🌐   Facebook   🌐
🌐   Whitepaper   🌐
🌐   ANN thread   🌐
Hello. Now I will tell you about the project that interested me. The project, which I tell you, does not collect investments, ICO ended in the end of the 4th quarter of 2017. Managers managed to attract a sufficient amount of investment for the company. I mean Mixin.
The advantage of using wallets in the Mixin Messenger application is obvious: when sending a cryptocurrency, you never need to go to the wallet portal and enter a long secret phrase, the pin code in the Mixin Messenger application successfully replaces it. The next advantage is the mega high speed of transferring and receiving cryptocurrency to addresses in Mixin. All transactions are carried out in a few seconds.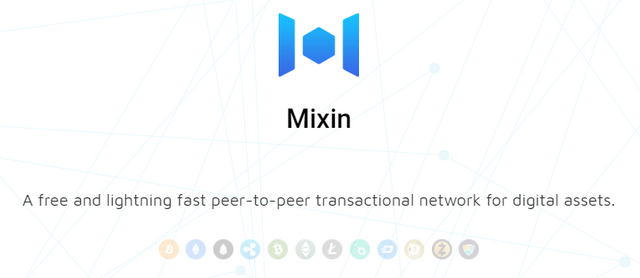 Mixin has its own altcoin, XIN. There are a million XIN altcoins in total. This is a fixed number of tokens that will not be added or burned. With ICO, about four hundred thousand XIN tokens were intended for sale. They were successfully purchased for the price of 1 XIN = 20 EOS.
The mixin project consists of qualified professionals with extensive experience in large campaigns. The project has excellent blockchain specialists, designers, marketers, programmers, developers of smart contracts.
The Mixin project is a peer-to-peer blockchain chain, the goal of which is to achieve the maximum speed of sending a crypt between the wallets of their owners.

In order to show the quality of its network, the Mixin project team developed its own Messenger. In fact, it integrates more than 15 purses that can be replenished without problems.
Access to wallets is possible by entering a six-digit PIN code. 6 digits must be memorized, it is the only option to access your wallets in Mixin.
Mixin Messenger can be downloaded from the Play Market or the App Store. The size of the application is 12 MB. You will need about 13 minutes to configure and install the Mixin application.

At the expense of this application, you can send messages to all relatives or to each person who also has the Mixin application on their smartphone. All shipments are encrypted with a special code. Even the most powerful hackers will not be able to compromise it. In addition to the team, the company has a couple of advisors who help the company Mixin successfully develop.
🔸  🔸  🔸  🔸  🔸  🔸  🔸 
Hot_Stuff
https://bitcointalk.org/index.php?action=profile;u=1347459
0x7296cdd504a6baDcb4D996f541527D3117c3Cea4