Cryptocurrency is Unique and gives absolute freedom - Why Crypto still not widely used?
Cryptocurrency is a great invention of our time. Cryptocurrency gives us absolute freedom. No doubt about that. We do not ask our government or do not have to take permission to transfer our money from one place to another. We do not have to wait for long time in a Bank to approve my trasaction. We do not have stay in a queue for long time. That means Crypto is giving us freedom to use and transfer.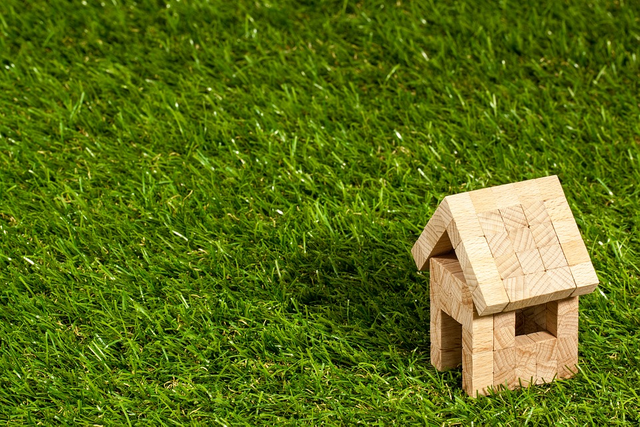 Pixabay
Widesprad adoption
But still we do not see widespread crypto adoption. Japan and South korea is an exception. You can use cryptocurrency and buy anything through Crypto. If you look at the number of internet user worldwide, there are 3.5 Billion people are using internet.
Crypto Survey
There is a survey conducted in 29000 internet user in the developed countries, It is found that most of them are aware of Cryptocurrency. South Korea scored highest. 87% people are aware of Cryptocurrency in Korea. Other developed countries follows the same pattern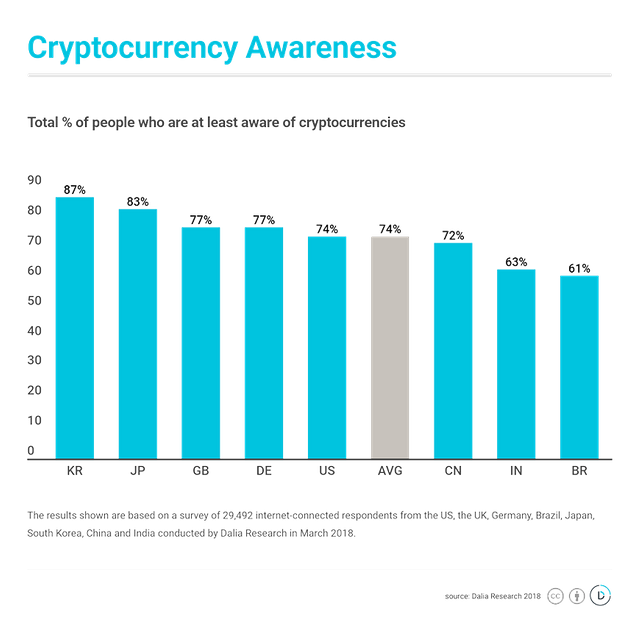 Source
But interesting point is that very few people are interested to buy cryptocurrency. Look at South Korea, Only 2% people have buying intention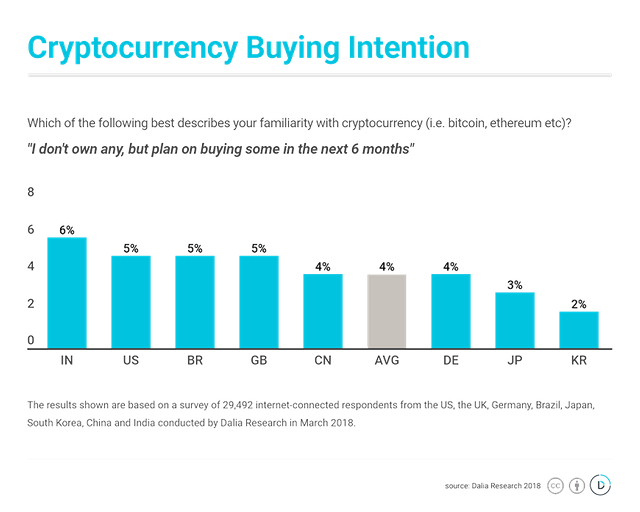 Source
Why people are not investing in cryptocurrency?
As Cryptocurrency gives freedom, Why people are not buying it? Why still not widespread adoption? To me, People still confused about the outcome of the cryptocurrency. Do not know whether cryptos will be sustainable in the long run. Most of the countries, government, are also confused about the outcome of the cryptocurrency. As long as there is no governement approval widespread adoption is difficult to achieve.
Founders can help to grow the crypto market
Look at the people who have made a lot of money through cryptocurrency. It may be investing in ICO or any other particular project. Some of these season investor converted their cryptos to fiat and leave the market. Even the founder of any project, Instantly convert their ETH to Fiat and leave the market. This means these founders also does not believe on their project.
Investors and Founders need to be more cautious and stop converting their cryptos into fiat. They should help the growth of cryptocurrency. They are powerful as they have lot of money.
What is your opinion in this regard? Please leave a comment below

To Read 📗 my next post!!! Follow me @steemero
---
HELP ME REACH 3,000 FOLLOWERS!

Join Binance - One of the largest Cryptocurrency exchange in the world

https://www.binance.com/?ref=15657672

Social
Steemit: https://steemit.com/@steemero/

Twitter: https://twitter.com/steemero
Facebook: https://www.facebook.com/steemero

Minds is another decentralized social media which pays you for your content. If you want to join minds, You may join by the following referral link:

https://www.minds.com/register?referrer=nylsan

Thank you for honoring me with your upvotes!

Warm Regards,