XAYA:The Ultimate Blockchain Gaming Solution
1.0 INTRODUCTION
Decentralised Autonomous Universes (DAU's) create a whole new realm of possibilities, which have not been fully tapped into.
It creates the opportunity for millions of individuals to work together to achieve a common goal or shared interest in a virtual environment.
In such environments, users can also create tradable virtual gaming items, convert such items into fiat, and create multiple revenue streams that is beneficial for everyone-all these achieved in less time and requiring less resources. This is what XAYA hopes to achieve through its platform.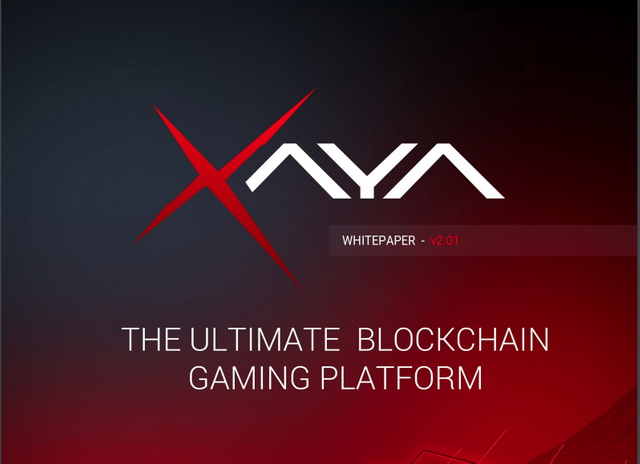 2.0 THE XAYA ADVANTAGE
XAYA
maintains a single decentralised blockchain based platform that ensures that DAU's are harnessed. It also promotes fair ownership, has simple/safe trading and sharing. It's also a cost effective environment that will ensure that multiplayer games to be created, can be marketed to a wide range of users, globally.
XAYA's team is no stranger to innovation on the blockchain. In 2013, they developed the Huntercoin, which was very important because it gave them some valuable insight into what is possible, and can be achieved. It was a first in many aspects, such as the first game built on the blockchain, first multiplayer game within the decentralised space, and also a first in human mining of cryptocurrencies. They were also able to have 35,000 characters controlled simultaneously and a market capitalisation of $1m within a few months.
This knowledge/insight gained, along with what they took away from Namecoin serve as the backbone for the creation of XAYA's platform.
Developers can easily harness XAYA's tools to create solutions for millions of users. They will also be able to create their own native currencies, which can be swapped for CHI (native currency of the XAYA platform) or other assets within the ecosystem. XAYA ensures that these developers are provided with tools that makes their job easier, and also ensures their success.
XAYA's solution is essential to existing and new markets. It creates the possibility of new virtual environments that are much more flexible than other simple trading systems, making use of smart contracts.
Funds and resources are major challenges young developers face, when trying to create solutions. With the aid of XAYA, these people can use resources provided by XAYA to create solutions that will appeal to a large group of users, achieving this at a fraction of the cost and also go to the market much more quickly.
Gamers on the other hand, will be able to derive tangible benefits in the real world, which are products of achievements in the virtual gaming universe.
Seeing XAYA has a ready made market, developers can gain traction quickly.
These are some of the ways XAYA will change the gaming industry.



3.0 EXISTING MARKETS XAYA ADDRESSES
3.1 GAMING
In 2017, the gaming industry was estimated to have generated $108B , and it is estimated that between 2016-2020, there will be a 6.2% Compound Annual Growth Rate. Of this figure, mobile gaming accounts for 32.4% ($35.3B), while having a 22% YoY growth.
As time has gone by, we have seen lower entry points, and people having much more access to computing platforms. This will ensure that the available market continues to expand.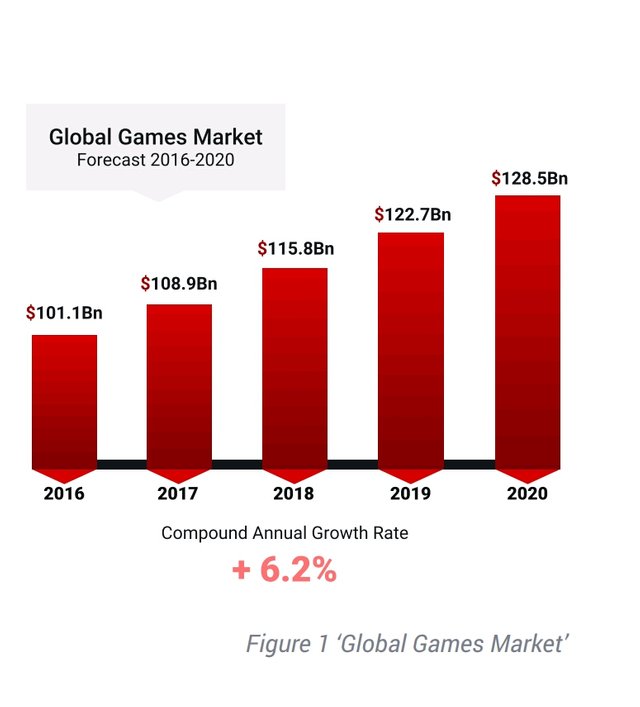 Gaming falls into two categories: Paid and freemium. It is common to see games with millions of users in both categories.
Freemium games are able to generate revenue via in-app ads and paying to access special tools/skills, as well as navigating through difficult stages.
Pro Evolution Soccer for instance is able to offer its game as a free download on mobile, but to be able to play more than 5-10 matches, depending on the category, or also to stand a chance at getting better players, gamers have to purchase coins to have access to these. They have had more than 100 million downloads.
The gaming market in many regions is experiencing tremendous growth ($4.7B P.A in Asia Pacific) this represent an opportunity, which can be harnessed by creating customised solutions that meet their needs and appeals to them.
3.2 CRYPTOCURRENCY
The total crypto market capitalisation is estimated to be about $350b (2017)
The development of new cryptos with special features creates new opportunities for the industry and brings in new users along the way.
As demands for these currencies grow, so does its value. The penetration of cryptos keep growing by the day, and billions are spent in transactions everyday.
XAYA is a gaming and virtual item trading platform based on the blockchain, as well as having a cryptocurrency. This essentially means that as more users come on board-gamers and developers alike, the request for CHI will increase, and demand for this token will ensure that its value soars.
With its features of ensuring that it is cost effective, and time saving with regards to deployment, XAYA will catch on rapidly, seeing many dreams lost can now become a reality via a fully democratic game development platform.



4.0 PROBLEMS SOLVED
4.1 FOR DEVELOPERS: Ensures lower entry point and less resources needed for game development. Many developers also do not have access to the market, and they also have to juggle between tasks, such servers and uptime. XAYA ensures that developers can focus on what they do best-developing.
** 4.2 GAMERS:** Gamers seek richer gaming experiences, where ownership of virtual assets mean a lot. While having a great time and relaxing, gamers can also be rewarded for their efforts virtually, which can be converted to tangible assets of real world value. In time, it will be important to have an answer, to ensure that games are provably fair-which XAYA already anticipates, unlike in other emerging asset trading platforms.



5.0 CHARACTERISTICS OF XAYA's SOLUTION TO THE PROBLEMS ABOVE
5.1 FOR GAMERS
Round the clock uptime
Being Provably Fair.
Secure virtual asset ownership
Simple game app launcher
Secure social networking
Easy swap and conversion of virtual assets to real world assets.
Human readable wallet accounts/addresses.
5.2 FOR DEVELOPERS
Creation of own tokens
Full/partial/no decentralisation game development
Compactibility with broad game engine
Access to pre-built libraries
Easy payment options and management
Exportable game engine templates.
Access to a wide pool of generic users who can become loyal to specific games.
5.3 FOR SUPPORTERS
A stable cryptocurrency of high value, due to the demand.
Untapped gaming market access
Access to a huge pool of existing markets.
New game genre creation.
XAYA's team has overcome the scalability issue on the blockchain, by making use of Trustless off-chain scaling and Ephemeral Timestamps.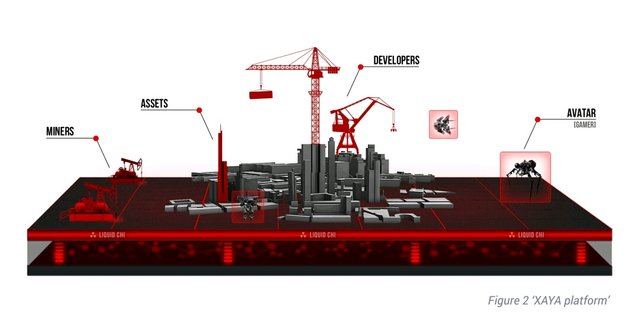 6.0 KEY TECHNOLOGIES
The XAYA crypto is secured by the Proof-of-Work (PoW).
ATOMIC TRANSACTIONS: Permits trustless trading amongst users.
EPHEMERAL TIMESTAMPS: XAYA makes use of a mix of time-stamp abilities of the blockchain, Merkleized hash commitments, amortised mining incentives, to ensure that reoccurring payments cant be lost for honest users.
GAME CHANNELS: Extension of payment channels in Bitcoin. Can be applied off-chain, which essentially means that scaling globally isn't an issue. Can also be applied to "shards" of a global gaming world, ensuring that global and almost real-time gaming is possible.



7.0 TECHNICALITIES
XAYA will implement the use of game accounts and tradable game assets. As a result of this, in-game ownership can be securely tracked on-chain. Transactions need to be signed by both parties, to ensure that either both transactions go through or none does, basically preventing losses.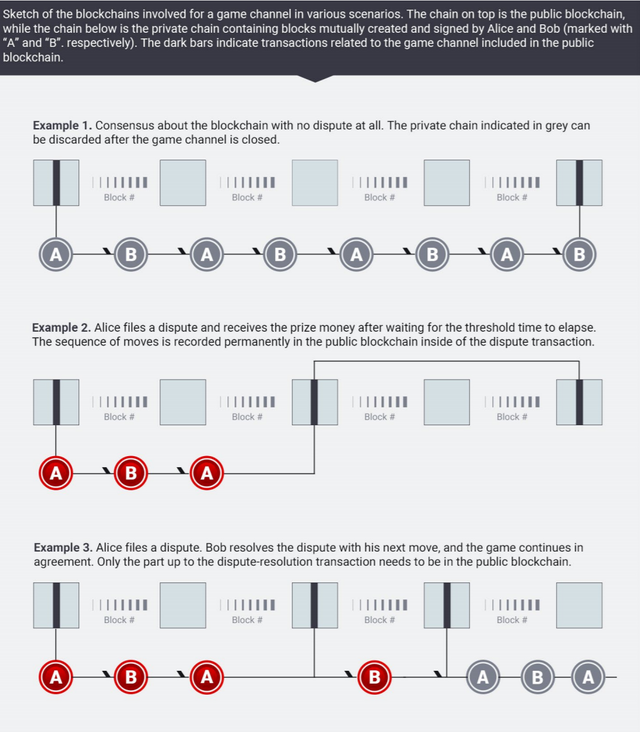 All games within the ecosystem will be built similarly to the global 'game state' concept. Cryptos on blockchains can be seen as a consensus of a global state, which every participant can manipulate via transactions. On
XAYA
, this can be any global data that encodes the game world entirely.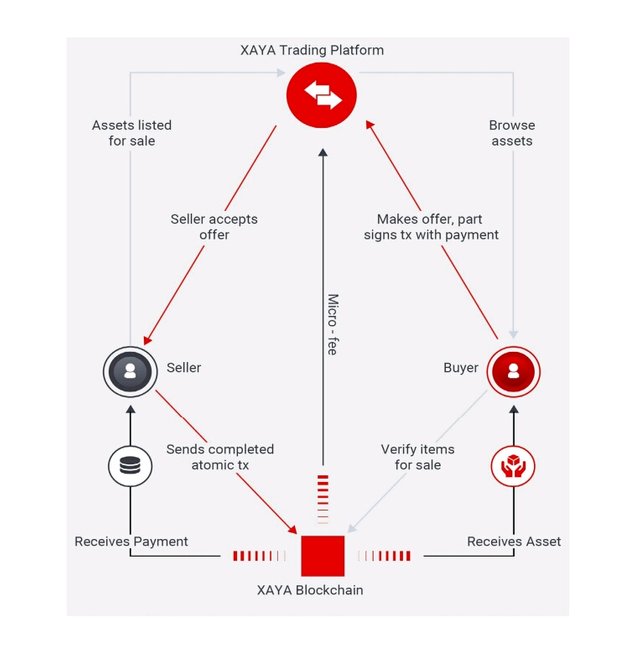 Games on
XAYA
can be monetised via one-off fees, in-game ads, percentages, and selling game related coins, which give users access to special features, to power up, or to complete levels quickly.

8.0 USE CASES
XAYA
offers a multitude of possibilities to the gaming industry.
STRATEGY GAMES
Games such as Age of Empires, where users build up their empire and go around trying to conquer/expand their territories are viable within the ecosystem. Developers can create coins through which gamers can purchase higher grade weapons, build their cities, armies and empires much more quickly. All these being achieved almost in real-time, in a trustless and serverless platform.
With the tools provided by XAYA, developers will be able to create much more quickly.
Users being offered incentives for victories will ensure that they get rewarded by participating in something they love.
CARD GAMES
Card games similar to the steem blockchain Steem Monsters gamer, where users can collect cards, buy packs in the hope of getting rare cards which are much more valuable. These cards can be traded or sold for real world value via atomic transactions. They can be played without worrying about servers and reliability, also offering a provably fair environment.
Some others supported are: Multiplayer online battle arenas (MOBA), Turn-based games and MMORPGs.



9.0 DEVELOPMENT PHASES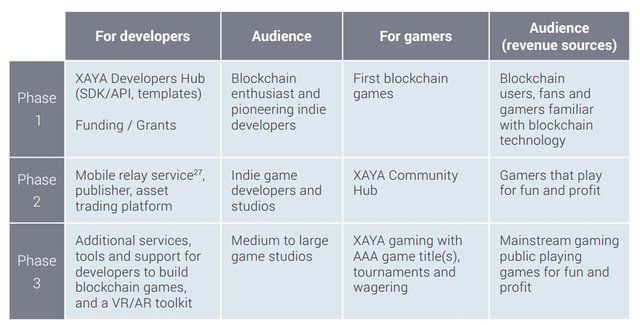 XAYA
generates revenue via ads, game and in-game sales, micro-fees for trading activities and the retail model.

10.0 TOKEN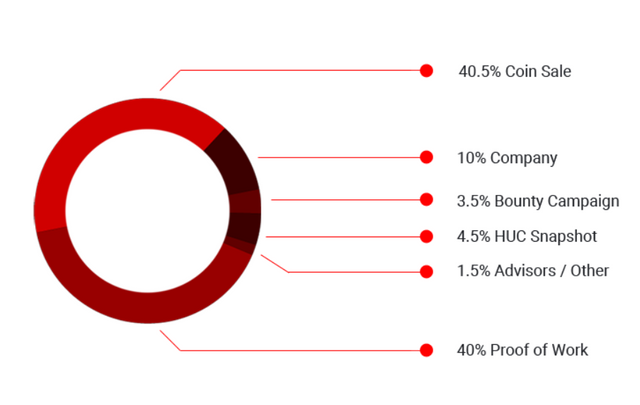 The reserve currency of the
XAYA
ecosystem is known as CHI, and it is required for all internal activities.
CHI TOKENS AVAILABLE: 115, 000, 000
CONTRIBUTABLE CRYPTOS: BTC, ETH, BCH, QASH


11.0 SUMMARY
Ensuring the security of users and their assets will make sure that users will be retained, seeing they know that assets being gained will not be lost, and then they will have to start all over again. When users feel that they have been treated unfairly, they will leave if the issue isn't addressed. Ensuring that everyone feels valued will only strengthen the ecosystem. Also knowing that such assets can be easily converted to fiat and used in the everyday world will ensure that gamers will spend more time within the ecosystem.
Partnerships with games such as Soccer Manager are important, because it brings in a large user base of battle hardened gamers, which will mean that more users will need to make use of CHI, driving up its value. The presence of such games will ensure that other developers will be attracted to the ecosystem easily. On the side of developers, more users means more opportunities for their games to be seen. Getting seen leads to usage, and usage leads to revenue for such developers. All in all, this is very key for the rapid growth and adoption of the ecosystem.
The growth of the VR industry presents a great opportunity for the decentralised economy, because interest in VR is high, and the industry is still quite green. These needs lots of resources to be effective, and XAYA could be the answer. Being able to offer real solutions for VR based games will ensure that large numbers will be hooked on XAYA, and this will drive in huge revenue to XAYA and the industry by proxy.


TEAM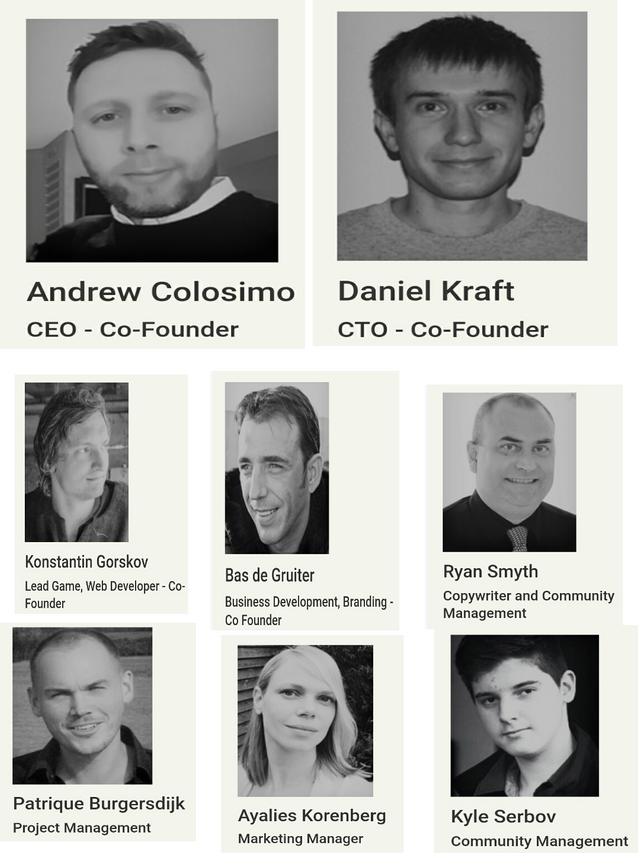 ROADMAP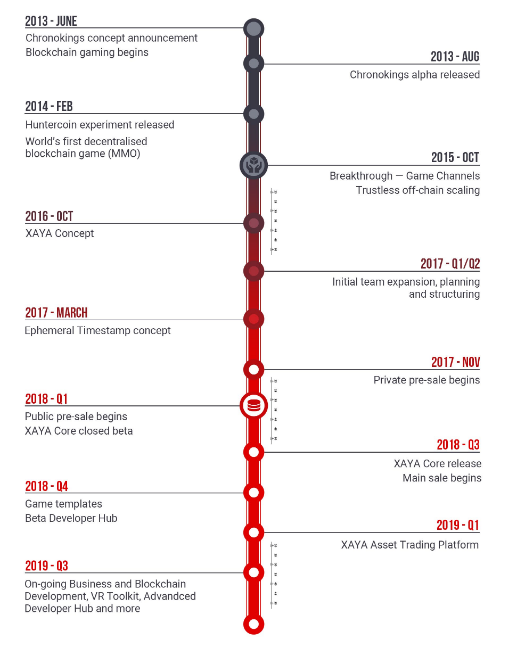 VIDEO
Not a fan of long words? Watch these videos below


MORE INFORMATION & RESOURCES:
Xaya Website
Xaya WhitePaper
Xaya Medium
Xaya BitcoinTalk
Xaya Reddit
Xaya Facebook
Xaya Twitter
Xaya Linkedin
My entry to the @originalworks contest here
Twitter link
https://twitter.com/deIdialu/status/1044432729109090305
xaya2018 xayatwitter