MEDIBLOC Improving our Health
MEDIBLOC
Over the years, medical institutions have been keeping and managing medical records of patients. But to a large extent the reliability of the data stored or presented are questionable as corporations only make available to users the data they want and sometimes, the people working in medical institutions may intentionally wants to hide or release some data (even without carrying the patients along). There are challenges of poor data management and some that the patient may not want to share with public are sometimes released without the consent of the patients.
Individuals, groups or government agents walk into hospitals where records of patients are kept to access the patient data. Sometimes, the patients data may not even be up to date as some may have scattered records of data in different hospitals. Some data that ought to be confidential are sometimes traded and even with that the data available to AI and Research are not reliable enough for the intended use.
Apart from tracking records of crime and diseases or epidemics, medical data is very important for research and the use for developing the Artificial Intelligence. If good and reliable data are available for AI, medicine would have a plus advantage.
Why using MediBlocs?
Everyone who have had an occasion to visit any hospital at one time or the other have medical records. And for some who visit at interval to run a test have dossiers in the hospital for their medical records. But according to the Health Insurance Portability and Accountability Act, the party which can deal with medical information is highly limited. And this serves as an impediment to research.
This restriction in the health care information is limiting medical experts who can perform good medical care. Some patients would even have to travel to another location trying to get medical attention. Some cases have been reported not to be exactly as they taught brought into being by incompetence of the medical attendants. People keep spending much on issues that are trivial due to incompetence of some medical workers. If the medical records can be made available to even private individuals who are into research, solutions to many medical problems cannot be far fetched and this would save costs of performing unnecessary repeated tests by patients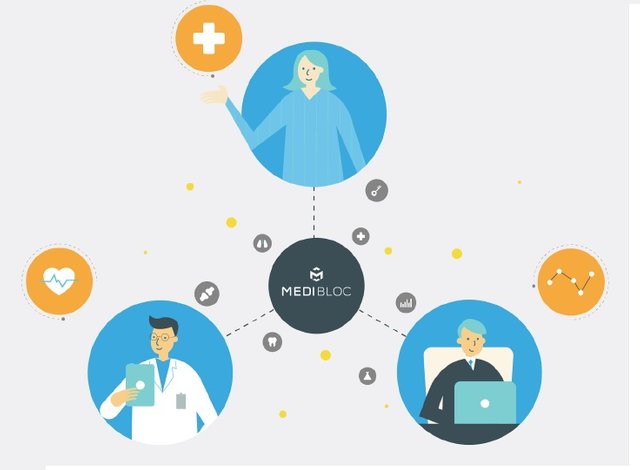 Source: MediBloc Whitepaper
The best way of tracking medical records is by patient keeping the record themselves. And this is what the Medibloc has done by decentralizing the medical record keeping. Just with the use of internet and MediBloc APPs on the Blockchain technology, medical records can be at ones finger tip. With this, the patient have no difficulty in sharing their medical records and no movement or travelling to share their medical records. The patients can now have their medical records at their control. They can choose when to share and with whom to share their medical records. This is different from the way things were in time past, where their medical records were shared without their notice.
For patients, sharing of their medical records is not going to be free as Medibloc has made it possible for patients to earn MEDI Tokens which is to be enjoyed by users of MEDIBLOC. This token is redeemable at any time and patients can use the same to settle hospital bills, buy drugs and cater for their health in a better way. Therefore, MEDIBloc is not just about collecting data for research and AI but as well involved in the business of seeing to the welfare of their users.
It is very simple and easy. The medical record may not be of any importance to the patient, but sharing it on the Medibloc where it can be made available for users and the patient getting reward is a great thing. Medibloc is aimed at creating an ideal healthcare information system that is secured, reliable and transparent.
Let us take for instance, Mrs. Smith is suffering from an unknown deadly disease, and have been struggling or battling with the disease for a long time. Let us assume all effort to cure her stubborn ailment has proven abortive and as such maybe Mrs. Smith is even out of money to take good care of her health. What could be solution? Instead of Mrs. Smith keeping her ailment to herself, she can share it on Medibloc where researchers can help her and she get rewarded for sharing her experience and records. So simple.
Maximum Security
The Medibloc have the would have an advantage over the conventional system of medical record keeping and record availability as the issue of security of the data or record given would be of paramount concern because medical records must be kept confidential. So big corporations in the business that have been keeping medical records would have their rights taken from them which would be given to individual patients. In this pursuance, individual patient will have the authority to access, decrypt and collect their medical record with the use of the blockchain technology
High Reliability
The data generated would be very reliable as users cannot just delete or modify that supplied which will jeopardise the integrity and reliability of medical records on the Mediblocs. When it comes to reliability issue, big corporations handling medical records may not want some information that are reliable to get to users and as such may alter the data given out. Or may remove part of the data supplied while keeping to themselves the genuine one. This issue is going to be a thing of the past.
High Level of Transparency
Just like the blockchain technology does, the transparency of transactions is a prominent feature of the technology. So, Medibloc will offer a transparent records of the activity of users who read, write and access information on the Medibloc and as well give detail of where, when and what purpose data supplied is being used. In this pursuance, no more exploitation of healthcare information.
MediBloc Platform Components
The MEdiBloc platform is an EVM (one of the most widely use in executing smart contracts) based Decentralization App (known as DApp). There are three categories of information to be put in place and these are MED balance, Personal Information and Healthcare data. These information would be encrypted and saved both on the blockchain and the backup from a database that would be used.
On the platform there would be a MediBloc accounts. There are different accounts depending on the category of MediBloc users one wants to be. The accounts can be for General Users, Healthcare Providers, Data Researchers. At the center of the platform is MediBloc as an intermediary between the users (which can belong to any of the three categories mentioned above).
For people in the category of General Users, they will be able to read and write personal healthcare data and can even choose not to disclose their data with even family members. The healthcare providers would be granted access to data on permission except on critical situations while Data Researchers can access data by seeking consent of the account owners. Medibloc will allow users to search for information by operating a search system on which the users can even deny access to their healthcare search.
With Medibloc, research can only get better and patient conditions can only become enhanced and researchers can only continue to soar. What an amazing technology bringing about interoperability of benefits for people at all ends that surrounds the Mediblocs.
This is my submission for @Originalworks Weekly Contest
To know more about MEDIBLOCS Visit
Medibloc Website
MediBloc White Paper
MediBloc Facebook
---
medibloc2018