EOS ICO announced. What's gonna happen and some updates from Dan.
Dan's new project is getting closer and closer to launch. That's exciting news and everyone who watched this project with interest was wondering if there will be an ICO or not. Generally the rumor was that there will be NO ICO but also did not have much proper info as Dan kept the mystery in his talks about EOS.
What it was clear for everyone involved, was that this is not a small low-key project. As @robrigo said, EOS must have a marketing team because they had a lot of cool merch. and seemed to care about bringing awareness about the project to as many people as possible.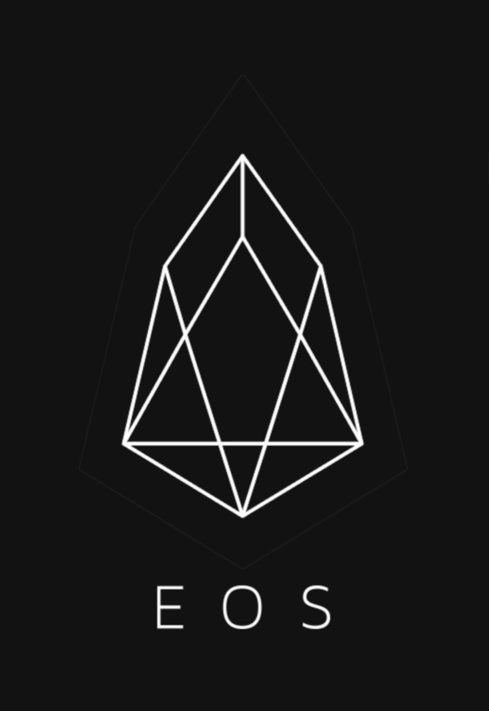 Given everything we knew, when the ICO WAS ANNOUNCED, everyone was a bit surprised.
Then we read the terms and....PAUSE!!. Are we really talking about a ONE YEAR ICO?!??!
But it's unheard of! not to mention one with a bidding system and a daily pool of coins to be invested. It;s honestly a lot to wrap your mind of and I'm sure that one of the first conclusion you might reach is that this will be bad for the little investors and that whales will get all the EOS coins. Still, that probably not true
Still, let's see what Dan actually says. The purpose of this post is to bring, as always, a little light on what's going on here. All my info is from the telegram channel, which is very very popular and it will really push your scrolling muscles to the limit ( especially if you run into the troll known as Jonah! ). Dan himself came yesterday on the group and answered a few questions!
After BATS ICO sold out in seconds a lot wondered and pondered on the future of ICOs. @wingz wrote a great article about that...there's another good one here. The idea is that we started this ICO thing with an ideology that is being shaken to its core now by "whales". The big, smart idea is that the little guy will have a stake in whatever he wants, just by sending some money and get "cheap" coins at ICO. YOU could be an investor in the future too, with just a little bit btc. How awesome is that?
But we see now that hard caps are getting filled FAST and whales "cheat" the system by upping their gas prices so they have priority on transactions...and then just sell their cheap coins for insta huge profit and have EVEN MORE money for the next ICOs. That's not idea to say the least.
While some argue that this is not that bad, I think it's quite bad that the project - while getting funded, sure - will have less "real" supporters.
For example, I was a big fan of the Brave software but now I'm lukewarm on it after the Ico. Like me, there are many.
So I see Dan's Ico terms like a method to try to prevent this kind of behavior and maybe even create an industry standard of "fairer ICOs". It's clear that Dan is thinking about this himself and it's not mere chance that the ICO is structured as such.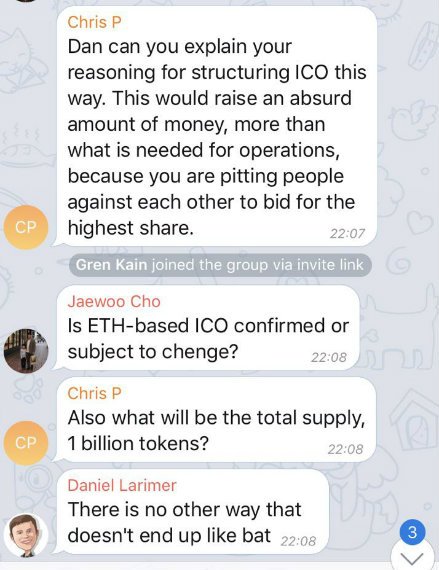 The big idea is that whales have no incentive to buy expensive coins when there's also an external exchange that sells cheap coins.The external exchange- where people trade their EOS coins they got in the first 5 days when there will be a mass distribution - will be a feedback indicator on the "real" price of the Eos coin for the day and people will have perfect information to make the best decisions. Some argued that whales might sneakily send big amount in the last few minutes of the day and thus fk the "little guy" buy making his coins expensive [ in fact, by lowering the amount of coins one receives/eth].
Dan answered this here: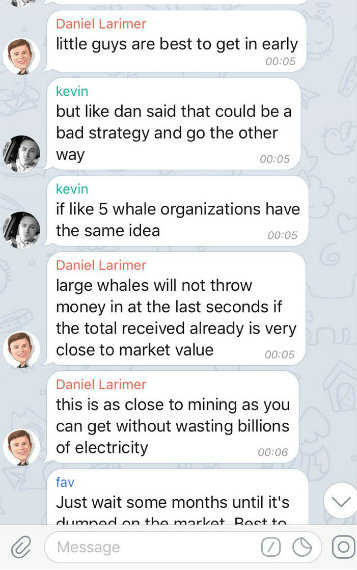 That was a big answer imho and very important to keep in mind that this won't really be a lottery. But sure, there are things to consider and there won't be just ONE mega strategy. Your faith in the project will ultimately decide when and if you'll contribute to the ICO.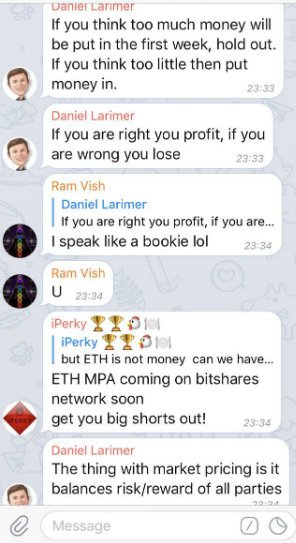 But while at first I was pretty dumbfounded with the idea of an one year ico, now I see that's it can be a pretty cool concept. Because in truth, the more people know about a project, and the more people care about it, the better will do. Sure, we all know about BATS now because they sold out so fast but most people might perceive it as a bit scammy. For EOS though, the dissemination of information will be natural and will lead, I think, to a much more organic community!
Here's Brandon echoing the steemit post: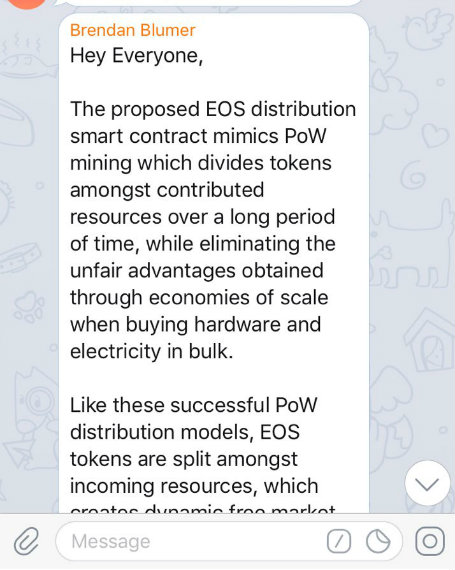 Hey Everyone,
The proposed EOS distribution smart contract mimics PoW mining which divides tokens amongst contributed resources over a long period of time, while eliminating the unfair advantages obtained through economies of scale when buying hardware and electricity in bulk.
Like these successful PoW distribution models, EOS tokens are split amongst incoming resources, which creates dynamic free market pricing that allows for instant liquidity.
Capping token value leads to even worse diversity in distribution, destroys free market pricing, and due to the existing technological constraints of Ethereum, it allows tokens to be monopolized by those willing to pay the highest gas fees.
Time is critical to healthy distribution; distribution is only as broad as its awareness, and time allows more people to become aware, assess the project merits, and get involved before early stage opportunities are closed. No token that has been completely distributed for value in a small window of time has achieved a distribution diversity that we feel is acceptable to the EOS project.
Feel free to check out our rationale for the proposed code structure here:
https://steemit.com/eos/@eosio/draft-eos-token-sale-smart-contract
More information on Block.one's exposure to tokens and corporate initiatives will be available well in advance of the token sale. Rest assured our team understands the importance of long term alignments of interests when building a community, and are excited to be able to share more information.
That's a pretty good way to end this post. I hope this answers a lot of your questions and stick around, I will have a post about EOS regarding its usefulness in the current blockchain development stage we are.
Thank you for reading!