The most important question: "Why do I invest in crypto?"
For the past couple of months I've helped many people around me invest in cryptos. Not (at least primarily) as a financial advisor, because it is absolutely not what I do, neither would like to, but more as a technical support. Interest in cryptocurrencies is growing exponentially, especially since the surreal gains in November and December, however people lacking in computer skills don't know where to begin. Therefore, I worked an extra shift (of course pro bono and with pleasure) after my regular job just to help others invest for the last two months. In my opinion offering such support might even be a good business idea, but that's not the point of this article.
The main point of this article is to encourage you to ask yourself, why do you invest. I see people literally throwing their money (some of them greater, some smaller amounts, however this is irrelevant, because it's about the principles) into something they do not understand nor truly believe in. Cryptocurrencies are going mainstream and I believe the cryptomania will soon go worldwide. At this point I would like to emphasize I am not predicting bubbles or whatever and I do not prejudge mania is either bad or good. I would only like to warn you to be smart when it comes to investing. Don't get carried away by emotions. You must invest into something you believe and understand, so I advise you to educate yourself - read as much as possible about the projects you are interested into. I have to admit I hate(d) the question "What should I invest into?", from the ones I helped (it is why my secondary role was financial consulting, unfortunately). Of course I told them what and why I invested into, but it's everyone's duty and responsibility to do own research and decide based on the knowledge.
This kind of investing (I'd call it blind investing) is mainly or perhaps exclusively based on the greed. What is more, greed is accompanied by the greater amount of fear (beacuse of the lack of knowledge and/or belief) and this may lead to even bigger price fluctuations. Consequently, the corrections might be greater and long lasting (as the recent one), however this is not necessarily a bad thing.
You will find my "investing principles scheme" below. Let me know what you think about my article, please leave your comments and share your thoughts.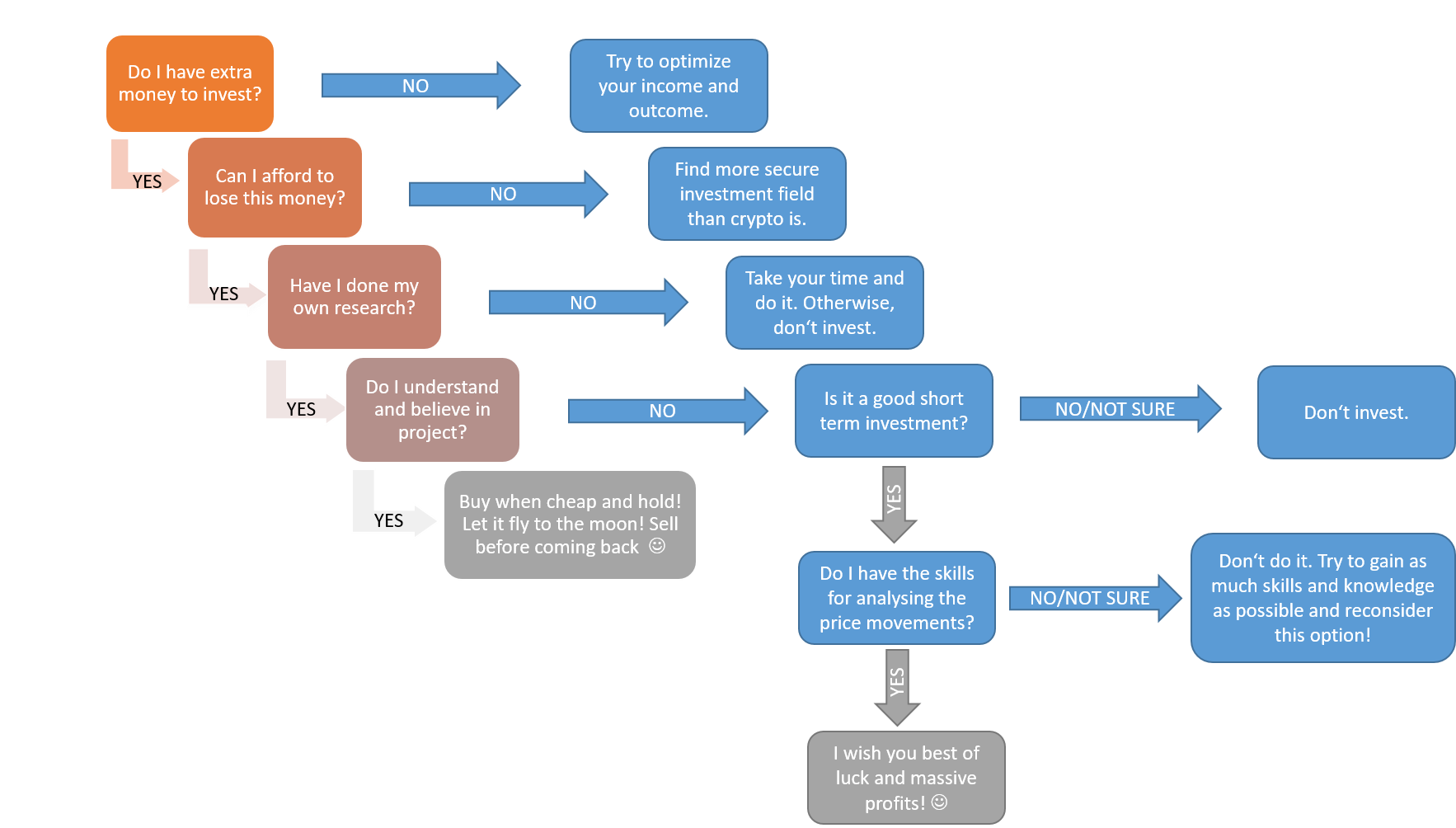 Do not take this article as any kind of prediction about market direction or as a financial advise. I just do not want you to be among blind investors!