CoinFi Trading Competition Starts On Jan 29, 2018
As part of their KuCoin world premier listing, CoinFi - the first decentralized crypto market intelligence platform - will be giving away 250,000 COFI + 35 ETH + 2.5 BTC to KuCoin users.
Users can win prizes in the following competitions:
No.1: Trading Competition Win 2.5 BTC + 250,000 COFI
We will rank traders from 1 to 100 in terms of the total COFI volume traded on your account (includes both buys & sells) during the competition period.
No.2: COFI Net Deposits Competition Win 25ETH
We will ranking COFI Net Deposits (deposits minus withdrawals) from 1 to 100 during the competition period. Totally 25ETH rewards will be allocated in the following format.
No.3: Twitter Retweet 10ETH Giveaway
Follow KuCoin official Twitter and retweet this competition tweet, then fill in the form which will be available here when the competition opens, you will get random ETH rewards, we will giveaway 10ETH in total.
More details are available here: https://news.kucoin.com/en/coinfi-cofi-will-list-on-kucoin/
What Is The COFI Token?
The CoinFi token (COFI) has 2 primary utility functions – it unlocks access to CoinFi's market intelligence platform and also helps reward community contributors for contributing their research, analysis, news tips, and trading signals to the CoinFi ecosystem.
CoinFi token holders have access to CoinFi's crypto financial intelligence through two primary channels: 1) financial media and 2) trading technology.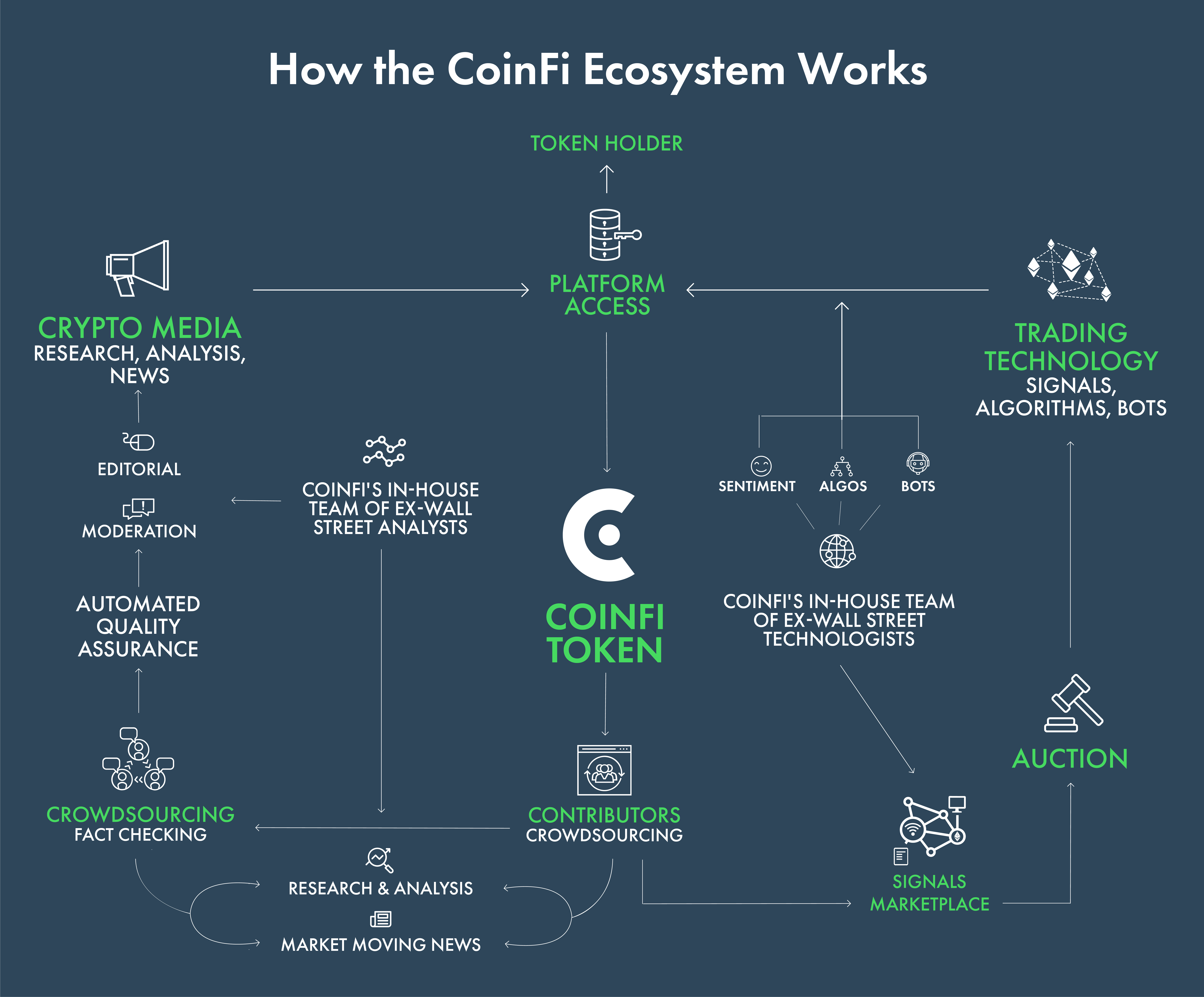 Financial Media
While crypto research, analysis, and news already exists on the internet, there is still no single canonical source that surfaces all of the relevant market intelligence a crypto trader needs to stay on top of the markets, the same way a Bloomberg Terminal does for equities traders.
CoinFi's technology systems aggregate this information and their in-house analyst team curates and filters the incoming news articles to ensure only the most important items are shown for optimum signal-to-noise ratio, saving you time and energy on research.
In addition, community analysts who uncover and publish useful information vetted by CoinFi's crowdsourced fact-checking system and in-house moderation team are rewarded by the CoinFi ecosystem via tokens.
Trading Technology
The technology side of CoinFi's platform brings Wall Street caliber tools to the crypto market, and makes them available to the everyday crypto investor.
At the moment there are only a limited range of signals and tools available in the crypto market. In fact, CoinFi's very first trading signal was created when co-founder Timothy Tam started trading crypto on the side and realized he didn't have access to any of the tools he used as hedge fund manager.
CoinFi's technology platform offers trading signals, trading algorithms, automated trading bots and data feeds. The platform includes in-house tools developed by ex-Wall Street technologists, as well as a marketplace that provides access to crowdsourced trading signals. Users who contribute their trading signals will receive COFI tokens commensurate to the community's assessment of their value.
The video below uses an earlier version of CoinFi's alpha software to demonstrate how a trading signal indicating abnormal trading volume can correlate to news and price movements:
How Abnormal Trading Volume Can Help Detect Altcoin Price Movements
You can join CoinFi's Telegram at https://t.me/coinfi, where the team is active answering questions about the project and token.
CoinFi's other social media channels:
Facebook: https://www.facebook.com/CoinFiProject/ (15,000+ likes)
Reddit: https://www.reddit.com/r/CoinFi/ (2200+ readers)
Twitter: https://twitter.com/coin_fi (3000+ followers)
You can learn more about the CoinFi platform at https://sale.coinfi.com.